I've been trying to write this post since LGBTQ Spirit Day, which happened last Wednesday and went like this:
… Spirit Day, first created by teenager Brittany McMillan earlier this month… honors the teenagers who had taken their own lives in recent weeks. But just as importantly, it's also a way to show the hundreds of thousands of LGBT youth who face the same pressures and bullying, that there is a vast community of people who support them.
Purple symbolizes 'spirit' on the rainbow flag, a symbol for LGBT Pride that was created by Gilbert Baker in 1978.
As one of the event's Facebook pages says: "This event is not a seminar nor is it a rally. There is NO meeting place. All you have to do is wear purple."
Literally every time I start to write this post, someone else dies (or not) and then I write about that instead, and then I'm playing Scrabble in the backyard, shielding the sun from my eyes, lamenting our country's inability to magically transform along with the weather at nightfall into the things I'll dream about later on. Not literally the things I dream about. But in spirit. I still have this sorta naive/sheltered idea that it's possible for things to change dramatically even in our own lifetime, if somebody could just find the right words. I think that's what I like/d about Obama. I think that's why writers and journalists loved Obama, too, because we wanted to believe in the power of his unbeatable rhetoric. I think that guy has the right words. How do we make him say them.
I'm not sure what it looks like on the ground. What was Spirit Day like in your school and home?
I found myself wondering "would Asher Brown have worn a purple t-shirt to school, if he'd lived for this day?" Because maybe not. Would those eschewing purple have made a subtle but nevertheless audible statement themselves, would their refusal make things seem worse in parts of the country where things were already bad? Would I have worn purple, if it'd happened when I was young? If my friends wore purple shirts, I would've worn one too. That would've been the only factor, really.
The point is the conversation, of course. Purple starts the conversation, and it's also my favorite color. Purple shows Asher Brown that people care
Spirit Day means something because it started conversations. That's the thing. And all the famous people wore purple, at least.
However, now that it's taken me an entire week to write this post, Spirit Day is no longer newsy and so therefore I was forced to change the topic of this post into something less time-sensitive. Like The Color Purple itself!
I have changed the Topic of the post from "Top Ten Best Parts of Spirit Day" to "Top Ten Best Parts of Being the Color Purple."
Top Ten Super Awesome Purple Things
+
10. TEGAN'S SHIRT ON SPIRIT DAY
This is Tegan, right? I consulted with a semi-expert but I can never be too sure.
+
9. Jimi Hendrix – Purple Haze
Jimi Hendrix is dead, which is unfortunate because JIMI HENDRIX IS GOOD. Purple Haze is kindddaaaaaa a drug anthem/"archetypical psychedelic drug songs of the sixties." It's from the 1967 album Are You Experienced from THE JIMI HENDRIX EXPERIENCE.
+
8. Purple Muppets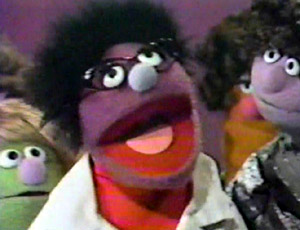 The Muppet Wiki is one of my favorite places on the internet. Here's all the muppets that were made from the "purple rod puppet" prototype. One puppet and so many possibilities.
Some purple muppets worth noting:
The Hipster: "a jazzy character who appeared in the Sesame Street version of the "Visual Thinking" sketch, alongside the Square."
The Purple Hippie: Performed "Good Morning Starshine" along with Bob in the first season of Sesame Street.
Big Bippadotta: The inspiration for scribegrrrl's fashionable face, Big Bippadotta is most famous for performing the nonsense song "Mahna Mahna."
Teresa: This trailblazing lady decided to apply her skills as a seamstress to a new career as a medical surgeon, inspiring women all over the world to go to med school and accrue debt and then work as a doctor to pay it off.+
+
7. Everyone Looked Super Cute in Purple on Spirit Day to Support LGBT Youth!
SUPER FAMOUS Participants in The Spirit Day Spirit included Hilary Clinton, Jane Velez-Mitchell, Keith Olberman, Ellen DeGeneres, Kristin Chenoweth, Dixie Chicks, Chris Colfer, Rickie from My So-Called Life, Kathy Griffin, Perez Hilton, Jewel, Cyndi Lauper, Ricky Martin, Lea Michele, Ani DiFranco, Kate Walsh, Chely Wright, Lea Salonga and Alyssa Milano.
+
6. Bishop John Shelby Spong's Shirt: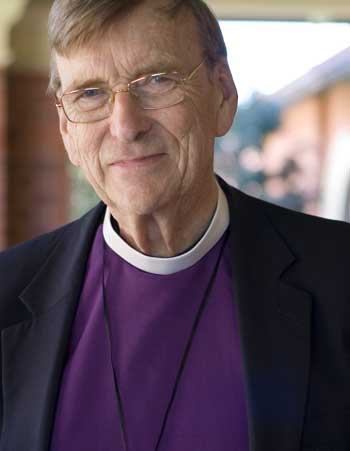 Have you read his manifesto yet. You really should.
I have made a decision. I will no longer debate the issue of homosexuality in the church with anyone. I will no longer engage the biblical ignorance that emanates from so many right-wing Christians about how the Bible condemns homosexuality, as if that point of view still has any credibility. I will no longer discuss with them or listen to them tell me how homosexuality is "an abomination to God," about how homosexuality is a "chosen lifestyle," or about how through prayer and "spiritual counseling" homosexual persons can be "cured." Those arguments are no longer worthy of my time or energy… The world has moved on, leaving these elements of the Christian Church that cannot adjust to new knowledge or a new consciousness lost in a sea of their own irrelevance. They no longer talk to anyone but themselves. I will no longer seek to slow down the witness to inclusiveness by pretending that there is some middle ground between prejudice and oppression. There isn't.
+
5. The Color Purple
The Color Purple is a very good book with homosexual tendencies. Also a movie, also a musical, also a color and that color is you guessed it PURPLE.
+
4. Johnny Weir's Army of One T-Shirt:
Um, where do we begin? To tell a story of how great Johnny Weir's hair can be?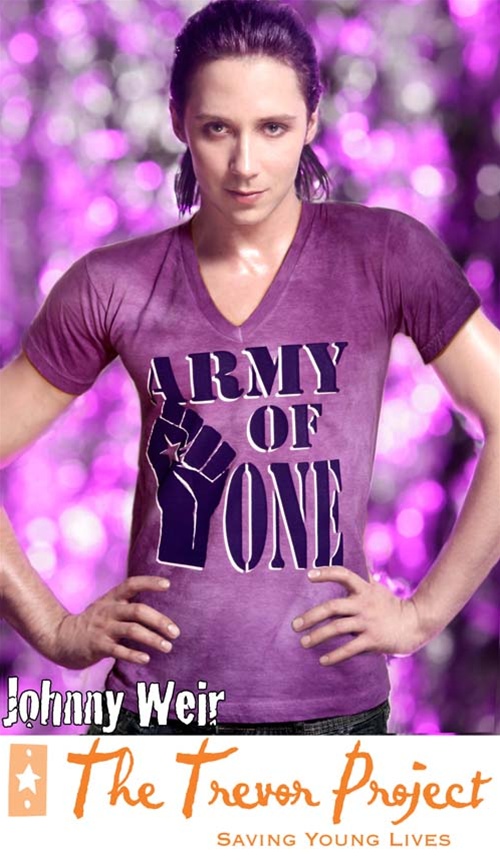 In Johnny Weir's Army, asking and telling is a bit easier. You just have to get a t-shirt! All the proceeds go to the Trevor Project which works to prevent suicide especially in the LGBT youth communities.
+
3. Harold & The Purple Crayon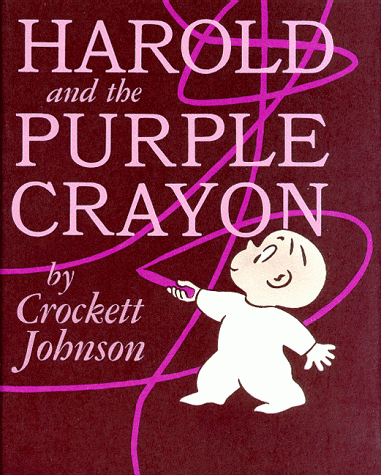 This is a fantastic book about how even if you are gay, you can draw a path for yourself and then walk on it. Also you can create the sun, moon and stars from a blank canvas, even if you live in Greenland.
+
2. Purple V-Neck T-Shirts from American Apparel
You can get a tri-blend v-neck in Orchid for $12.99 right now just saying. Or a Unisex Deep-V t-shirt for $8.99. Then every day can be spirit day.
+
1. 19,000 Tumblr Re-Blogs of this Graphic: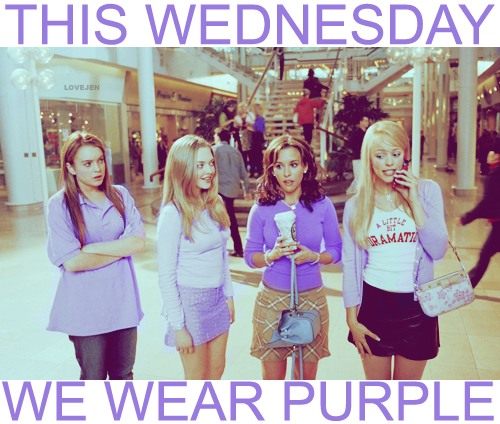 The Trevor Project: