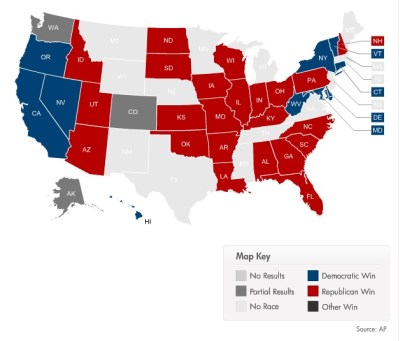 We can't pretend we didn't know it was coming. Statistics whiz Nate Silver has been warning a bloodbath in the House for at least a month. Though he has repeatedly acknowledged the limitations he's facing and the things his models might miss, his near-perfect track record in 2008 warrants deference.
Unfortunately, this doesn't make the outcome any easier to take. While last night was in some ways a victory for LGBT candidates, we lost more than 50 seats in the House of Representatives, and just barely maintained a simple majority in the Senate (which is hardly encouraging given the struggles we've faced with almost a filibuster-proof majority). Unless suddenly our politicians decide to compromise and learn to work together again, Washington is going to have a hard time getting anything accomplished in the next two years.
Which may be absolutely devastating for the country.
We have so much we need our congressional representatives to accomplish. Officially the recession ended in June 2009, but everyone knows we're not safe yet. The economy has consistently been one of the most important issues among likely voters. Conventional wisdom suggests that this is the reason voters ran away from the Democrats in droves; the economic recovery simply hasn't happened quickly enough.
The problem is, though, that we need to do more, not less. Our economy is in dire straits, and we need Congress to act decisively "to get us out of our economic trap" (to quote Nobel Prize winning Economist Paul Krugman). Much of the backlash against current politicians stems from the stimulus package and abstract rage over government spending. However, economists generally agree that that the stimulus was absolutely necessary, and that the real problem is that it didn't go far enough — we needed more government spending. Our economy isn't going to improve by shutting down the government.
By ushering in a wave of conservative politicians, we're also facing incredible battles on social issues – "social issues" being political code for most of the issues that matter to our community, like being able to marry or adopt. It's unclear now where we'll find the votes to repeal DADT or reform immigration laws or fix the prison system or protect the environment. It seems like all of the social issues may simply get pushed off the agenda.
So, from a governing standpoint, this election is anxiety-inducing.
What about from a political standpoint? We'll leave the punditry to the pundits. Some want to claim that this indicates a loss of faith in Obama and we're in for big changes in 2012. Others point out that the majority party almost always loses seats in the next election, and that swings of this magnitude are not entirely unprecedented. On the other hand, while it wasn't necessarily a surprise that we lost the House majority and the number of Republican seats has increased, many are disturbed by the political extremism of those inhabiting those seats. It's one thing to lose a majority; it's another to lose what was a Democratic seat to Rand Paul, who opposes parts of the Civil Rights Act and whose supporters have been known to physically attack counterprotesters. Although Obama's stated mission has been to bridge the political divide and work towards ending the polarization of American politics, it seems like that hasn't been accomplished as well as we might like. With the advent of the Tea Party, the candidates who were elected last night are the most extreme and least willing to work together with Democrats on important issues in a long time; they're also the least ashamed of their homophobia and racism. Maybe it means a lot and maybe it means a little and two years (or twenty years) from now, we can all sit around discussing the ultimate political implications of the 2010 midterm elections.
Did the Democratic administration have this slap in the face coming? Were people right to vote against Dems who have shown themselves to be less than committed to the change they promised? Maybe. It's a pretty personal question. As a kind of heartrending hindsight, however, statistics have suddenly popped up all over the internet reminding us of what the Dems have accomplished, even if it wasn't with fireworks or fanfare. How much has job growth changed in Obama's first two years from Bush's last year? "In 2008, we lost an average of 317,250 private sector jobs per month. In 2010, we have gained an average of 95,888 private sector jobs per month. (Source) That's a difference of nearly five million jobs between Bush's last year in office and President Obama's second year." What else have they accomplished? We'll let Rachel tell you. [Skip to 1:40 if you're impatient.]
At the very least, those of us who support progressive policies should take this election as an indication that our messaging needs some work. The key to winning any election is convincing the populace that your party is the best able to accomplish what they want, fix their problems and give them what they need. Somehow the Democrats, while trying their hardest to push through bills that would change lives, failed to convince voters that those changes were real – that they would be able to end a war by pulling out troops, or that they would be able to provide accessible healthcare by allowing everyone to access the healthcare system. People are voting against their self-interests because we are not communicating effectively. If we hope to advance any of our causes, we need to fix this.
On the day after, the question is always "What do we do now?" and we always feel at a loss for an answer. We already voted, which is supposed to be the ultimate exercise of power in a democracy, and that didn't work. But it doesn't help anyone to give up, either. In the months to come, we need to look for political capital everywhere we can find it. We need to communicate effectively with our politicians and demand the things we need; when those needs are met, we reward our candidates with our support, and when they're not, we let everyone know. Knowledge is power, and we have to believe that people like Rand Paul were voted into office because people didn't know how much damage they could do, didn't know that there were other options to work towards jobs and peace and education. So we need to educate both ourselves and the people around us, our friends and families, about the way things should work, so that they can join us in making it happen. Ready? Go.