+ October 21 is International Fisting Day! It is never too early to celebrate. Jiz Lee says:
"Anyone who does it knows it can be one of the most intimate, consensual, and beautiful connections between lovers. Everyone can enjoy fisting. And for those of us in the queer community, fisting is a sex act that is actually quite popular. It's for this reason that I say: Fisting censorship discriminates against queer sex. You may be surprised to know that fisting happens quite often in my films, you just can't see it because it's been angled or edited out. While many queer porn websites celebrate and show hand sex proudly, the act has been cut out of DVDs and left on the editing floor for decades. For as long as I've known, vaginal fisting has been censored by distributors, and while it's still okay to show it online, where many people are increasingly watching their porn, some Video on Demand websites have started to ban fisting footage in an effort avoid possible obscenity charges. It's just not right, and it's downright homophobic. I hope that very soon we look back at this moment and think: "WTF?!""
+ There are at least five ways to make masturbation even better.
+ Sugarbutch short and sweetly reviewed the second issue of Salacious, "a queer feminist sex magazine that sports 'radically sex-positive thought-provoking super-hot porn,'" otherwise known as, "why am I only hearing of this now."
+ The ESPN Body Issue, in which athletes pose partially or fully nude, appeared on stands on Friday. Hope Solo, Gretchen Bleiler, Alicia Sacramone, Julie Chu, Sylvia Fowles, Stephanie Gilmore, Suzy Hotrod, Natasha Hastings, Kelly Kulick, Belen Mozo, and Vera Zvonaerva are all featured (warning: along with some dudes)
+ The gay.xxx domain name has sold for $500,000. According to Pink News:
"The internet domain name gay.xxx has been sold for half a million dollars. Although the .xxx extension is not yet open for public registration, the gay.xxx address was bought by Corbin Fisher, one of the world's biggest gay porn producers. It is the highest amount ever paid for a domain name before the extension is publicly launched."
The highest amount paid for a domain name ever was $13 million for sex.com.
+ Safer sex is your friend. Don't forget to review the basics.
+ 14 Ridiculous NSFW Sex Products You Won't Be Needing: "We're relieved that beer-flavored vagi-wipes don't actually exist. Beergina is not something we aspire to. However, there are other real sexy products on the market that leave us, uh, guffawing"
+ It's been at least two months since we last talked about me in my place, one of the cutest photo sites on the entire internet. They've got some new girls all up in there for you to check out.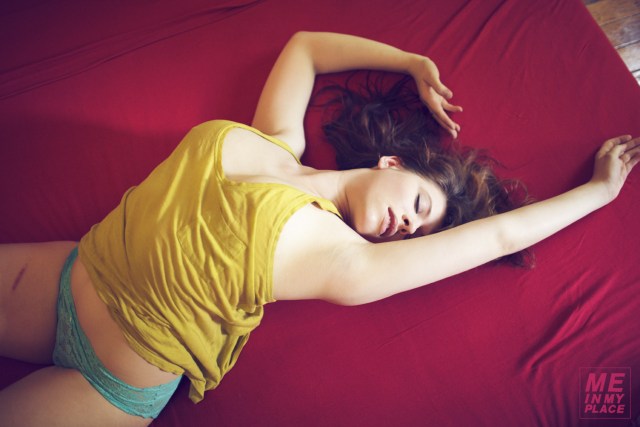 Disclaimer: All of the photographs on NSFW Sundays are taken from various tumblrs and do not belong to us. All are linked and credited to the best of our abilities in hopes of attracting more traffic to the tumblrs and photographers who have blessed us with this imagery. The inclusion of a photograph here should not be interpreted as an assertion of the model's gender identity or sexual orientation. If there is a photo included here that belongs to you and you want it removed, please email our tech director at cee [at] autostraddle dot com and it will be removed promptly, no questions asked.