REAL L WORD: Are you and your friends proof the The L Word exists in real life? Do you want to be part of groundbreaking television? [Too late! That show already happened, didn't you love/hate it? We did too. Anyhow, she wants another chance, and our besties over at Boxed Lunch LA Lesbians (best URL ever) has the deets. So … Do you want to submit your life, a là Jenny Schecter, to Ilene's cleavers of dyketastic destruction? Here's your chance!]
The L Word was a runaway iconic hit, affecting millions of lives – imagine what the real life version will do!
From Showtime, Golden Globe winner Ilene Chaiken (The L Word) and Magical Elves (Peabody Award-winning Project Runway & Emmy-nominated Top Chef) comes a documentary series about the real lives of lesbians.
THE REAL L WORD: Los Angeles will follow a group of real-life, high-profile, left coast lesbians as they go about their daily lives, at work and play. The producing team plans to show viewers that the cast can be every bit as glamorous, fashionable, fabulous and even as cutthroat as their celebrated-but-fictional counterparts.
They are currently seeking ladies from all walks of life to be the pioneering voices in this important series. Must be based in Los Angeles or moving soon to the area. They want all types, from the power of Bette to the mojo of Shane.
Are you and your partner about to adopt? Do all the bouncers in WeHo know your name? Do you consider your friends family? Are you coming out of the closet and want to help others by sharing your journey? Are you or someone you know moving out to the more Sapphic-ly welcoming culture of L.A.? Are you a card-carrying 'power lesbian'?
Whatever your story, whatever your situation – they want to hear from you! Email casting@magicalelves.com; tell them about yourself, and include a recent photo.
ETA: We heard this same breakdown — wanting a "coming out" story, an adopting parents story — from a friend of a friend at Magical Elves (yes, that's a few steps removed from "confirmed truth," but bear with us –) before we saw this casting call. This casting call reflected exactly what we'd already heard through the rumor mill, so we think it's probs true.
Sidenote: Autostraddle is in West Hollywood right now. Here's a quote, compiled from numerous quotes accumulated from multiple lesbians: "Everyone in this town really dislikes that woman and no one is even talking about that show out here." Except us, obvs, as we are TOTAL DORKS.
Here's how we feel about that: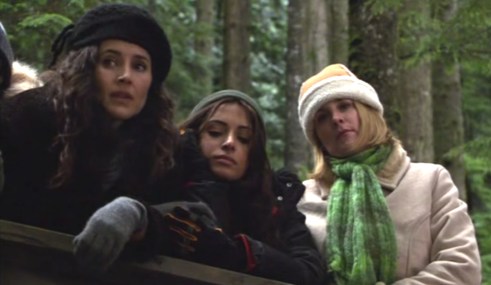 TWO AND A HALF MEN: Two and a Half Men! RIESE TRIED TO RECAP IT. Read that shit now. (@autostraddle)
WITCHES: Eastwick has some powerful witches. And also will have Haviland Stillwell in it like super soon. (@bitchblogs)
IM'ING WITH NICOL PAONE: We love this chick.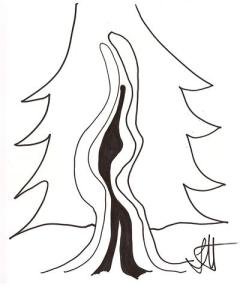 (@afterellen)
MICHAEL MOORE & ME: Sometimes I wonder if my aggressive manic indoctrination to The Bible has enabled me to almost understand how this happened, b/c sometimes you read something in the bible reluctantly that seems like total bullshit, and then makes total sense in a contemporary context: What Moore has done with his current cinematic manifesto is to tell the Book of Revelation through an account of the recent financial crisis. (@nymag)
First comment on this post:
"Sometimes you read things that make you blink…you wonder if you actually read what you think you did. This was one of those times. What?"
BTW that picture of a vagina/pine tree [to the right, to the right] is by Laurel Holloman!
LITTLE GIRL LOST: Drew Barrymore is "not completely sober" and is finding a balance but "I don't know if I'm completely comfortable ever. Sometimes I can totally let go with complete abandon – sing and dance and run around and not care what people think about me." (@somewhereweird)
BOOKS: Happy Banned Books Week! (@jezebel)