There are two parts of Two and a Half Men that actually made me LOL, both involving the unsung hero of this "show," the HALF MAN JAKE (I think he is Duckie's son or something):
1. Jake and Bertha:
Jake: "Hey Bertha, what do you know about Percocet?"
Bertha: "I know three of 'em with a Mickey's Big Malt can make you run buck naked through a Taco Bell."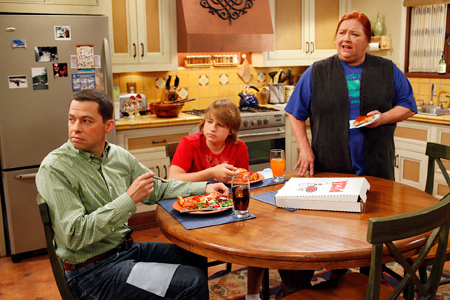 2. Jake and THE MEN:
Charlie: "Remember Mia?
Jake: "Yeah, your ex-fiance, the dancer."
Charlie: "You remember her?"
Jake: "I'm not sitting here sketching ponies, Charlie."

Two and a Half Men's best moment couldn't win a joke-off (do those exist? my dos equis just made that shit up) against The Office's worst moment. At least Full House featured girls & nice morals regarding love, honesty, family and friendship. Two & A Half Men Teaches you to treat your brother with belittling, macho, pseudo-love, and teach your children to like boobs.
There's nothing wrong with liking boobs, but trust me children will learn that shit on their own, just ask Whitney Houston. Alan wants his lady to move in, but Charlie says no. Anyhow who cares, b/c then Alan's girlfriend comes back and is ready to see Alan's testicles.
Alan's Girlfriend: What do you say we take a hot shower and unshrink the Snuffalupagus ?
Alan: He'll be fine, it's Bert & Ernie I'm worried about.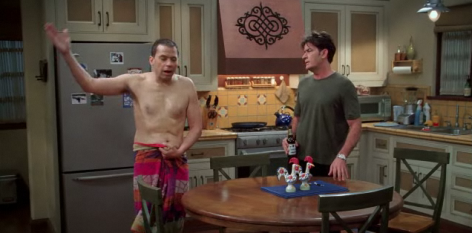 COME ON WHAT HAVE I DONE TO FORSAKE YOU GOD WHAT HAVE I DONE. This conversation thread continues, I scream and cover my ears, and then Alan looks at his penis and says, "well, there's Ernie."

Charlie plays the piano. The girl is a bad singer.

As you know, Jane Lynch can do no wrong. Two & A Half Men tested her like she's never been tested before; and she succeeded. I smiled, and cocked my head slightly in pleasure, when she spoke.
However, unfortunately Jane Lynch, as Charlie's wise therapist, was present for the "constipation" = "withheld feelings" issue — in fact, she theorized that Charlie's inability to go "number two" was related to his mixed feelings about Mia. Lynch is so funny, really even here she is.
But YES. This is when the shit comes in, ladies and G's.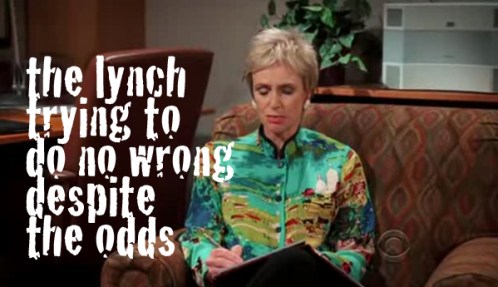 Actual line given to Jane Lynch: "As soon as you pick 'one', you can go 'two.'"

So Charlie decides, omg, he DOES have to have sex with Mia, otherwise he'll never take a shit again!
Then, they go to the studio, and Mia is a bad singer! STILL!  Charlie's Bro is watching this nonsense, and pulls the following line out of his plumber's ass: "Help me understand something, you're hoping to bang her, right?" I can't figure out what Charlie thinks about that.
Isn't this funny? These two dudes thinking this woman is so stupid she can't even understand how bad her own voice sounds? Well, let's call Mia back into the studio and have her listen to the sound of her own voice.:
Mia (listening) : That's me?
Charlie: That's you. HAHAHAHAH!!!
Mia: WOW!
Charlie: Yeah.
Mia: I had no idea I was so good! HAHAHAHAHAHA!!!!
Overcome with joy like a retarded desert sprite, Mia wraps her little arms around Charlie's neck, and Thomas Edison wishes he'd never invented the electricity which enabled the invention of the television and then the invention Two and a Half Men.
Mia basically just thanked Charlie for sitting on his constipated ass while she sang nonsense. This is not feministing. I hope they have sex because her shirt hurts my eyes.
Mia swoons, "Oh Charlie, why did I ever let you go? I made a mistake, what can I do to make it up to you?"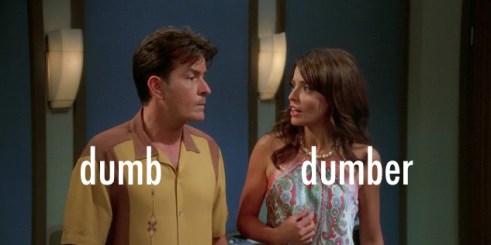 Mia has a suggestion; they should rekindle their clearly endless emotional bond at "her place." She kisses Charlie, and then she confidently strides back into the studio to record her next smash hit, "Boogie Woogie Bugle Boy."
As Mia gets into the proper headspace to Suck (somehow I doubt this is an unusual situation for her to be in), Charlie confidently advises her to "feel the groove," and she nods with the vim & vigor of a stoned Bratz doll.
All I need is Betty to come out here and tell Mia to "Party on," and this will literally be the worst televised moment of my life.
No. This is actually the worst televised moment of my life:
Oh women! They're so silly! Love is so simple! I'm a pony! I'M A SNAPDRAGON! I EAT EYEBALLS!
Mia launches into "Boogie Woogie Bugle Boy," at which point she's sufficiently maxed out her Hot Girl Points and is now just too embarrassing for Charlie to fuck. Not that I haven't had the same thought myself about a woman, but unlike Charlie, I'm a feminist, so I can do whatever I want, just ask Jezebel. Ashame, how even the prettiest girls ruin everything by being so goshdarn vapid!
Charlie: "You've got no talent, I'm sorry but we're both wasting our time here. I love Chelsea, I'm going to marry her, and I don't think we should see each other again."
There's nothing I love better than a man being applauded for not being an asshat. Howevs, his desire to not feel guilty is mostly guided by his desire to take a shit, so I don't know. Like what to say. FOR THE WORLD.
Immediately after breaking the bad news to Mia, Charlie's intestines kick in and he jets from the room to make it to the bathroom so that he can relieve his bowels ASAP. He refers to his digested TGI Fridays Happy Hour Special as his "baby," who is "kicking."
HA. HAHAHAHAHAAHA! OMG LET'S GO DROP OUR BABIES IN THE TOILET!
Oh yeah, guess who walks out of the bathroom? It's Van Halen! So that sort of explains this show more or less.
Then it ends. If you want to know what happens next — you can watch it again tonight. I don't think I can

"Emmy voters snub their noses at mass appeal," the Associated Press headline reads, going on to complain about the exclusion of Two & A Half Men from the Emmy's "Best Comedy" nominees. After all, against all odds (e.g., unremitting reemployment of dick jokes), the show garnered nominations for its lead actors, John Cryer and Charlie Sheen. Memo: popular shows get big paychecks, "elitist" shows get awards, excellent shows get paychecks & awards, in other words, AP lady: awards are what people get for making good shows, paychecks are what people get for making popular shows. So all ye 2.5 Men lovers, watch your show, eat your cheetos, I am glad Duckie still has a job, way to employ the gays too btw.
All ye Autostraddle fans, I have been to the other side and it was bad.
Well, you know now how I feel about bathroom humor, so you'll have to forgive me when I say the show's most irritating analogy functions quite well as a metaphor for the show itself.
And by that I mean …
Two and a Half Men turns all your emotional responses into lazy stupidity, and when it's over … all you really wanna do is take a shit on it.
Pages: 1 2See entire article on one page