Hey guys, X here! I'm going to hit you with some premise and some back-story, which will convince you to watch Showtime's hit series Dexter, and more importantly read my recaps! All right? That's the plan. Let's go!
Why you are watching Dexter, and why should I?
The premise of this show is simply that Dexter is a serial killer, but he's complicated because he only allows himself to kill other serial killers. Also he works for a police department as a forensic blood analyst so he's the perfect killer.
Why is this show so good? Maybe it's because I'm a gay lady but I have the opinion that morals are subjective, and so I'm not a big fan of "judgment." That said; killing other people is obviously bad/'wrong', or so says the sane populace, and not exactly comparable to making out with hot chicks in bars while drinking underage.
Dexter complicates this. Yes, he's a "killer," but he only kills people that would have gone on to kill more innocent people. So the show takes a the previously "black and white" issue of Death and turns it gray. Moral gray areas = Television Gold. Showtime is clearly aware of this; see also Weeds, Secret Diary of a Call Girl, Nurse Jackie, etc. It's almost like "'bad' people are good people too" should be their tag line.
Also "today in objectification" Can we look at these three hot women from Dexter?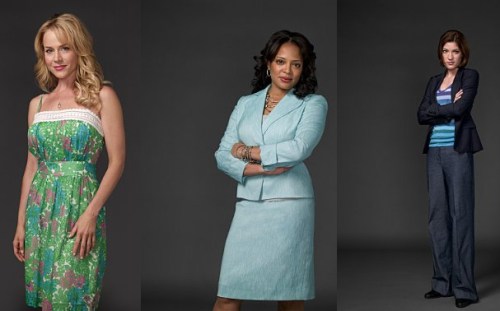 That would be Rita Bennet (Julie Benz), Lt. Maria LaGuerta (Lauren Velez) and Debra Morgan (Jennifer Carpenter).
So you're on board, now let's catch up:
Dexter is the son of a gruesomely murdered mother, and subsequently he was adopted by the responding officer Harry Morgan. Harry learns young in his new son's life that Dexter is a sociopath and is destined to become a serial killer. Why? Because he is a cop and "knows these things." So Harry gives Dexter a code to live by and trains him not to get caught. The show has basically followed him living by this code and encountering various difficulties. Managing a relationship with the foxy Rita (Julie Benz), taking care of his sister Deb (Jennifer Carpenter) and perpetually trying not to get caught while catching other killers. Last season ended with Dexter expecting a baby and getting married to Rita, off to embark on a "normal suburban life."
Episode 1 "Living the Dream"

We open with Dexter slowly driving around in a darkly lit area, which we of course assume is him stalking his next vitctim but NOPE! He's driving his new son Harrison around so that he can fall asleep … see that? What they did there? That's a technique of filmmaking, I forget what it's called.
The next ten minutes show Dexter being the perfect suburban house dad, staying up late with the baby, playing Marco Polo with Rita's son from a previous marriage, and loosing the keys to his car in the refrigerator. He reminds me of my dad, except you know, to my knowledge, my dad doesn't kill people or whatever, he only kills my soul and its desire to love other women, be happy, and stay out late.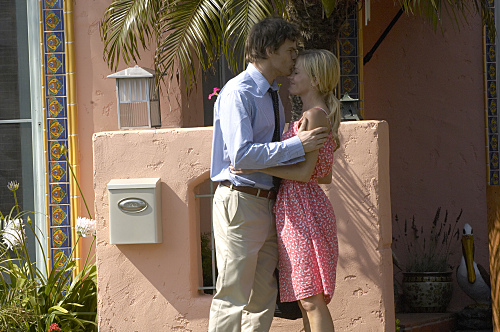 Because Dexter keeps losing sleep, he wearily messes up a case file in court and a killer gets off scoff free, a tragedy sure, but not for Dexter! 'Cause now he can just kill the killer. It's a shame that he can't get extra credit for this shit, one day he's gonna get really frustrated and be like "Hello, I killed that dude, lay off." Passive-aggression wouldn't suit him.
So Dexter sets off to get all murdery on the guy, an ex-boxer who has killed at least 5 people. Dexter finds an abandoned boxing ring and lures his victim there, an arena for his vigilante justice. As this show likes to ask the hard questions he asks himself, "Can I have it all?" Can he have a wife, kids, career, and be a serial killer? It's like the American Dream for sociopaths. Michael C. Hall might ask himself the same question, but with "homosexual" instead of "serial killer" thrown in there. JK, we love him. But you know.
The moment he decides, "Yes, I can," Rita calls and tells Dexter he needs to go get ear drops for Harrison.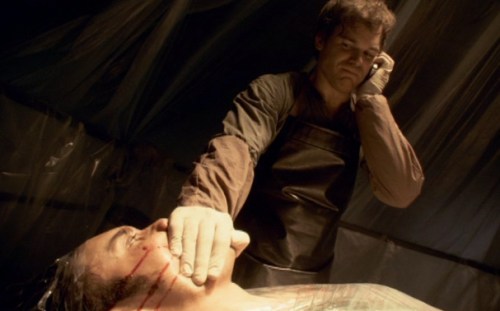 Defeated Dexter quickly stabs the guy and runs off to the pharmacy, because he's a good father. On the way home his eyes start to blur, which in TV speak means "Oh no, he's going to fall asleep and veer off the road!" naturally he falls asleep and veers off the road.
Other developments
1. A determined detective (now retired) has come back to solve his one unsolved serial murder case. This makes Dexter nervous as the detective is unofficially called "the serial killer hunter" except this detective doesn't you know hunt and kill them or anything.
2. Lieutenant Maria Laguerta (the head of the whole department) is now sleeping with her sergeant. They are a cute couple.
3. Dexter's sister is happy with her boyfriend, a handsome musician. Oh also this handsome musician was almost killed by a serial killer Dexter was after last season, so that's complicated.
4. I keep having inappropriate moments of affection for Dexter. For example when Dexter (who's alone in his knowledge of homicidal tendencies) admits to his son "daddy kills people" in a baby voice. Why do I find that adorable? Maybe I'm a sucker for moments of emotional honesty.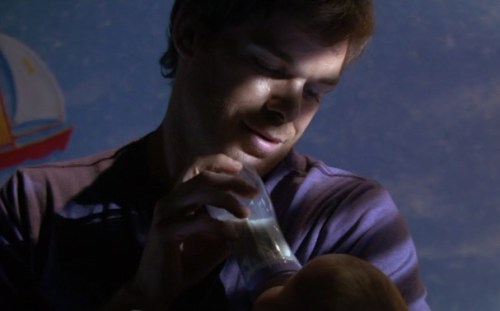 5. This show is still amazing, and it's the fourth season! If you're not watching this the TV police are coming to take you TV away, get on it!
6. What did you think of this week's episode? Is Dexter's fourth season set up to be as strong as previous seasons? What would you like to see happen this year?