It has not been the worst week ever for the gays … Bill Clinton came out in favor of gay marriage, for example. That was nice. Here's the last 24 hours in How Do You Like Us Now?
↔ Maine's STILL so close on Proposition One.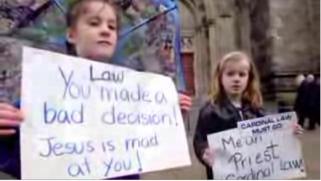 ↑ HOLY CRAP: Gay-friendly churches! Recent data shows that Jesus loves us, and by that I mean GLAAD did a roundup of Churches that support LGBT issues, and things are looking up. (@glaad)
↓ AND THEN … big fat FAIL – In a defiant and provocative statement, issued following a meeting of the UN human rights council in Geneva, the Holy See said the majority of Catholic clergy who committed such acts were not paedophiles but homosexuals attracted to sex with adolescent males.
↓ Jersey's Republicans Want to Give Voters a Chance to Enact Marriage Discrimination.
↑  Lt. Dan Choi, champion of the anti-DADT movement and founder of Knights Out, speaks out on The Moth. (@moth)
↑ Queerty is totally fine with the Lambda Literary Awards making a declarative statement that only gays can win the awards. We agree.
↓ The Mormon Church's Helpful New Sidewalk Rules for Adults Who Want to Make Out: they've made sure everyone who might be considering a kiss-in is aware that they need to cut that shit out.
↑ The library is devoting the whole week to celebrating banned books, which means promoting the gay agenda, obvs.
↑ Rome is down (and by "down" we mean "up") with the gays. Last Thursday, a group of 30,000 protestors led by major figures in Italy's political parties marched through downtown Rome to make a statement against antigay violence. (@advocate)