Welcome to the million billionth installment of Make A Thing,  where we look at crafts other people have made and sometimes we make handmade gifts for people! Or ourselves. Or our cats. Mostly our cats. 
Header by Rory Midhani
I don't know if you've heard, but around here, we do this little get together called A-Camp. It starts next week! I can hardly wait! While I was gearing up for what crafts we'll be making on the mountain, I kept finding adorable crafts from my childhood camping days, or what I believe my childhood camping days should have been. I went to Mormon sleep away camp where we read the scriptures before bed instead of ghost stories. Womp womp. I was more of a Girl Scouts day camp kind of kid. We made awesome stuff there and I learned how to sanitarily put on a band-aid.
Camp Crafts Round Up
These crafts can either be made at camp or be made with things you found at camp or be made at home while you're wishing you were at camp. Versatility! It can be fun!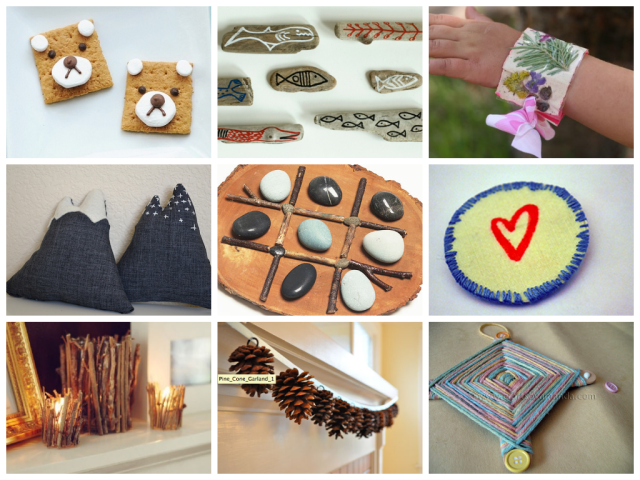 From Left to Right, Top to Bottom, This Is How We Do It:
1. These s'more cookies are too cute not to include in a craft roundup, you know? Make these and keep in mind, bears are a thing that are real when you're camping. [via Kiwi Crate]
2. Painting rocks is one of my favorite things. I think it's just so cute. These fish are really nice and simple, but pretty lacy designs and quotations work great, too. [via Made by Joel]
3. This nature bracelet is super cute and easy and would be a perfect way to use those pressed flowers you made. [via Mustard Seeds]
4. If you're sad about not being on the mountain, why not make your own? Spoiler alert: they also make great presents for babes you're trying to impress. Once they see your mountains, they'll fall for you. [via Make A Thing]
5. This tic-tac-toe board is great for days you're stuck inside the tent on a rainy day. [via Better Homes and Gardens]
6. Remember those merit badges we made? This heart could easily also be the "kissing in the woods" badge you've be dying to give that cute girl. [via Make A Thing]
7. These candle holders are super easy to make with found twigs. [via My Honeys Place]
8. I love this pine cone garland so much I'm going to make one immediately after I get off the mountain. [via Twig and Thistle]
9. God's Eyes or Ojo de Dios were a staple of my Girl Scout days. I spent hours winding yarn around the sticks, which became a religious symbol by the Huichol Indians of Mexico. The four points represent earth, air, fire and water. [via Crafts by Amanda]
What crafts make you think of camp?