Welcome to yet another installment of Make A Thing,  where we make handmade gifts for people. Or ourselves. Or our cats. Mostly our cats, though…
Header by Rory Midhani
You know who deserves a merit badge for awesomeness? You do. Being really, really, really ridiculously good looking? You do. Having the cutest laugh in the world? It's you. Let's make this official.
Supplies Needed:
+ Light colored cotton fabric
+ Any color felt
+ Something small and round (fish food works perfectly, as does the cap of my honey bottle, but anything around 1″ to 2″ will do the trick)
+ Embroidery floss
+ Fabric markers
+ Safety pin
Level of Difficulty: I was in Girl Scouts when I was younger, except my troop was in the Brownie stage for three years. Three. Years. We never progressed. Instead of actually earning badges, we'd tuck our knees into our t-shirts and waddle around for hours. This is easier than being in Brownies for three years with sore quads.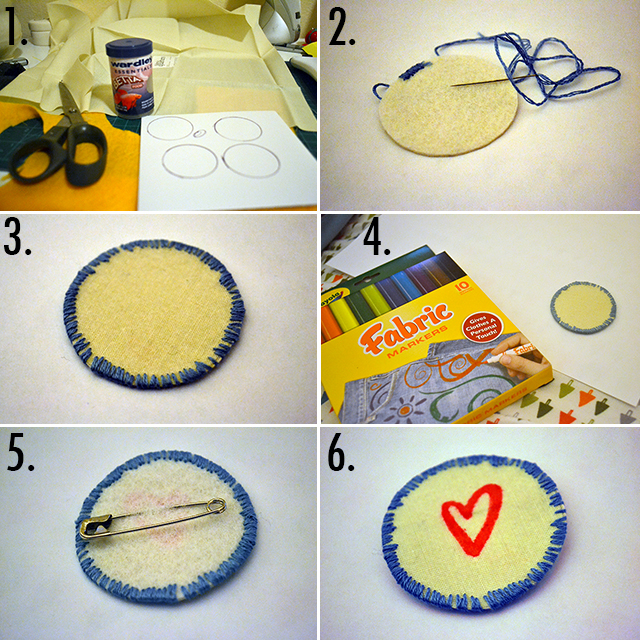 1. Make a little template to trace on your fabric and felt.
1.5 (Optional step) Fusible interfacing is your friend, if you so choose.
2. Embroider around the entire edge.
3. This isn't so much a step as a "This is what it will look like".
4. Bust out those fabric markers and draw whatever you'd like.
5. Use a safety pin to attach it to your shirt or bag or sash, if you're fancy.
6. Tah dah! This merit badge is for loving merit badges.
Now what are you making merit badges for?