Welcome to Idol Worship, a biweekly devotional to whoever the fuck I'm into. This is a no-holds-barred lovefest for my favorite celebrities, rebels and biker chicks; women qualify for this column simply by changing my life and/or moving me deeply. This week I managed to get Julie and Brandy to answer some questions about camp for me as we all spent our last minutes at ground level, and it was sexy as fuck. Obviously.
Header by Rory Midhani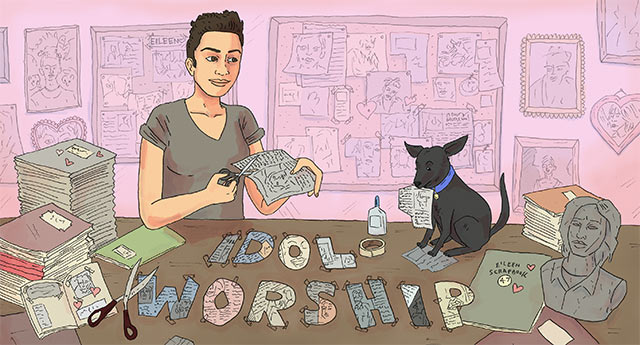 There are a few words that come to mind when one thinks of Julie Goldman and Brandy Howard. Some of you may think about the Hunger Games, Cloud Atlas, or any other movie shitty enough to be torn apart in their personal Box Office. Some of you may think, "damn how could two people on Earth be any hotter than those two?" But I will instead always wonder why they are so god damn nice.
They're my favorites.
Julie and Brandy have given us all the pleasure of their company at the last two A-Camps, making rounds to talk to us and cover us in water (a lot of water). This A-Camp will be no different, with the two sexpots taking a spot among our star-studded lineup of talent (which technically doesn't encompass one Brittani Nichols, but should, because that bitch is damn talented). Every camp, they fulfill their official duties of bringing Laughter and Lightness to the mountain, and every camp they fulfill their unofficial duties of ripping us out of our comfort zone, forcing us to laugh out of sheer terror and sexual desire and uncovering our greatest truths at Faggity Feud. (I have yet to forget about the time a random survey indicated that campers, as a whole, weren't interested in threesomes. Y'all are weird.)
I also wait with expectant nerves to see whether or not Brandy gets blackout drunk on stage this year. I'm willing to gamble on this one.
Independently, Julie and Brandy each bring a touch of the Hollywood life to their mystic partnership. Julie Goldman, after all, is like a totally famous comedian in her own right who has been bringing executive lesbian realness to various parties, venues and unsuspecting family television screens for years. And Brandy is possibly the most adaptable commercial actress ever, playing a variety of roles that all involve shiny hair incredibly well. I know this because I once went through her video channel and watched every commercial she has ever been in. Even the Tropicana one.
But even though Julie and Brandy are stars in their own right, it's fairly common greeting card knowledge that in life, it's better together. And my lifelong principled liking of "chicks in twos" becomes further cemented with the various fruits of their partnership. Because though apart they may shine, together Julie and Brandy bring a warm glow to my entire life. Or maybe that's the whiskey talking.
Julie and Brandy have been big pimpin', giving advice to strangers as a career and getting deep into your box… office together for years now, and we all can't get enough because we shouldn't have to learn what enough is. There is no limit. The limit does not exist. At A-Camp that rule is generally applicable to everything from exposure to sunlight to exposure to other lesbians, though. But still. THERE IS NEVER ENOUGH JULIE OR BRANDY OR THE BOTH OF THEM COMBINED, THAT IS MY STORY I AM STICKING TO IT AND YOU CAN'T CHANGE WHO I AM.
And thus I asked Julie and Brandy ten-ish questions. About camp. For you! And for us all. And for my homies.
Here goes.
Idol Worship: Ten(ish) Questions with Julie and Brandy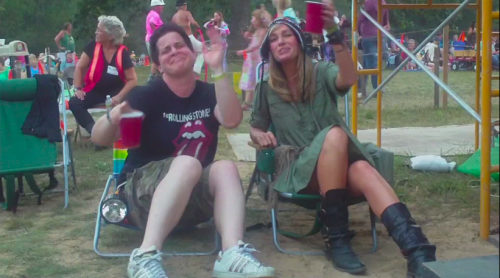 **Questions answered by Brandy, with Julie half-ass contributing as she drinks coffee and watches American Dad.**
How did you two become such a dynamic duo? Can you tell me your shared life story?
We met on a gay Rosie Cruise in March 2008. Julie was there performing with Logo's Big Gay Sketch Show and I went as a guest of my former frenemy Nicol Paone, who was also a castmember of BGSS. Julie and I hung out a lot on that cruise and we had a ton of laughs. At that time, she lived in New York and I lived in LA and when the cruise was over, we really missed each other. Without getting too corny or LEZimental, we inspired each other creatively at a time when we were both sort of in a rut. We really wanted to work together, so we met up on both coasts and started writing. Our first script was a feature length lesbian romantic comedy called Nicest Thing. Less than a year later, we wrote a gay zombie horror comedy called Gay Baby Army. As we tried to sell those, we were hit with the cold hard reality that gay movies were not the thing. We went through a brief (but intense) mourning period for the future we would never have as queer comic scribes, and then we sold out and wrote a straight sitcom starring all men. It's about a guy who comes home from a tour of duty in Afghanistan and goes to work as a TSA agent at the airport. It's called In*Security. And it never sold either.
Can y'all also tell me a little bit about what brought you to comedy and what brought you to Autostraddle? What keeps you around this neck of the woods? (Aside from the Whiskey.) (By "neck of the woods" I mean "lesbian Internet.")
Julie wants me to say, "Nothing brings you to comedy. So to speak. You're either there or you're not." I guess she means, we were always funny and attracted to funny people so that's why we are here. And that it wasn't necessarily a choice. We were born this way. Now she wants me to say, "YES BITCHES, BRANDY WAS BORN THAT WAY."
As for Autostraddle, it was destined in the stars, because Riese WAS ALSO ON THE GAY ROSIE CRUISE where Julie and I met!!! (What are the effing chances?????) Legend has it that Riese saw Julie do stand up on that cruise and thought she was hilarious.org, so when they launched Autostraddle several months later, she talked to her fellow Autostraddle founders and they reached out to Julie to feature her on newborn Autostraddle. After that, Julie knew she wanted to work with them, and we knew we wanted to do something together. So we reached out to Alex and Riese and they suggested we do a movie review/re-enactment type of show. And that's how Julie & Brandy: In Your Box Office was born. We film it together in LA and then we send the footage to Riese who edits it.
As far as this neck of the woods… We continue to hang around because we love working together and we love working with Riese. That's honestly the reason. Julie and I (and Riese) all do other things with other people, but this is the only place where we can all work together. With no boss. We'd work in this threesome for the rest of our lives. If only we could make some paper, booboo.
Julie – what do you do to prepare for stand-up? What's your work process like when you're gearing up for a new show?
Julie's first response to this question was, "I stress out for hours upon hours and smoke a million cigarettes." I read your question again and then said, "Um, I think she might mean what's your writing process." So, then she thought about it for a minute and said, "Usually I am moved to write something that angers, annoys or embarrasses me. Once something like that happens, I write all my feelings down unedited. It's pages and pages of feelings and opinions and revenge plans. These feelings and opinions bring up more questions which I answer with more feelings. Then I'm left with all these pages of ramblings which I edit down into a semblance of a funny story with a point." Then after that, I'm gonna assume she smokes a million cigarettes to prepare to talk about it live in front of live people who are alive.
Who are some of the funniest people on the planet? Who are the people who always make you laugh? Who are the people funnier, even, THAN YOU TWO?
I'm gonna go out on a limb here and say anyone who makes us laugh — we assume is funnier than us. Julie has a looser funny bone than I do. She can giggle for an hour straight just watching our dogs wrestle. She has the most infectious laugh in the entire world and she laughs all the time. That's why I love being around her. I don't laugh at much. I think lots of stuff that's supposed to be funny is stupid. So, when I do laugh, I'm instantly a fan. A big fan.
My favorite (current) funny people are: Julie Goldman, Louis CK, Jonny McGovern, Amy Sedaris, Howard Stern, Katt Williams, Wendy Williams, Dane Cook, Maya Rudolph, Jack Black, Regina Hall, Leah Remini, Aidy Bryant, Michael K (from D-Listed) and Bevy Smith (from Fashion Queens on Bravo)
Julie's favorite funny people are: Zach Galifinakis, Seth MacFarlane (only when he's doing voices, not in real life), Michelle Balan, Jonny McGovern, Amy Sedaris, Wendy Williams, Jessica Kirson, Howard Stern, Mel Brooks, Jennifer Saunders, Eric Stonestreet, NeNe Leaks, Linda James, and Brandy Howard.
Conversely, please list the people you're more funny than as well.
Listing people that we think "we are funnier than" just invites people to hate us and tell us how unfunny and untalented we are. We aren't totally opposed to putting it all out there, but in the interest of avoiding hearing FAIL in all the comments – here are some people we just don't think are funny. Ever.
Whitney Cummings, Ross Mathews, Sean Penn, Mindy Kaling, Bobby Moynihan (the current chubby guy on SnL), Marc Maron, the entire cast and writing staff of How I Met Your Mother (Including Neil Patrick Harris).
Who did you two vote for in the Autostraddle Hot 100 this year?
I can't remember who we voted for. We usually just scroll through the pictures looking for Julie and anyone on the Autostraddle staff and then we vote for them. I can tell you who we DIDN'T VOTE FOR: we didn't vote for anyone who made the top 10. Which is great because now we don't have to feel stupid every time we see a picture of Amber Heard with Jonny Depp.
You've been trying to get the A-Campers wet for two rounds now. How excited are you to be hosting the pool party this time around? Any spoilers / reveals on what's in store? Can I request that you play more Drake before it starts or no? What should I wear?
WE ARE SO FUCKING EXCITED FOR THE POOL PARTIES!!!! We pitched the pool party idea to the Camp Bosses (Marni and Robin) a few months ago, hoping to add some more sexy fun to the mix. I am an amateur DJ and my low-level mixing skills are most appropriate when heard pool-side, so I try and bust them out whenever there is a pool in the vicinity. We spend most of the day drunk, so we aren't allowed near panels or discussions of any kind. The pool was the perfect place to have our fun. I'm crossing my fingers that there isn't some kind of bullshit "no nudity" rule in place, and that we will get to see some topless ladies having innocent sexy splashy fun. I will definitely play Drake for you in my DJ set at the pool party, but as far as Faggity Feud is concerned – Carly is the house DJ for that event and I will send her a formal Drake request on your behalf.
The only important spoiler for anyone to know is that this year I will not be black-out drunk during Faggity Feud. Or, I should say – I'm going to TRY not to be black out drunk, but the altitude mixed with insecurity is a heady combination.
As far as what you should wear… I vote for a see-through white bikini. At all times. And I like a naturalistic bush.
What would you say are the most important things to pack when preparing for A-Camp? What are you bringing to the mountain? Brandy, how do you keep your hair looking so shiny and soft in the woods?
Our packing list never changes, and I can tell you that BY FAR the most important things we bring are: an assortment of chips, an assortment of alcohol and an assortment of anxiety meds. Also: Gas X.
The way I keep my hair looking good in the woods is – I never wash it. Not once. No matter how many days camp is. In fact, I barely even shower while I'm there, cuz let's be real: the shower is dirtier than my alcohol detox night sweats. But when I do shower, I use a shower cap, and dry shampoo.
(Julie wants you to know that she showers every day even though no one is looking at her hair.)
(I want you to know that I love her hair and was offended she didn't make Autostraddle's list of best queer hair people).
What are you words of wisdom to the weirdo queers out there trying to make it?
Julie's first response to this question was "give up." Mine was, "Think long and hard about the field you are trying to make it in and then go work at Trader Joes."
But I guess our true advice is (coming from two people who have spent over a decade pursuing one thing): "Know that in 10 years, you are going to have a much different relationship with your hopes and dreams than you have now. Be open to changing your mind and changing your path. The pursuit of happiness is a tricky endeavor, and the way you get from point A to point B can be a long and winding road. Keep your eyes on the prize and eventually you'll have what you want."