by riese & julie & brandy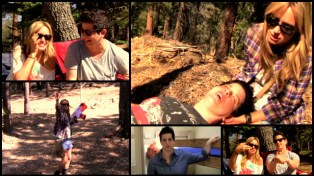 I don't know about you, but I've been pretty much sitting here staring at the wall dreaming about gummy worms since the last episode of Julie & Brandy in Your Box Office knocked my socks right off my feet onto the floor, therefore necessitating an unexpected trip to the laundromat. Yup, anticipation is high today, higher than a kite, a mountain, or a drug addict! Because today Julie Goldman and Brandy Howard are gonna make you pee in your pants! In a sexy way, though.
While the rest of us were learning about our souls at A-Camp, Julie Goldman and Brandy Howard were running around in the woods filming the "Hunger Games" episode of In Your Box Office, which they've entitled "HUNGER GHAMS." It's a different pronunciation.
A quick refresher about In Your Box Office, World's Most Beloved Webseries:
Julie Goldman & Brandy Howard are a sensational acting/writing duo trying to cause a sensation with their romantic-comedy, Nicest Thing.
But since no one wants to make their movie or cast them in anything, they feel it is their duty to harshly judge everyone else's work based on a sliding scale of rage, bitterness, lesbianism, and lack of any real significant training.
Also, due to popular demand — and in honor of YouTube's new policies allowing 15-minute videos (the limit was ten, originally) — we are continuing to make these episodes a little longer than we used to. I mean, you dug it last time, so I think you'll dig it this time too. If you watch it twice in a row, it's like a sitcom, basically.
So, it's time to pop your popcorn and wrap your girlfriend or otherwise-inclined real-or-imaginary companion in a warm blanket, cuddle up and see what Julie and Brandy thought about The Hunger Games, starring your girlfriend Katniss!