Tonight at midnight, the Hunger Games movie will open in the US, and be the most important cinematic event since Harry Potter, or Twilight, or ever, depending on how you feel about the books/Jennifer Lawrence. The Hunger Games phenomenon — the books, the movie, the combination book/movie hysteria — and commentary on it are sweeping the internet, and for good reason. I don't know a single person who's read The Hunger Games without finishing the whole trilogy in a feverish series of all-nighters and loved it. And a lot of smart people have a lot of smart things to say about both the books and the movie!
The Hunger Games' heroine, Katniss, is being hailed as "a hard-ass hunter with a talent for butchery who becomes a revolutionary folk hero" who doesn't need to rely on male characters to solve her problems. Salon says it rejects "chrysalis moments" and Cinderella stories by making it clear that Katniss's pretty dresses and transformation into a "beauty" are a performance, not her authentic self. Also, possibly it's also going to solve climate change. So there's that.
Between the movie and the book and THE MOVIE, we all have a lot of feelings. Perhaps you will have feelings about our feelings, even!  Mostly we just all really like Katniss. I mean, number one feeling, you know?

Laneia
I read The Hunger Games right after I finished Breaking Dawn in 2008, so it's possible that my expectations had been beaten mercilessly into the ground, but I couldn't get over how brilliant this book was. It has all the things I want a book to have: imperfect-but-badass female protagonist, personal sacrifice, yelling, crying, suspense, a train, archery and Appalachia. More importantly, it doesn't have any of the shit I can't stand: batting eyelashes, helpless females, obsessive emotional dependencies, girl-on-girl hate, diets, shopping, and terminal illnesses. And ok, it's not like I'm proud to admit this, but I actually kind of liked all the violence? It was fascinating to imagine these children viciously killing each other just to stay alive, and you want Katniss to win obviously, but then that means wanting the other kids to DIE these horrible deaths which is just such a mindfuck!
So excited for the movie that I'm obviously on the verge of a hysterical coma. All Rue all the time.
Crystal
As I write these words there are approximately four hours until I get to watch the Hunger Games movie. I'm super excited but also crazy nervous because I don't want to be disappointed, if this movie adaptation is shit then it might just break my heart. Anyway. My favorite thing about the Hunger Games is Katniss. Such a tiger.
Liz
As of Wednesday at 10pm I'm only about a third of the way through the second book. By Thursday at 10pm I fully expect to be a third of the way through the third book.
So first off, I feel like it's impossible not to project yourself in to Katniss's role. I have to admit, I can't help but want to be a selfless, brave girl with dozens of admirers. It's easy to imagine myself gallivanting about the woods; hunting, running, surviving, pointing out dangerous herbs. I mean, if you set aside the fact that I'm completely clumsy and lack any sense of direction. But that aside, who wouldn't immediately want to be Katniss? I have a sneaking suspicion that brought to life on screen, Katniss's agility, cunning and skill will be all the more apparent. Plus, Jennifer Lawrence is totally hot.
Still, I'm nervous to see The Hunger Games on screen. Here's the thing about the first Hunger Games book: there is just a ton of gory violence. I'm really curious to see how they handle that in the movie. On the one hand, the The Game scenes are undeniably exciting. On the other hand, Suzanne Collins does a good job of making the violence seem abhorrent and gross. I see her message as directly linked to the abhorrence of war. I'm worried that in the movie the violence will be too glamorized and the point will be lost. Plus, if the Games aren't horrific then the whole book doesn't really make any sense.
Also, Cinna is totally gay, right?
Brittani
Right now books are particularly hard to come by because at any given moment I may be lacking money, identification, or a mailing address so when I was home over Christmas and discovered my sister owned the Hunger Games trilogy, I had no choice but to read all of them in the next three days in a Harry Potterian fashion. Rue is my favorite character for the same reason Obama is my favorite president…because they both love music. Like any good queer starving for representation, I had to ship Katniss and a female character. I chose Madge so obviously I am full of rage that she won't be in the movie. I'm so legitimately upset that I'm in no rush to see the film because seriously, what the fuck. Her name is almost vadge. No amount of Lenny Kravitz could make up for this grave oversight.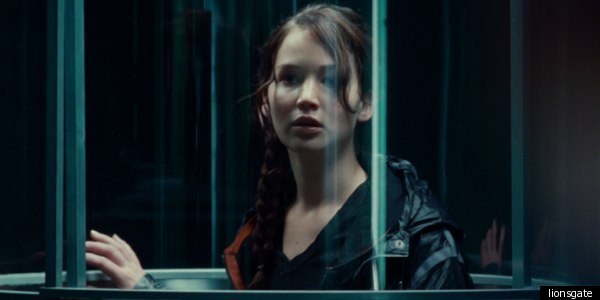 Carolyn
First of all, I found the Hunger Games awesome and still can't believe it took me as long to start reading them as it did (post-Mockingjay). Second, what makes The Hunger Games so compelling for me is what a reluctant hero Katniss is. She's such a badass, but she's not actually interested in being a badass — she just wants to survive, and have enough to eat, and take care of herself and her sister and mother. It's everyone around her — particularly the people watching at home, who so obviously desperately need any symbol of hope whatsoever — who make her into something else. (Even later in the series, which I am about to be purposefully vague about, she is left out of people's plans because they recognize that the thing that they're trying to do is not her thing in and of itself). In fact, Katniss is really just out to survive, which means that she would be hugely unsympathetic if her actions weren't for Prim (who, especially later on, seems to function as a symbol of her humanity).
But, in her attempts to survive, she becomes a strong independent female hero — not one who functions like an innately good action hero figure, but one that is more complex, and much more interesting.
Laura
T-minus 11 hours until I get to see The Hunger Games. I'm really excited for the movie but I have a small list of concerns because I want it to do justice to the book. The number one thing I'm worried about is how terrifying the movie will be. See, I need it to be really, really dark so that everything makes sense. If the dogs at the cornucopia don't feel threatening or if President Snow don't ooze evil, how am I supposed to believe in the characters I loved? Books are something that you read alone, but movies are something you get to experience in a room full of a hundred other people. I want to love it and I want everyone there with me to love it too.
The second thing is Taylor Swift and her feelings. One of the main reasons The Hunger Games was such a good book was that it totally flaunted the expectation that a teenage girl have nothing but boys on her mind. It wasn't just that Katniss was too preoccupied with feeding her family to care about romance, she actively made the decision to keep people at an arm's length as a tiny act of rebellion against the Capitol. I guess I'm just hoping that the fact that Taylor Swift has a song featured in the movie doesn't mean that the whole faux relationship with Peeta gets turned into a bunch of sentimental Twilight nonsense.
My last concern is about how meta this whole thing is. To be honest, it's really more about me/society more than about the movie itself. So we've got this girl who's being thrust into this horrific voyeuristic "game" where sponsors pay to help the contestants and viewers cheer on their favorites, right? And now we're making a movie — with all the swag and advertising that comes with it — about it. I know Panem isn't real, but I couldn't help but feel uncomfortable when I went to the store yesterday and saw "Hunger Games Capitol Colors" nail polish for sale. Isn't capitalism weird?
Okay, now that I've gotten that out of my system, I just wanted to say that Rue was my favorite character and that I can't wait to see Cinna's designs!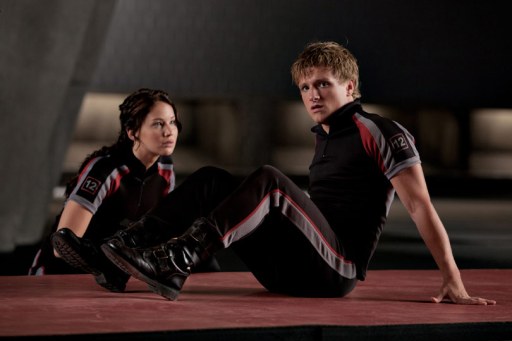 Discussion questions for you, dear readers. Both book and movie feelings are welcome here, as well as feelings about the book being a movie.
+ Number one feeling?
+ Number one character?
+ Number one wishful thinking gay character/relationship?
+ What does Katniss's popularity mean in a post-Bella world?
+ Is there a commentary on violence that we're supposed to specifically understand?
+ How do you feel about how heterosexual relationships (or the performance of them) are figured?
+ Are you worried about the book-to-movie conversion at all?
+ Why do you think this appeals to so many people? Were you skeptical about liking it before you picked it up?
+ How are you going to make Jennifer Lawrence your girlfriend?