The New Jersey Star-Ledger did an exclusive two-hour interview with Dharun Ravi and his family in their home in Plainsboro, New Jersey. They discussed the results of his case, his feelings about gay people, and how this whole experience has changed him. "I'm not the same person I was two years ago," he told The Star-Ledger, "I don't even recognize the person I was two years ago."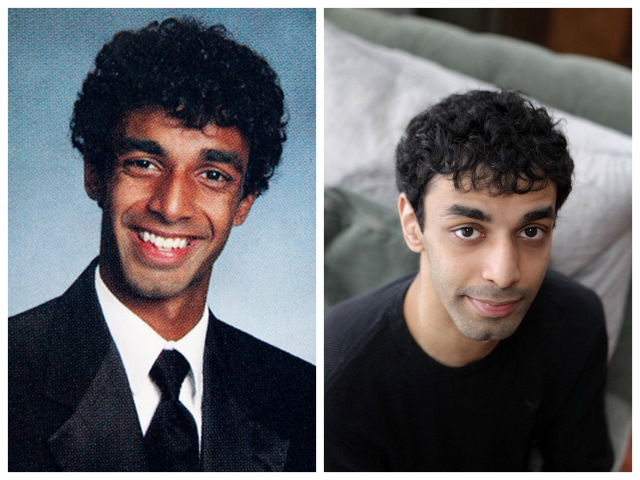 Ravi told The Star-Ledger that although he's aware that he was an immature idiot expressing an extreme insensitivity to Tyler Clementi's feelings and that he "wasn't thinking" when he pulled that "prank" on Tyler, he insists that his actions were not rooted in homophobia. "I wasn't biased. I didn't act out of hate and I wasn't uncomfortable with Tyler being gay." Furthermore, Ravi is committed to "keep going" and fight to prove he didn't commit a bias crime.
He says a desire to avoid the "bias crime" label is why he refused the plea bargain he was offered that would've guaranteed no jail time: "If I took the plea, I would have had to testify that I did what I did to intimidate Tyler and that would be a lie. I won't ever get up there and tell the world I hated Tyler because he was gay, or tell the world I was trying to hurt or intimidate him because it's not true." At The Stranger last week, it was noted that the plea was chock-full of attached strings in other senses, too:
"…the plea deal presented to Ravi was not "plead guilty, do 600 hours of community service, and go free." The deal would have been more like "plead guilty, do 600 hours of community service, and then the prosecutors will put in a good word with ICE, but we can't guarantee that ICE won't revoke your green card and deport you."
Ravi explained that West Windsor-Plainsboro High School North, which he attended, was a racially diverse environment and that "it's hard to form hate when you grow up around so many different kinds of kids." Not gay kids, however, though he claimed to have met "a gay kid I liked a lot at [Rutgers] orientation" and that "one of my friends had a gay roommate…they were no big deal. Now there's a verdict out there that says I hate gays. The jury has decided they know what is going on in my mind; they can tell you what you think."
It's amusing that he's still using the "I have gay friends" defense and that he actually thinks going to a racially diverse high school exempts him from being potentially biased towards gay people (or people of other races).  If anything, those ideas are indicative of a kid who still hasn't thought very hard about any of this, choosing easy excuses over any genuine self-reckoning. He seems to ignore the possibilty that he was acting on "implicit bias," defined in this article as "unconscious mental shortcuts that we form based on our life experience as well as the stories, culture and history we absorb around us."
But I personally don't think Ravi acted on conscious anti-gay bias. Some attempting to prove that he did return to the fact that Ravi had made some stupid remarks to a friend on g-chat about having a gay roommate. But honestly, I'd be lying if I said I couldn't imagine a friend of mine — even a GAY friend of mine — describing somebody in private as "mad mad mad mad gay." We say fucked up shit in private G-chats sometimes — remember, Tyler called Dharun's family "sooooooo indian first-gen americanish" and remarked that "his 'rents def own a dunkin."
I'd also be lying if I said his fear that Tyler's dates would become a regular thing, which he expresses in this interview, was unusual or biased either — it's every college freshman's worst nightmare that they'll get a roommate who's always kicking them out for sex.
Ravi told The Ledger: "I'm very sorry about Tyler. I have parents and a little brother, and I can only try to imagine how they feel. But I want the Clementis to know I had no problem with their son. I didn't hate Tyler and I knew he was okay with me. I wanted to talk to his parents, but I was afraid. I didn't know what to say. At first, I actually thought I could be helpful because as far as I knew, I was the last one to see him alive."
I personally felt from reading their texts/g-chats that the primary conflict between Tyler and Ravi wasn't about sexual orientation, it was really just a conflict between an awkward introvert and an effortless extrovert, a conflict between somebody who felt uncomfortable in their skin and somebody who felt comfortable everywhere.
Ravi mentions this in the interview: "Before I went to school I thought my roommate would be my best friend and we would hang out all the time. I thought I could expand my circle of friends. But he (Tyler) wasn't like that. He was very quiet and every conversation we had just hit a dead end…"
Furthermore, Ravi insists that "if it was a girl who came to the room and she looked as strange as M.B., I would have done the same thing."
He also clings to the assertion that although he knew his friends would understand the "joke" 'cause they know his "sense of humor," he did eventually change his mind about the broadcast and de-rigged the set-up, which he admitted he'd constructed in the first place partially just to impress his friends with his computer know-how.
"At that point, I got caught up in what I thought was funny, and my own ego."
(Researchers find that "I thought it was funny" is the number-one reason used by boys to explain why they sexually harass women in University environments, although many researchers believe that it's just an excuse and the real reason is related to power assertion.)
The Star-Ledger article also touches on the oft-buried fact that the video situation barely functioned to begin with, and ultimately just a handful of people caught more than a few seconds of blurry night-vision. It's this issue that leads many to wonder — myself included — if this case would've seen the light of day if Tyler had simply switched rooms and moved on.
As I said last week, we're being shortsighted as a community to overlook the depression and anxiety that led to Tyler's suicide by burying that complicated reality underneath Ravi's crime.
Although I feel it's my duty to take the hard line here, I have to be honest and say that I don't think Ravi deserves deportation or prison time. I'm troubled by Ravi's actions being framed as The Cause of Tyler's suicide. It's not that simple. I think Ravi deserves ten years of community service working with LGBTQ teenagers and homeless LGBTQ teenagers especially. I think Ravi remains a selfish little shit who needs a long lesson on selflessness, and I'm troubled by what looks like a lack of significant remorse.
And I do wonder if Ravi would've done the same thing if his roommate had been straight or female. I want to say "no," and legally that must be the answer — that he did what he did because Tyler was not a woman and was not a straight man but was a gay man.
But then I remembered what college is actually like — not even just the college I went to, but two nearby colleges where my friends and I sometimes hung out, both of which were far more hostile to women than the school I attended.
I remembered when the guy Lisa was dating filmed them having sex in the shower and when she broke it off with him, he showed the video to all his frat brothers and all of their friends, and their friends' friends. Later, over beers and pizza and video games, the guys weighed in on Lisa's weight, telling me how despite her pretty face, she had a really fat stomach and thighs, and did I want to see the video. I did not.
I remembered the guys who shaved some kind of design into Beth's pubic hair, took photos of it and distributed it to everyone they knew, and how she was never treated the same after that, by anybody. She wasn't my friend, but she lived in the same dorm I did, so I heard about it. I was asked if I wanted to see those pictures. I did not.
I remembered when it happened to me, too — although "remember" is a generous word for my recollection of the night it happened — and the only way I could fix it was to start dating a boy in the same fraternity as the people responsible for what happened to me, because due to the rules of "brotherhood," my new boyfriend had the power to get those photos and videos destroyed. Nobody asked me if I wanted to see those pictures — but I did not. I prefer my black hole of memory to any triggering imagery.
I could go on.
All of these sexual situations could be framed, in legal terms, as entirely consensual — but never did I, Lisa or Beth consent to broadcast/distribution. The idea of pressing charges, to any of us, would've been preposterous. Somehow, as strange as it seems in retrospect, it was contextualized as part of life on campus, and fraternity culture especially. And I imagine if Tyler was still alive, he would've kept the situation quiet — people will go through great lengths to keep their sexual lives as private as possible. In fact, 10% or fewer of student sexual harassment victims attempt to report their experiences to a university employee.
This stuff happens all the time on college campuses. We know about the big stories from Duke and Yale but we don't always know about the thousands of smaller incidents happening in universities all around the country.
Two wrongs don't make a right, of course, and maybe it's not a fair comparison. But really, is anybody surprised that Ravi thought filming his roommate's sexual encounter would be interpreted as an innocent prank?  A recent study found 36% of teen girls and 39% of teen boys reporting that it's common for privately distributed (via cell phone) nude or semi-nude photos to get shared with people other than the intended recipient.
Even the most extreme of campus sex-related crimes — sexual assault and rape — go un-condemned. The lax enforcement of Title IX in campus sexual assault cases is appalling, and a probe by The Center for Public Integrity found that "students found "responsible" for alleged sexual assaults on campuses often face little or no punishment, while their victims' lives are frequently turned upside down."
Let's hope the next time a nervous college freshman discovers his or her private sexual encounters have been taped or otherwise broadcast for public perusal that he or she won't have to die to make people care.