If you, like me, found the first few weeks of college to be an unfathomably petrifying social experience, then you, like me, will understand a little better what it felt like to be Tyler Clementi, the 18-year-old gay Rutgers freshman who jumped off The George Washington Bridge to his death in September 2010.
Clementi moved in to his dormitory — Davidson Hall "C" on the Busch Campus of Rutgers University in New Brunswick, New Jersey — on August 28th, 2010. Although he hadn't met his roommate, Dharun Ravi, until that day, both boys had already done a great deal of internet research on each other prior to move-in.
On move-in day Clementi thought Ravi might be a shy loner like him because Ravi spent most of that day hooking up his complicated computer situation and wireless router. But in the days that followed, Clementi quickly learned that Ravi wasn't really anything like him at all. They were opposites, really.
See — Ravi had friends. Lots of friends. His old friend Molly Wei, from high school, lived right across the hall. Ravi went out "partying" every night "'til 5am" and was rarely in his room. He was confident and gregarious. Clementi, on the other hand, rarely left his room. Clementi didn't even drink, really, let alone party, and he didn't want to, either — or, at least, that's what he told his friends.
Clementi told an online friend that Ravi knew Clementi was gay and had "tweeted about it." Furthermore, Clementi said, Ravi "changes his pants inside of his closet… it's like the most awk thing you've ever seen" but that otherwise Ravi was "pretty fine all around. a lil bit messy, but so far so good."
As the days trudged on and Ravi became increasingly comfortable at Rutgers, Clementi hadn't made much social progress and although he'd come to Rutgers partially to play violin in their Orchestra, told his friend "it feels so awk to practice violin in the room. I feel like everyone can hear me."
Clementi's friend "Sam" advised him to get off the computer and go make friends, but Clementi said:
"I can't talk… it's like I'm not capable of conversation… i NEED conversation, it's just that I can't DO it."
Clementi said he only needed "3 hrs of socialization a day" and preferred a few close friends to large groups of other friends:
"I don't like to be around people for that long… and most other people like to be around people for long times… whereas I really need to be alone and so then they just view me as always wanting to be alone, but that's not true. I need  some people in my life, just not as much as other people do."
After Clementi's suicide on September 22nd, 2010, CBS News reported:
"For some of Clementi's new classmates, the first time they learned much about him was when they got word of his death. "I guess the only person I haven't talked to is Tyler 'cause he's like really quiet and shy," said Justin Lee, a freshman from Princeton who lives on Clementi's hall."
For some of Clementi's other new classmates, though, the first time they learned much about him was when Dharun Ravi put Clementi's private gay hookup on his public webcam.
Was it this video — a sort of high-tech vehicle for gay bullying — that drove Clementi to suicide? We may never know one way or the other, and it's likely that if it is, it's still only one of many factors.  Dharun Ravi, unsurprisingly, says none of those factors are his fault.
Dharun Ravi has been indicted on 15 counts which include invasion of privacy, bias intimidation and trying to mislead investigators. His lawyer Steve Altman submitted hundreds of pages of "revelations and uncensored witness testimony" to the Superior Court in New Brunswick this week, along with a motion to dismiss all charges against Ravi. The information in this post, unless otherwise noted, is from those documents, which you can access here.
I spent all day Saturday reading those documents, which add a little bit more depth to the Clementi case, a case which retroactively marked the beginning of a string of gay suicides paid attention to by the press last fall: 13-year old Asher Brown, 13-year-old Seth Walsh, 19-year-old Raymond Chase, 19-year-old Zach Harrington, 14-year-old Brandon Bitner, 21-year old Jeanine Blanchette and 17-year-old Chanel Dube — the list goes on. Not all of those suicides were directly linked to gay bullying, but all of those kids were gay or perceived to be gay and for one reason or another, chose to leave this world.
I admit I've always found it interesting that Clementi's case has been the most visible of those suicides, as technically an absolute link between Clementi's roommate spying on his gay sexual encounter and Clementi's decision to kill himself has never been established . Also, unlike many other victims who'd been openly taunted by homophobic bullies, I'm not sure that Ravi and his friends were necessarily homophobic — it seems like they were just assholes.
Will that link ever be established? According to Ravi's attorney – no.  From the brief:
The evidence presented to the Grand Jury was insufficient to establish the elements of any of the crimes charged. Although courts ought to be reluctant to second guess a grand jury panel, this is a rare case where the evidence simply does not support the indictment. 
Basically, Ravi's lawyer is saying that key evidence was either not presented or was misrepresented to The Grand Jury in order to indict his client. For example, an apology text from Ravi to Clementi wasn't shown to the Grand Jury and longer nuanced conversations were inaccurately summarized to the Grand Jury. Some of these claims seem valid and some don't.
Altman also claims Ravi only turned on his webcam to protect his belongings. Specifically, he wanted to ensure Clementi's friend wouldn't steal his iPad, which is honestly the stupidest defense ever because if Ravi was so f-cking concerned about his iPad, I hear that shit is hella portable.
Besides, Ravi has a long history of lying his pants off. In Molly Wei's testimony from April 15, 2011, she says she and Ravi were friends in middle school but had a falling out in high school related to lies Ravi told Wei and didn't speak for three years — only reconciling eventually because they were in the same hall at Rutgers.
In 9th grade, Ravi told Wei he was the captain of an all-black basketball team going to "Nationals," that he was "famous in India" and "on billboards in India" and he was "famous in Canada for snowboarding." Molly Wei:
"I think the point where I cut things off with him is on my birthday when he sent me an audio file he said that he was really popular at his old school and that since his band, choir and orchestra owed him a favor for him getting them to play at his basketball game he got them all together to record a soundtrack for me. It was really weird… so I just stopped talking to him. "
Regardless of the validity of Ravi's case, however, the information released in the court papers serves to give us a much fuller picture of Clementi's life and death though it's ultimately, still, not enough.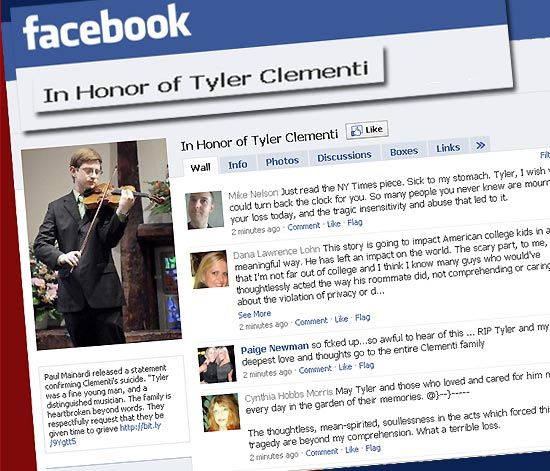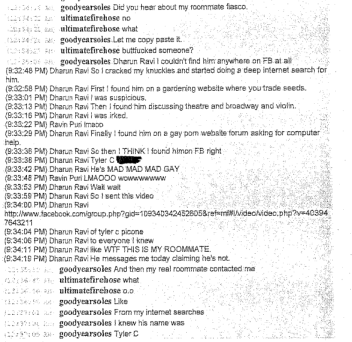 As aforementioned, Ravi researched Clementi online extensively that summer. Initially he found a different gay "Tyler C" online who he thought was his roommate — a man who apparently was "MAD MAD MAD GAY…." and inspired Ravi ("goodyearsoles") to exclaim "WTF THIS IS MY ROOMMMATE" :
bigeaglefan75: [the fact that that guy is your roommate] blows
goodyearsoles: He blows
bigeaglefan75: LOL
bigaeaglefan75: he'll blow you in your sleep
goodyearsoles: I'm pretty sure he's majoring in theatre.
But then the real Tyler Clementi emailed Ravi, and it turned out, much to Ravi's relief, that The Real Tyler Clementi was "also gay but regular gay."
In the motion to dismiss, the defendant points out that Clementi also made some disparaging remarks about Ravi's race, saying to a friend that Ravi's family seemed "soooo indian/first gen americanish," "having way too much fun playing with the internet… his 'rents def own a dunkin." The defense says, however, that it's unlikely Clementi was racist or that Ravi was homophobic. They were just two teenagers evaluating each other based on "superficial characteristics."
Shortly after arriving at school, Tyler told a friend online that he'd come out to his family before leaving for school, a fact which the defense suggests has been overlooked as a possible trigger.
Tyler told his friend that his older brother who is also gay already knew, his other brother was "unphazed by it," Dad was "actually very accepting of it" and as for his mother:
"then…we get to mom…hehe…lets just say…its a good thing dad is ok w/it or i would be in serious trouble. mom has basically completely rejected me…she seems very dismissive."
This is in line with Clementi's mother's feelings as recorded in the police report from Clementi's suicide:
"[Ms.Clementi] stated that the only medical issue that tyler had was that he had Asthma and takes Albuterol. However, she added that he may be depressed. Mrs.Clementi stated that three weeks ago, her son revealed 'some disturbing information' to her and that they have not talked about the issue since. She advised Dispatcher Screathings that she talked to Tyler at approximately 11:30AM this morning, and she advised that Taylor appeared Happy and in a good mood."
Although Clementi hadn't made many friends on-campus, he'd met a 25-year-old guy, "MB," on the internet who he wanted to hook up with. Clementi considered a $35 hotel room because  he was worried Ravi might walk in… "that would be so awk tho lol… him walking in while i'm getting fucked…" but decided against it.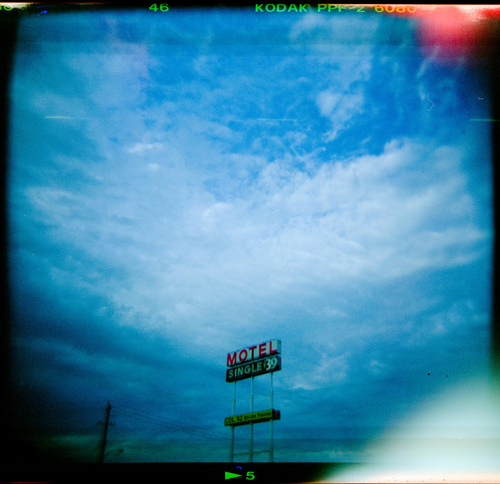 Their first hookup, according to "MB," took place without Ravi's knowledge on the 16th.
Clementi asked Ravi for permission for MB's September 19th visit, however, which is when Ravi set up the infamous webcam, which he accessed via iChat in Molly Wei's room. The pages of witness interviews on how/why exactly the camera was set up are exhausting and totally confusing, which the prosecution claims is because Ravi asked his friends to lie for him. Molly's testimony in particular — Part I and Part II — are a mess of contradictions and "i don't remember"s. That's a theme across everybody's testimony — nobody seems to remember anything.
Here's a sample exchange between the police and Alissa Agarwal, another Rutgers resident and friend of Ravi's:
Q: Did you know that [Ravi's] roommate was gay?
A: I don't think I did.
Q: You didn't know?
A: Yeah, I don't think I did.
Q: So through all this conversation that he was bragging about this camera and —
A: During all this I knew that he was gay. But like, before the 19th I'm saying I don't remember if I knew whether or not he was gay.
Q: So on the 19th, that's when you found out?
A: Come the 19th, because of the tweet, yeah. I might have known he was gay before but I really don't remember. Dharun really didn't talk about Tyler that much.
Q: Did he ever make derogatory comments about anyone of — is homosexual?
A: Nothing vibrant in my memory.
Q: Did he ever express his views about homosexuality in general?
A: No.
Q: How he felt about it?
A: No.
Q: No?
A: He was pretty open to it.
Q: Umhmm.
A: I'm pretty sure.
Q: About —
A: Because he, himself, has like gay friends.
Q: How did you know that?
A: I think word of mouth, like people, like we have like a group and like people told me.
Q: So Dharun never told you that he had friends that were homosexual?
A: I don't think so. I don't remember.
Q: You don't remember if he told you that?
A: Yeah. I don't remember.
Q: You're telling us you think you found out through —
A: Yeah, I'm not sure though. Because he and I didn't really talk about the homosexual community that much.
Q: Okay. So did you talk about it just a little then?
A: I don't remember. He and I talked about a wide variety of things.
Q: Okay. But this was not one of them or was?
A: It might have been, but nothing that's vibrant in my memory again.
Q: Okay. Are you have — are you on any type of medication for memory issues?
A: No.
Q: Have you ever gone to a doctor in reference to having memory issues?
A: No.
The day after MB's visit, Tyler told his friend "HY" on chat that he saw the green light turn on the webcam while MB was over, but that it had turned off by the time Tyler went to turn it off himself. Also, Tyler was aware of what Ravi had done from reading twitter:
Tyler: but it's not like he left the cam on or recorded or anything, he just like took a five sec peep lol
HY: um i think he got too scared after 5min hehe
HY: hahahaha
HY: but wow, idk
Tyler: yah, i know
HY: i would feel seriously violated
Tyler: like wtf did he think was gonna happen… oh yah i gotcha, when i first read the tweet i defs felt violated but then when i remembered what actually happened… idk
HY: um
Tyler: doesn't seem soooo bad lol
HY: dude!
Tyler: hahaha
HY: not only did he peep, he told the entire world about it
Tyler: yah
HY: you ok with that?
Tyler: the telling the entire world thing? i mean, nothing i can do
HY: all of it together
Tyler: hahaha, well i mean next time i'll turn the cam around first lol
HY: next time you should be like – dharun, what's up, you came back for more? you know next time you could just ask me, i've always avail. :-P
Tyler: haha but at the same time i kinda don't really want him to know that i'm reading his twitter…ya kno? like.. if he's reminded that i'm reading t, then he'll probably block me out
The defense says this chat proves Tyler didn't care at all.
But in my totally personal and perhaps entirely irrelevant opinion as another person with social anxiety — Tyler cared. Tyler just didn't have the guts to do anything about it, so he downplayed his reaction. Had Tyler told his friend that he felt violated, his friend would've told him to take action, and then Tyler would've had to explain why he'd rather have his privacy violated than initiate an uncomfortable conversation with a relative stranger, a concept foreign to most people without social anxiety. Socially comfortable people don't have much patience for that, no matter how much they love or accept you. In a more general way, Tyler's overall tone might not suggest complacency as much as it does shame — he was probably a lot sadder than he let on, and it can be embarrassing to admit to other people that you aren't adjusting well, especially when those other people are doing just fine at their new schools.
Tyler told HY he hadn't spoken more than ten words to Ravi, and when HY started giving Tyler social tips — like to ask people questions about themselves — Tyler cut her off:
"yah yah yah, I've googled it like a million times, I kno all the 'rules.'" 
In a conversation from the first week of school, you see that Tyler was afraid to even ask his roommate to open his curtains:
Tyler: I wonder if Dharun would open his curtains, but gah, I'll never ask… hehe this is gonna b fun lolz
HY: Why not?
Tyler: idk. to much confrontation i guess
HY: try, 'hey, by any chance would you mind opening the shades on your window? or would that mean too much glare?'
Tyler: hehehe that's too funny, your giving me scripted conversations lol
HY: hehehe oops
Tyler: like the screenplay writer for my life
HY: yaY!!! my first job!!
Tyler: But naw… not gonna do it.
However, later after doing some research, Clementi found that Ravi's webcamming may have been in violation of The Rutgers Code of Conduct. This meant Clementi could take action without confronting Ravi directly. He'd just have to talk to an RA — these kinds of "official" conversations are much easier — the RA has a job to do so their reactions are predictable and therefore less anxiety-inducing than a casual social encounter. At this point Tyler changed his tune, but still gave no indication to Ravi that he knew what was gong on.
On September 21st, Clementi texted Ravi to ask if he could use the room again. Ravi posted to twitter: "Anyone with iChat, I dare you to video chat me between the hours of 9:30 and 12. Yes it's happening again."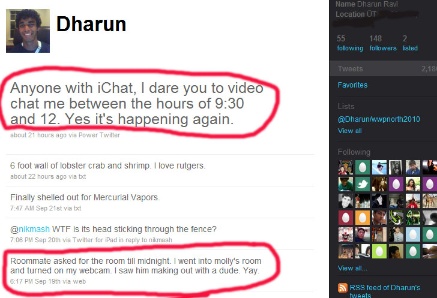 Clementi saw the tweet, unplugged Ravi's computer, reported Ravi's behavior to the RA and requested a room change. The RA offered Clementi another place to sleep 'til the change went through but Clementi insisted it would be fine — probably he didn't want to risk alerting Ravi or miss his date that night with MB.
On the afternoon of September 22nd, Ravi was approached by the RA, Raahi Grover, and informed that Clementi had complained about the webcam. Grover said Ravi appeared "upset and confused, and then tried to explain himself, but Grover cut him off."
That evening Clementi was last seen at 6:30 PM. He sent a text message to HY at 7:15 PM.
At 8:42 PM on September 22nd, Clementi updated his status to say "Jumping off the gw bridge, sorry." Witnesses saw a man jumping off the George Washington Bridge around that time.
At 8:46 PM, Ravi sent the following text message to Clementi, allegedly in reaction to his earlier confrontation with the RA:
"I want to explain what happened . Sunday night when you requested to have someone over I didn't realize you wanted the room in private . I went to Mollys room and I was showing her how I set up my computer so I can access it from anywhere . I turned on my camera and saw you in the corner of the screen and I immediately closed it. I felt uncomfortable and guilty of what happened. Obviously I told people what occurred so they could give me advice. Then Tuesday when you requested the room again I wanted to make sure what happened Sunday wouldn't happen again and not to video chat me from 930 to 12. Just in case, I turned my camera away and put my computer to sleep so even if anyone tried it wouldn't work. I wanted to make amends for Sunday night. I'm sorry if you heard something distorted and disturbing but I assure you all my actions were good natured."
At 8:56 PM, another text from Ravi:
"I've known you were gay and I have no problem with it. In fact, one of my closest friends is gay and he and I have a very open relationship . I just suspected you were shy about it which is why I never broached the topic . I don't want your freshman year to be ruined because of a petty misunderstanding, it's adding to my guilt. You have to right to move if you wish, but I don't want you to feel pressured to without fully understanding the situation."
Ravi claims he hadn't seen Clementi's facebook status when he sent the texts. The texts make Ravi sound at least slightly full of shit, in my opinion, but Ravi insists they're genuine, and there's something to be said for his desire to send those texts at all. He did care, in some way, and felt bad, in some way.
Nobody knows if Clementi got the texts before he died.
Clementi's cell phone was recovered at the scene.
Regardless, the defense is arguing that Clementi's troubles took place "far from Busch campus." The Defense would like the jury to see the documents on Clementi's computer which the state has not disclosed the contents of, despite suggestive titles like "Why does it have to be so painful .docx." (june 20,2010), "sorry.docx" (july 28, 2010) and "Gah .docx." (sep 2,2010).
So after engaging with these documents, are we any closer to understanding what happened to Tyler Clementi?
One theory: some psychiatrists believe in the existence of something they call "impulsive suicide" — in which the interval between deciding to kill oneself and actually doing it is incredibly small and for which certain barricades could've easily prevented the suicide — described by Scott Anderson in a 2008 New York Times article, The Urge to End it All. Basically the article asks — if someone can make the decision to kill someone else without premeditation, could they make the same decision about killing themselves without premeditation?
In an article about the suicide of Dalton teenager Teddy Graubard, New York Magazine described "impulsive suicide" as "sudden, unrehearsed" and "thus especially common among young people, who are naturally impulsive to begin with… as one psychiatrist put it, [those patients] did not truly want to die but sought a physical solution to a temporary spiritual agony." 
Was Tyler Clementi an "impulsive suicide"? What was Tyler Clementi thinking on his way to The George Washington Bridge? Was he worried that his chances of making friends at school, already diminished by his shyness, were now further diminished by his new reputation as the gay guy who had sex in Ravi's room? It's hard to be socially anxious, and doubly so when in addition to feeling like you don't fit in, you actually really don't fit in according to standard definitions — you're gay, they're straight, and your gayness was their party game.
Was he imagining getting up the next day and walking down the hall, wondering as each person passed him if they knew, or what they knew, or what they said about him as he exited earshot? Was he nervous about explaining to his intolerant mother why he'd switched rooms? Or is there something in those withheld documents that might wipe out all these theories and replace them with more clearly defined answers?
Maybe we'll never get answers, though. Because maybe the only person who really understood why Tyler Clementi jumped off that bridge is Tyler Clementi.