Looking for some fall wardrobe inspiration? dapperQ's He Said/We Said has what you need. For a quick refresher, check out creatress mastermind Anita Dolce Vita's plan behind the magic:
"The models fashion their very own looks – I give the inspiration, they give the interpretation. They come to the shoot camera ready: hair, make-up, their own clothes, accessories and props. I didn't want the series to reflect how to recreate menswear from an individual stylist's point of view. It's always a wonderful surprise to see what each model came up with and all of the different translations of the same inspiration."
Photographer Syd London chose Gant's fall collection and tells us how working on this project was different from a typical shoot:
"As the photographer, I worked on this shoot in the reverse of a traditional fashion shoot. Rather than starting with the clothes, I started with the models, each of whom are wonderful activists in the NYC area.  Each model inspires me with their community work and heart; they also have great style, symbolic of how they live in their bodies. I chose Gant's collection primarily because it felt most organic to the styles I see the models rocking around town regularly. Staying true to the models' natural styles, honoring it was vital to me. Above all I hope to inspire readers with real life GNC (Gender-Non Conforming) journeys, something dapperQ has always been committed to."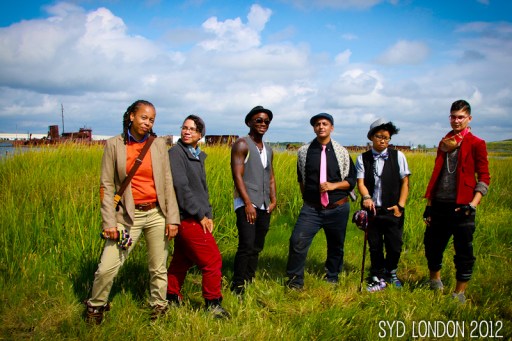 +
Kay Ulanday Barrett
Age: Saturn's return survivor
Preferred gender pronoun: He, they, siya, K.
Occupation/Awards: Cultural worker for liberation & editor of recipesforthepeople.com. A CAMPUS PRIDE 2009 Hot List artist, Kay Ulanday Barrett is a poet, performer, educator, and martial artist navigating life as a disabled pin@y-amerikan transgender queer in the U.S. with struggle, resistance, and laughter. Based in NY/NJ, K. has featured in colleges and stages internationally; from the NJ Performing Arts Center to Musee Pour Rire in Montreal, The Brooklyn Museum to The Loft in Minneapolis, K's bold work continues to excite and challenge audiences. Recent Honors include: Chicago's LGBTQ 30 under 30 awards, Finalist for The Gwendolyn Brooks Open-Mic Award, Windy City Times Pride Literary Poetry Prize, and a contribution in Kicked Out Anthology. K. turns art into action, dedicated to LGBTQ, API, youth communities and remixing recipes. see K. on twitter @kulandaybarrett
Outfit Sobriquet:
Tenderqueer homeland homeboi swerve
Talk a bit about your favorite moment(s) from the shoot:
Generally, the laughter and realization that our fashion is all terrain. Through mud, rickety ships, rain — we still rock it right!
Tell me about what it meant for you on a personal level to be involved in a project like He Said/We Said:
To be among my fresh and fiery peers made me giddy, then excited for various qtpocs to be represented. Additionally, disabled brown round bois aren't told they are handsome in this world enough. This feature reifies the truth: all bodies have savvy, substance and style.
+
Cris Izaguirre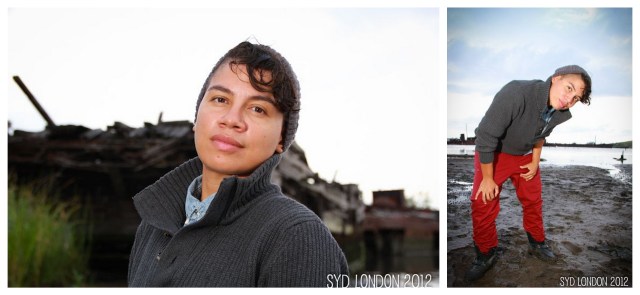 Age: 33
Preferred gender pronoun: They/she
Occupation/Awards: Farm boi/Poet/Producer/Co-Creator of Butters Papi, a queer POC production company.
Whose wardrobe would you raid?
My father's wardrobe when he was in his twenties. He had some really nice Guyaberas.
Where are your favorite places to shop?
Buffalo Exchange
What accessory/article of clothing can you not live without?
My beads. I have several: some made from seeds, some from shells, most I got while traveling and they hold the memory/ energy of places I've been to.
+
Zavé Martohardjono
Age: 28
Preferred gender pronoun: He/him
Occupation/Awards: I am an artist and filmmaker and also the Media Communications Officer at Astraea Lesbian Foundation for Justice.
Outfit Sobriquet:
My friend Jah who helped me style it named it "Equestrian Realness"
Talk a bit about your favorite moment from the shoot.
After the group shot, Jay Toole shared with us how deeply moved she felt by seeing us all so proud, handsome, and self-confident together. She told us about the challenges she'd been through as a young person, getting attacked for being out and gender-non-conforming, and, in such sweet, heartfelt words, how wonderful it was to see us all as we were. I have so much deep admiration and respect for Jay and her work, and the many others who've paved the path I have the fortune of discovering everyday. So this moment with the group, hearing Jay express her admiration for us simply made my heart swell. But then we were snapped out of it to find that Syd fell into a sinking mud hole!!!
What accessory/article of clothing can you not live without?
Lately it's this long brass chain with a small, sleek, geometric pendant I found at Brooklyn Flea this summer. I chose it because its shape reminds me of some things I'm trying to focus on these days. Every morning I put it on and tuck it under my shirt so it stays hidden like a little secret, there for reminders & protection. I'll wear it out when I'm feeling wild.
+
Zakiyyah Shabazz
Alias: Zakiyyah Shabazz, known to some as Butters
Age: 45
Preferred gender pronoun: She
Occupation/Awards: Half of the duo known as Butters Papi, a production company that supports and showcases the queer artist at all points on the gender spectrum.
Song that best describes your look:
"I'm Every Woman"
Whose wardrobe would you raid?
Ellen Degeneres and Jada Pinkett Smith.
What accessory/article of clothing can you not live without?
I am into simple lux elements that are timeless and not trendy. So it isn't about a particular accessory it is more about the cohesive structure of the overall look and comfort.
+
Sabelo Narasimhan
Age: 37
Preferred gender pronoun: He or she
Occupation/Awards: Artist and Community Organizer
Outfit Sobriquet:
Gender Immigrant
Song that best describes your look?
"Choli Ke Peeche"
Talk a bit about your favorite moment from the shoot:
When Syd and I crawled out of the belly of the sunken ship, fighting against the rising tide and roach-crabs to make it back safely
+
Ola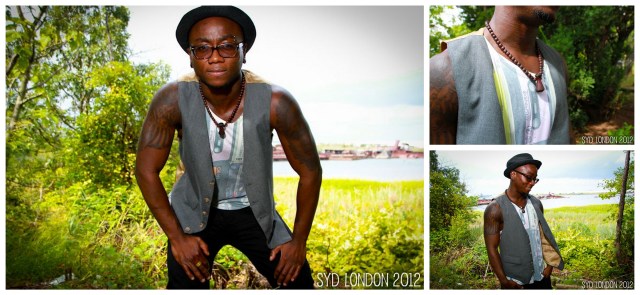 Age: 36
Preferred gender pronoun: None. Just ola.
Occupation/Awards: Grassroots fundraiser at the Sylvia Rivera Law Project.
Song that best describes your look?
"I No Be Gentleman At All" by Fela Kuti
Whose wardrobe would you raid?
Fela Kuti circa 1970s. His staple attire: tight flashy, colorful bell bottoms and equally flashy/colorful silk shirts, tucked in and unbuttoned to reveal his chest. Nothing sexier.
What article of clothing can you not live without?
My glasses I guess, since I can't see without them. My facial piercings because they look fly and they're a pain to take off/put back in.
+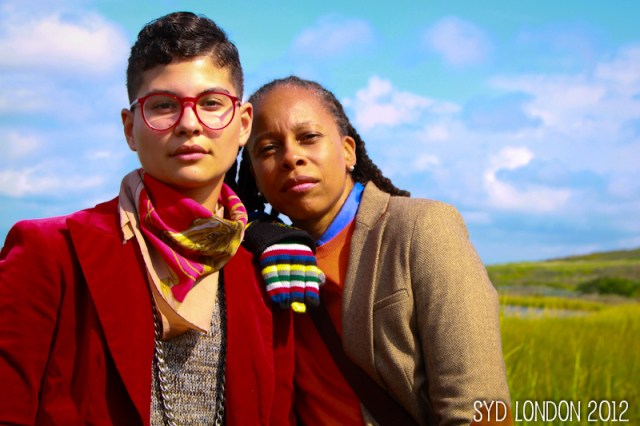 Founder of DapperQ: Susan Herr
Photography Assistants: Jamie Larson and Jay Toole