By now, you've probably heard about Christina Aguilera's body positive, sassy, and totally fake commentary from this month's Billboard Magazine:
I got tired of being a skinny white girl. I am Ecuadorian but people felt so safe passing me off as a skinny, blue-eyed white girl … [In 2002,] I had gained about 15 pounds during promotion and during my Stripped tour. They called this serious emergency meeting about how there was a lot of backlash about my weight. Basically, theyd told me I would effect [sic] a lot of people if I gained weight — the production, musical directors. They claimed people I toured with would also miss out if I gained weight because I would sell no records or tickets for my shows. I was young, so I lost the weight quickly and was toothpick thin during [2006's] Back to Basics promos and touring.
I told them during this Lotus recording, 'You are working with a fat girl. Know it now and get over it.' They need a reminder sometimes that I don't belong to them. It's my body. My body can't put anyone in jeopardy of not making money anymore — my body is just not on the table that way anymore.
While quickly shot down by a rep as being "100% false," Aguilera's words that weren't were around long enough to generate 100% real commentary and feelings about weight and ethnicity. We can spend every day shouting these messages of self-love on the streets or even at ourselves in mirrors behind closed doors and still feel as if our words are falling upon deaf ears. It can be comforting when a celebrity with a voice and range much broader than your own says the things you've been saying all along.
What's more, these conversations about bodies are rarely easy. Sometimes, it's not so much about having a celebrity endorse our feelings as it is about having an excuse to talk about these issues, discuss our personal experiences (or distance ourselves from them by focusing on a famous person), and just think critically.
Kate Bein, a blogger for the Miami NewTimes, was one of approximately 3,405,201 bloggers to have a lot of very valid feelings:
OK … So you think Christina Aguilera is a fat powder puff? You actually prefer her as the anorexic genie bottle bitch who wasn't comfortable being herself? You think she needs to be assless all up in a pair of chaps?
We're sorry, but we thought this was about music for a minute. Guess it's not good enough to be the best singer of your generation and curvy at the same time. By these standards, Adele should go kill herself because there's no hope.
While this kind of reaction to the the media scrutiny surrounding pop stars' waistlines is completely justifiable, titling the article  "Lady Gaga, Christina Aguilera, and Jessica Simpson Aren't Fat" causes more harm than good. By saying women "aren't fat" in order to defend them, you're implying that there's a series of vague and impossible sizeist thresholds between "too slender," being of  a "socially acceptable weight," and "too fat" — as well as reifying the assumption that fatness is bad. One runs the risk of stigmatizing the "fat" as much as those who shame celebrities for gaining weight while attempting to defend them. In reality, fat's actually a healthy and totally natural part of body composition.
One of the things that fascinated me about Aguilera's (fake) commentary was that it came from someone who was taking complete and total ownership of her own body without actually throwing anyone else under the bus. While Lady Gaga's Body Revolution is being criticized for selling body acceptance to the insecure and creating a movement focused on already-socially acceptable, white, cisgender bodies, [fake] Xtina didn't order a call-to-arms or objectify herself. She was just doing her.
Our personal experiences dictate the way we interpret words. When I first read this quote, I didn't feel like I was reading commentary on weight. This cut closer to the bone than that: This was commentary on ethnicity, race, and "passing" — a reminder that our ideas about fatness aren't objectively true, but culturally relative.
By simply reminding us that she is Ecuadorian, (the supposed) Aguilera pulled the focus off the American stigma of what it means to gain weight and onto what her weight means to her as a Latina. As a society, did we even know that she is of South American descent? Aside from the occasional announcer stumbling over or grossly exaggerating her surname, Aguilera's heritage has never been much of an afterthought. After all, she's a fair-skinned performer working in the fair-skinned dominated pop music industry. Despite having recorded an album in Spanish, Mi Reflejo, this isn't enough to distinguish her from the pack, as many white musicians — from 98 Degrees to ABBA — have done the same. For the most part, Aguilera has passed as white.
Obviously, passing comes with immense privilege. People automatically assume that you are fluent in English, and a police officer will never ever ask you to hand over your immigration passport. TSA agents might even smile your way. At the same time, passing comes at a price: Erasure of your heritage, and the assumption that because dominant culture has adopted you, you have also adopted its norms.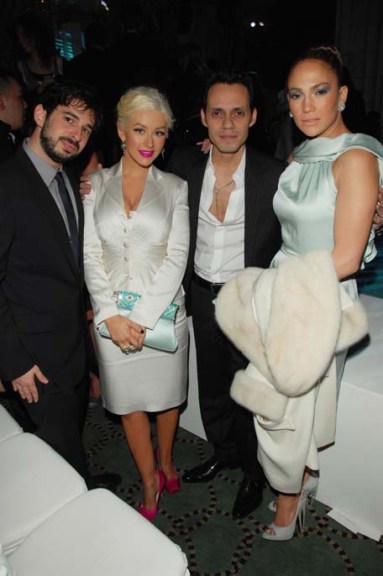 For me, Aguilera's words were a quintessential "Fuck you, I am taking back my identity" moment. As a Cuban woman whose ethnicity goes unnoticed because I have lighter skin, my chest puffed with pride. I slow-clapped; I mouthed the words amen to that; I hearted the quote; I reblogged it; I commented on the Huffington Post article and then tweeted the link. Aguilera's words (or, sorry, the words attributed to Aguilera) were about questioning our assumptions and checking the privilege that those assumptions are based in, whether it's remembering that we can't know someone's ethnicity based on what they look like, or that we don't know someone's worth because we know their weight.
And I was so sad when it turned out to be fake.
Fake; it's a word that's been unnecessarily plaguing Aguilera's career since its onset, from the manufactured Britney vs. Christina rivalry of the early 00s to the criticism of her reinventing herself as Dirrty Xtina, to the Gaga comparisons following the release of Bionic in 2010. Ironically, the false quote is itself about fakeness — the artificial image that Christina's handlers needed her to project. But if we've learned anything from pop culture and its idols, it's that we don't need for something to be real to recognize it as truth. As a generation, we've been finding reflections of our real lives in everything from Skins to Beyonce hits. We don't need for something to be true to understand the ways in which it can be honest. It's almost fitting that the most authentic words that Aguilera's ever uttered never actually happened.