Welcome to the first of four fantastic recaps of our entire experience at A-Camp 2.0, which took place 2.5 hours outside of Los Angeles at Alpine Meadows Camp atop a mountain in Angelus Oaks, California, from September 12th-16th, 2012.


A-Camp was the genesis of an idea Riese had at 3AM in July 2010: the concept was to take the spirit of the website into three glorious dimensions and create an affordable option for queers for whom other lesbian vacations aren't always a perfect fit. In April 2012, we did it for the first time — along with 160 campers and 35 staff members, we rented out a summer camp in its off-season and enjoyed a transformative weekend of fun, friendship, panels, workshops, classes, sports, entertainment, events and so forth. It was probably the most awesome experience of our life and we knew from there it would only get bigger and better.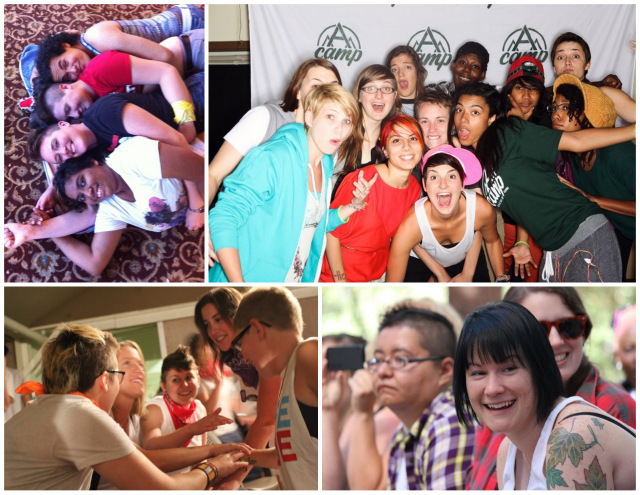 So in September, 220 campers and 40 staff descended upon The Mountain for four days of much-better-organized fun, friendship, panels, workshops, classes, sports, entertainment, events and secret initiation rites.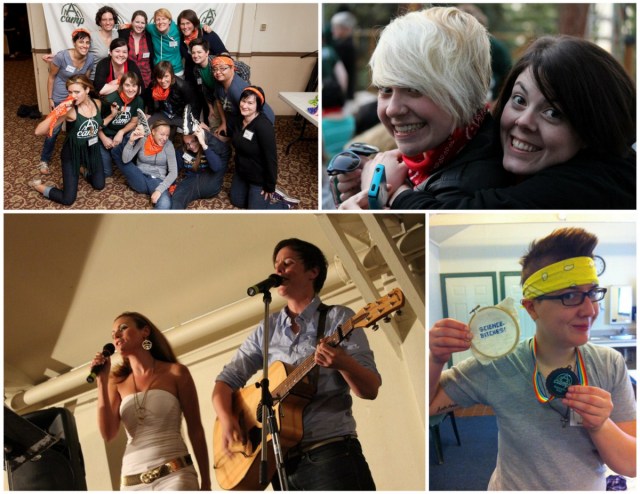 These epically long monster-posts will do their best to explain and extrapolate upon the camp experience, from avoided-shitstorms to emotional revelations to glory/triumph. But we can't tell you everything. We must leave some things up to the imagination.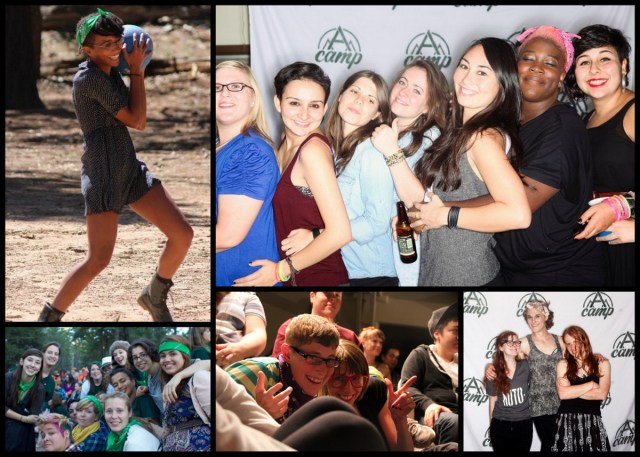 The next Camp Autostraddle will take place May 23rd-27th, 2012 in Angelus Oaks, California, Mark your Calendars!
Monday, September 10th 
On Monday, most of the A-Camp Staff arrived in Los Angeles via air, vehicle, or "already living in Los Angeles" and shipped out to Angelus Oaks for relaxing restful evening before Pre-Camp began on September 11th.
I. Hi-Ho, Hi-Ho, It's Off to Camp We Go
Riese Bernard, Runaways Counselor/Editor-in-Chief: In April, about ten of us arrived at Alpine Meadows — our first time seeing the actual site — approximately 12 hours before campers began arriving. The rest of our staff arrived on the same day the campers showed up. This was a recipe for crazymaking so this time we scheduled for everybody to fly in/shuttle out or drive out on the 10th, attend pre-camp the 11th, and be ready eager beavers on the 12th.
Carly Usdin, Thundercats Counselor/Contributor/OG Autostraddler: At April's incarnation of A-Camp, Lauren and I spent the whole time shooting the documentary, so I wasn't able to fully engage in the activities and I didn't get to form bonds with very many campers. I was determined to change that this time. I couldn't wait to get on the plane with Robin; then I spent the entirety of the flight working on the Faggity Feud intro video and was so engrossed in that that I forgot to eat lunch.
Rachel Kincaid, Jetpack Counselor/Senior Editor: On my flight from Chicago I sat next to two girls of Scandinavian descent (Swedish? Dutch? I don't know) who appeared to be some sort of Olympic-level athletes and also obsessed with eating Slim Jims. It was a harrowing trip. I do have to commend the in-terminal dining options at the Phoenix airport, though. Hats off.
Morgan McCormick, Battlestars Counselor/Calendar Girl: In the Atlanta airport, recovering poorly from the red eye that carried me there from DC, I noticed a cute short haircut, with a girl attached to it! I looked at her, she looked back and I looked away. Then she looked at me, I snapped my gaze back, and she stared intensely at her book. This went on. Then I pulled up bookface on my phone with a pic of A-Camp staff, walked over to her and said "Are you with Autostraddle?" "Oh my God yes!" Daniela and I intro'd each other, talked about our background in sexual health, boarded and, as we separated to our respective plane corners, we promised to meet again… AT A-CAMP.
Laneia Jones, Runaways Counselor/Executive Editor: Megan's mom let us borrow her super fuel-efficient hybrid, which had satellite radio, so I didn't even have to make mix CDs! How did we fit everything in it? The world may never know. We only had to go back to our house four times before we could finally leave the great city of Phoenix, so all in all, not a bad start.
Riese: Marni & I drove to Los Angeles on Sunday and then from there to Angelus Oaks on Monday. Economy Rental Car + Shit-tons-of-supplies = Riese spending hours with her legs on the dashboard because the legspace was full of supplies. It was pretty sexy!
Rachel: Because of my primo travel scheduling skills, I ended up with literally eight hours to kill in LAX. This was fine, as I had a ton of work to do and LAX has free wireless, shoutout LAX. I engaged in some really intense eye contact and aggressive body posturing to get access to the outlets in the baggage claim, and spent hours scheduling posts and working on grad school stuff.
Carrie, Forever 21 Counselor/Community Managerette: My flight got into LAX at about 10am Monday morning. I was giddy but also sleep-deprived and hungry so I stumbled to the international terminal to get food and coffee. About an hour later I met up with Daniela and then we ran into Katrina, Carmen and Gabby outside the duty free shop. (I credit the queer forces of the universe for bringing us together.)
Carmen Rios, Misfits Counselor/Contributing Editor: Then I went to Grace's terminal to meet her in the action which sparked "It Takes A Village," a week-long communal process led by Gabby to turn me into a proper butch woman. She made me chug a beer and meet Grace as opposed to having Grace meet us. I love to hug Grace, you know?
Crystal, Thundercats Counselor/Music Editor: Carly and Robin were the first people I found at LAX and seeing their excited faces reminded me that the 14-hour flight and subsequent jet lag is absolutely worth it.
Carrie: After Carmen left to meet Grace "Casablanca-style" at her terminal Rachel tweeted at us to get over to terminal 6 and catch the bus with the rest of the staff. The funniest thing about this is that twitter probably was the most efficient way to get our attention.
Crystal: I saw someone walk past who looked like Daniela Sea from behind and later discovered that it was our VIP camper, Jill!
Rachel: Jill is a superb human being and has excellent boots.
Riese: I think "HOW'S JILL" is the first question I asked Robin when she called. Jill was our A-Camp VIP — during our fundraising campaign, she picked the Megamillions "A-Camp VIP" Perk which meant she came to camp as a team member and got her own room and gifts and love and stuff. Robin said that Jill was both awesome and happy, which made me feel both awesome and happy.
Laneia: Was anyone prepared for how much we would love Jill? I thought I was ready, but I was not.
Rachel: There were some close calls — would the group that had gone to get Starbucks from terminal 4 make it back in time for the shuttle at 2:30?? — but in the end, all was well.
Riese: I spent a solid portion of the ride making sure I had everybody's name memorized in case somebody asked and studying important facts about The Runaways I had helpfully recorded on index cards. I won't tell you the memory games we had to play for Marni.
Alex, Avengers Counselor/Design Director: The night before pre-camp, I brought ALL the things in my car including Morgan and Mary.
Morgan: She buried me alive while Mary said soothing things.
Carmen: We stopped at the liquor store / grocery store / veterinary hospital for a quick trip to Vodkaland, in which I bought the cheapest glass handle of vodka that didn't call itself "Seagrams." It was Smirnoff. It was meant to last me the entire week.
Carrie: Jill entertained us with insane stories about cattle and tornados in Oklahoma. Daniela was nice enough to buy me a bottle of rum when I stupidly left my wallet locked in the bus during our pit stop.
Carly: I continued editing the video on the bus (when I wasn't asleep), and Robin shared an email from Marni in which Beth (who was the Director at Alpine Meadows in April) (!!!) asked if she could come visit one day at lunch, and we all cheered.
Rachel: There was a brief, heady moment where we thought we might be able to get Carly to play her League of their Own DVD on the shuttle, but it wasn't in the cards.
Carrie: I don't know if they knew what they were getting into when they agreed to take a bunch of queermos up that mountain, but they did a really good job because no one on our bus cried or threw up or anything. Our driver even managed to do a three point turn on the edge of a cliff on the way up.
Katrina Casino, Snatch-22 Counselor/Writer: Bus driver man, wherever you are: thank you. Great job. I don't know how the fuck you made that bus U-turn in the middle of that tiny, curvy road, but man. Go you.
Rachel: At last we arrived, and even though I had been awake for almost 24 hours at this point, it was so exciting to see everyone I love in one place that I kept just sort of covering my mouth with my hands and squealing quietly.
Whitney, Neverland Counselor/Writer: You guys, they are the best people, and the best kind of people — amazing and warm and open and lovely and so intelligent. I have all of the gushiness reserved for them. I felt so blessed to be in the mountains with such great, inspiring people, you guys. I'm so lucky.
Stef, Battlestars Counselor/Original Team Autostraddle: I headed up the Late Van Experience. Some of us had to go to work Monday, and some of us were just weirdos who booked late flights. Although I was super jealous of everyone who arrived early and got to the mountain Monday afternoon, there was something extra exciting about rounding up the latecoming staff (Malaika, Annika, Whitney and Laura) and piling into a van for old times' sake. Once we'd excitedly gathered our tiny posse at LAX and picked out our trusty rental steed, we hit the road in search of late night tacos and lesbian camp adventures.
Megan O'Grady, Valencia Counselor: Every now and then, Laneia would screech, "We're going to CAMP!!" And I could only say, "I KNOW!" in return because really, what else was there to say?
Carly: We were the first ones to arrive and I remember just looking around outside of Wolf Lodge, taking in the beautiful, quiet surroundings, and being overwhelmed with excitement and awe and gratitude.
Morgan: After the 2013 Calendar Girls shoot, I figured I'd never get to see Robin, Sara, Alex or Sarah again. Out, out brief candle as Bill said, but I never wanted to cling on like a Klingon and spoil that perfect moment on the beach. Then Riese asked me to join up as a counselor for A-Camp and it wasn't until that late Monday night moment, when we'd finally hit mountaintop, that it hit me. Hit me in the form of Robin lunging out of the dark and giving me a hug to go down in the annals of hugdom. It's good to come home.
Riese: Being back at Alpine was like going home for Christmas! All my friends are there and we're planning this really awesome party! Except the food is probs a lot better at Christmas. I'm Jewish, so.
Laneia: Yes! I had that written down: "Going back was like going home. Where did that come from? Thank you."
Rachel: There was much hugging and drinking of whiskey, and I think at one point Carly and Laneia and I spent thirty minutes just showing each other pictures of our pets on our phones. Laneia's dogs are real cute, everyone.
Stef: We meant to stop for towels and other camp necessities, but by the time we got going it was almost midnight and the only open thing we could find was a WinCo in Pomona, where we bought champagne.
Malaika Alba, Misfits Counselor/Contributing Editor: And I also found the biggest bottle of Arbor Mist I had ever seen in my life! Yup, I'm classy like that. You guys, I couldn't resist: they sure don't sell wine bottles that big in Canada.
Stef: With the help of my trusty navigator/roadtrip DJ Annika, we ascended the mountain at 2:30 in the damn morning with minimal issues and crept quietly into our bunk beds.


Pages: 1 2 3 4 5See entire article on one page