Another year, another opportunity to create a kickass calendar of smokin' hot lesbians. If you've not picked up the 2012 calendar yet, now would be the time — they're available for the post-holiday price of $10! For 2013 we did something completely different yet totally spectacular.
Are you ready to meet the 2013 Calendar Girls?

video edited by Sarah Croce and Lauren Aadland
Now, onward and upward — here's Robin!
Artist's Statement:
For the 2013 Autostraddle Calendar, we put on our bathing suits and hit the water! My goal this year was to do a black and white series that was playful, sexy, and all about the women. I sought to capture images that would reflect the models' feelings of freedom and comfort in their own skin. We chose a simple expanse of sand and water where the horizon is somewhat indistinguishable, and it was the perfect setting for a very personal and introspective look at each of these extraordinary women.
As a photographer, photographing an entire day at the beach is a great challenge. You need to maintain consistency as the light changes drastically throughout the day and the tides ebb and flow. This adds an interesting element in the images as over the course of the day, we watched them play and interact from sunrise to sunset. We closed the day with some very quiet, intimate interactions between the women who'd come to know each other over the course of those hours.
I love coming away from these shoots knowing that all of these women are now friends, and I hope that these images reflect those bonds formed.
A huge thank you to our beautiful models and our amazing crew for a job well-done. A special thank you to stylist and co-producer Sara Medd for being my partner in this project.
Robin, Photographer
Crew:
Robin Roemer, Photographer and Co-producer
Sara Medd, Stylist and Co-producer
Sarah Croce, Production coordinator and video
Lauren Aaland, video
Alex Vega, designer
Christina Natale, Make-up
Brandi Andrews, Make-up
Taylor Stevenson, Hair
Michelle McCaw, Hair
Sabrina Bringuier, Photo Assistant
Our April Lady is Morgan: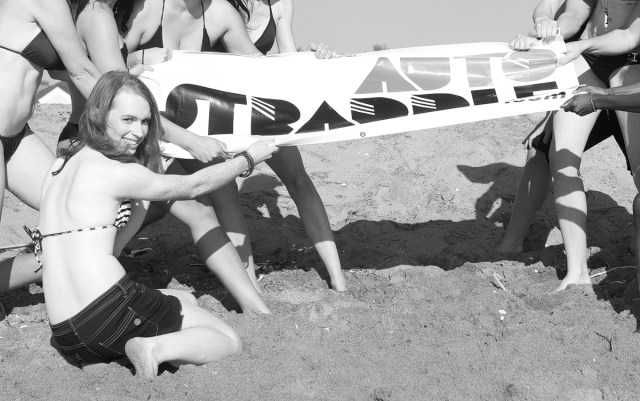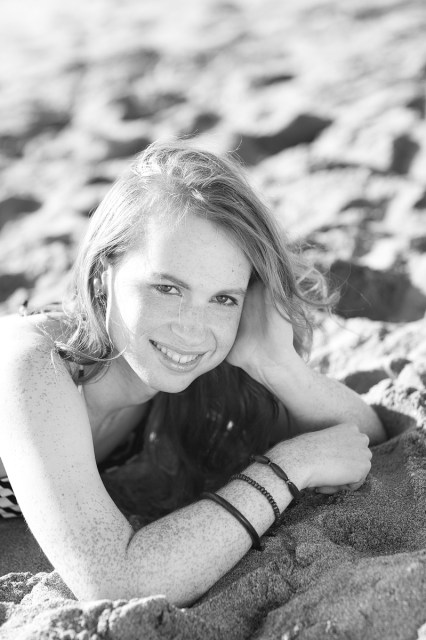 Morgan in her own words:
"Hi y'all! My name's Morgan McCormick and I'm a 24-year-old printer paper pale redhead from the South. I like grits, grits and more grits but shh, don't tell anyone — I think sweet tea is ick. I love to gobble up the geek arts, so if you want the key to my nerdy heart, just fashion me a gift basket of comic books and video games, with a bouquet of anime. When my little freckled head isn't buried in writing an article, you can find me taking long walks to nowhere in particular or meditating on any surface I can find. I like long conversations, witty banter, mixed CDs and the taste of words I've never heard before.
I may only be about three years-old in girl years, but I dearly appreciate how much this community has taken me in. Women's rights and the LGBTiverse have given me a purpose unlike any I've had before, and helping start a hormone replacement therapy program with my local Planned Parenthood was just the start of my giving back. The best part of my week is providing volunteer counseling at a rape crisis center. If someone wrapped me in a sash and put a mic to my lips right now, though, I'd say my dearest wish is to see more transfolk doing modeling, because every beautiful one of us deserves the feelings I had while on this photo shoot.
Thanks so kindly to Robin, Sara, Sarah, Alex and every member of the Autostraddle community that holds this amazing site aloft."
Robin's Phoner with Morgan
You came all the way from North Carolina to LA for our shoot and we are so so happy you did! What about the project motivated you to want to take the trip out to LA?
Two things, I guess. One is that back in 2009, when I came out to my girlfriend and we decided to stay together, we realized we didn't know very much about the LGBTiverse. Neither of us had been all gayed before, and all.
So we did what most people do now, we went to the internet and read a bunch. She found Autostraddle, which we both grew to admire because among all the millions of blogs, Autostraddle's always managed to find the humor and warmth that kept the endless flood of sad stories from being a bit too depressing. I saw the Calendar Girls program and thought, gosh that would be cool to be a part of. It didn't seem realistic for me, the way that I looked at the time — think 'hair, hair everywhere' — but it was something for me to aim for. There wasn't more than a week or two that would pass without me thinking, "This is my goal, I want to be an Autostraddle Calendar Girl. That will be my sign that I've made it. That I accomplished something I've wanted my whole life and always felt denied." What's the price of a cross-coastal plane ticket compared to fulfilling a dream?
 It was an honor to be accepted among such a group of beautiful and cool women. I keep the memories in my back pocket whenever I need a pick-me-up.
The second reason is that the calendar is like the perfect opposite of being in the closet. It's being out in a big, big way. I take pride in my two letters of the LGBT acronym, and I don't want anyone else like me to feel that who they are isn't just the damn coolest thing that ever was.
Thinking back, I remember a trans model named Caroline Cossey who was actually briefly in a James Bond film in the 70's, I think. She'd had to transition in secret, raising funds by stripping on the side. She could never be a model fully as who she was, but she was a trailblazer, and I didn't want her work to end with her. I felt like I was carrying a torch for a tradition that would be so long no one would even remember where it had started. I wanted to be a part of a thing that big.
Awesome, I just looked her up, ow ow!
I know, right? I got a big James Bond poster book just for one great picture of her. She's like a goshdarn super hero!
She seriously is! Can you tell us a little bit about where you grew up?
I've spent my whole life in North Carolina. It's an amazing state, since it has mountains, beaches and a thriving, university-filled city center called The Triangle.  I feel so lucky to have been in such a smart, debate-happy, moderate town. Sometimes we fall off the moderate tight rope in a bad way, but most of the time I'm proud to be a North Carolinian.
How did you develop your passion for gaming?
Even before we could afford them, I guess video games felt more like they were mine, and my generation's.
My poetry teacher once said "We are all a slave to our contemporaries." Movies had been around a hundred years, books for thousands, music since before anyone knows. And growing up, people were always bombarding me with "What, you haven't read this book???" or "How could you not have seen this movie?!?!"
It all got really tiring. I felt all the things I enjoyed came shackled with this unscalable burden of history that I could never surmount. But video games were new. It's still a medium in adolescence, but most everyone working in it has some years worth of shared history. I feel like the art of it is growing up alongside me, and it's just really special. I don't know how to explain it, but it makes me feel like a peach: all fuzzy.
Haha, you are a peach, Morgan! Tell me more about growing up with gaming and such.
Oh, you with your blush-inducing words. Part of the reasons I flocked to games in my youth is because they let me be someone other than a depressed kid. So when I started transitioning a few years ago, I ran up against some of the more… some of the less progressive members of the community. I decided to step away for awhile, and made a return last year with a friendly little article that ended up being circulated to the point that now I'm number two of the page one results on Google when you type in "transgender" and "video games."
I know, it's totes self-indulgent, but it makes me feel welcome again. After coming back, I found endless sites concerned with addressing feminism and LGBT issues in games. I realized that the people who'd railed against gamers all these years — telling them their art isn't actually art and calling the whole industry a misogynistic boys club — had finally made the industry join the blogosphere hard and fight back in a big way. I was fortunate enough to have been invited to speak on a panel about transgenderism and video games at one of the world's largest video game conferences, Penny Arcade Expo East in Boston, which averages about 70,000 attendees over a single weekend.
Let's talk about your blog and YouTube channel, translabyrinth!
Since I process the world through jamming nouns and adjectives together on paper, I use that as an outlet to talk about trans issues, of course. But also how they intersect with arts and entertainment, like video games, and interview influential people who have their hands (maybe even feet? I don't judge) in trans-related things. I interviewed the trans gal from The Hangover Part II last year, for example. My YouTube channel has turned into a kind of Trans TED talks attended by me and only me. My users keep thumb-upping these monologue videos I do, and I keep getting all these thank you letters saying how much my videos have helped them.
What's your guilty pleasure?
Nickelback. My friends want to pull out their hair, or mine, when I say I like Nickelback.
If you were written into a video game as a character, would you have a special name or power or significant characteristic?
I think I want a superpower that gives me a really nice pair of sunglasses that never falls off, a beautiful trench coat and a sword twice my height that weighs about as much as my cat.

Special Note: As of December 2010, we request that the comments on Calendar Girls posts, unlike every other post on this site, be exclusively positive. These posts exist to celebrate women, so any shit-talking or criticisms of the model's appearance will get deleted. Direct concerns about the project or website as a whole can be directed to robin at autostraddle dot com or riese at autostraddle dot com!