This salad feels sort of fancy without really being fancy at all.
Orange Almond Salad
Ingredients
1/2 cup slivered almonds
1/4 cup sugar
2 tsp. water
enough baby spinach for however much salad you want
1 can mandarine orange sections, drained and patted dry
1 cup strawberries, quartered, if they are in season (optional)
1 green onion
2 Tbsp. vegetable oil
1 Tbsp. rice or white wine vinegar
1 tsp. old fashioned mustard
salt and pepper to taste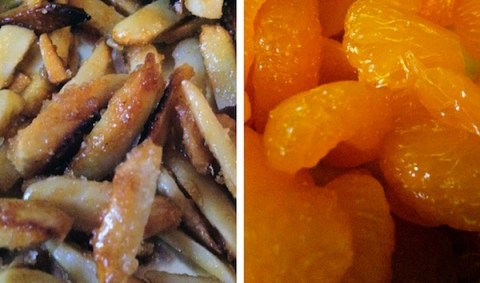 Instructions
1. Place a large piece of tinfoil on the counter. If you don't have tinfoil, grease a cookie sheet and place that on the counter. Place almonds, sugar, and water in a medium-sized pan and stir with a wooden spoon over medium heat until the sugar melts and starts to turn light golden. Keep stirring until it's an even colour and coats the almonds — this is supposed to take six to eight minutes, but if the almonds start to burn en masse before that, take them out. Immediately put them on the tin foil and spread them out (also with the wooden spoon — they are both really hot and really sticky) to cool. When they're cooler, break them into smaller pieces and try to resist eating them before you can use them in the salad. If you don't want to sugar the almonds, toast them instead by stirring them in a dry pan over medium heat until they start to smell toasty. Cool.
2. Finely chop the green onion. Place the spinach, green onion, mandarine orange slices, almonds, and strawberries in a bowl.
3. In a jar or bowl it's easy to stir in, combine the vegetable oil, vinegar, mustard, and salt and pepper. Add to the salad. Toss gently and serve.