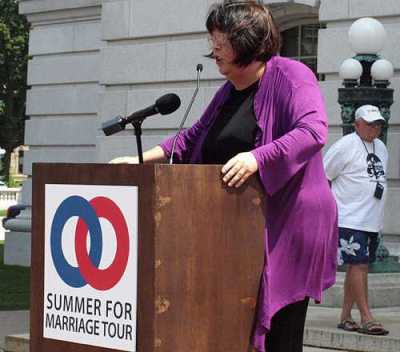 The gay community has known that the National Organization for Marriage is a group of duplicitous, bigoted people willing to do whatever it takes to stop families from experiencing full equality. In recent weeks, however, the rest of the world has also become suddenly aware of how awful NOM is capable of being with the revelation of NOM's race-baiting anti-gay tactics.
Now, public attention is focused on NOM, and they're scrambling to stand up to the scrutiny. Since the initial revelation that NOM was consciously planning to pit communities of color and queer activists for marriage equality against each other, it's also come out from the same documents that NOM was targeting "glamorous but unintelligent celebrities" as well as "glamorous young Latino and Latina leaders."  Aside from an apparently deep-seated desire to transform the image of anti-equality organizing into a "glamorous" one, NOM's specific focus on "unintelligent" celebrities or "non-cognitive elites" (NOM briefly worked with Carrie Prejean) reveals how little they think of their audience.  It would appear that significant amounts of NOM's overall strategy were based wholly on the idea that they could manipulate or control the people around them, whether they were blacks, Latino/as, or "non-intellectuals." Rather than constructing a campaign that brought people together around  a shared set of values or beliefs, NOM chose to rely on identity politics and assumptions about their own supporter base. Maybe that's because when actually examined, the "values and beliefs" that NOM espouses are exposed as prejudice and baseless bigoted rhetoric. Regardless, it would seem that they're regretting it now.
In response to the release of these documents, NOM's Maggie Gallagher and Brian Brown have both made statements implying that while the language used in the documents was regrettable, it didn't actually reflect race-baiting. Maggie Gallagher's exact words were:
"The documents used language which I would call 'inapt' — in part because it's tremendously vain to think that I or NOM or any other white Christian conservative can manipulate black and latino church leaders. I don't think so. They speak out of their own convictions and become subject to tremendous vituperative for doing so." 
Just a few days later, Brian Brown was quoted as saying:
"Let me be the first to say that the tone of the language in that document as quoted by the press is inapt. Here's something I know from the bottom of my soul: It would be enormously arrogant for anyone at NOM to believe that we can make or provoke African-American or Latino leaders do anything. The Black and Hispanic Democrats who stand up for marriage do so on principle—and get hit with a wave of vituperative attacks like nothing I have ever seen. We did not cause it, nor can we claim credit for these men and women's courage in standing up in defense of our most fundamental institution: marriage."
Aside from the irony of the fact that Brown was clearly not "the first to say" almost any of that statement, the fact that it's virtually identical to Gallagher's statement implies, as Alvin McEwen of Holy Bullies and Headless Monsters notes, "[apparently] the leaking of the confidential documents detailing NOM's plan of divide and conquer got members of the organization scared witless." Despite how clear-cut NOM's strategy appears to have been in their documentation, it seems that the only strategy their leadership can think to fall back on is pretending that it's somehow been misconstrued — or that "the language" involved is an unfortunate accident of wording that somehow no individual in NOM should ever have to take responsibility for.
Gay GOP candidate Fred Karger was in fact the person who called for the release of NOM's documentation in Maine, and he appeared along with Gallagher on MSNBC on Friday to discuss it.
When confronted with NOM's words, Gallagher explained that it was an "in-house document" (as if the sentiments expressed in it would somehow be okay if no one else ever found out about them?) and, again, that she didn't like "the language" because it implied that NOM had some level of control over religious and cultural leaders of color. Her resentment over this implication is a little confusing, because it comes from none other than NOM itself, but she seems insistent upon treating that as an assertion of the media, not her own organization. She then name-drops a number of politicians and leaders of color like Ruben Diaz, because obviously if you've ever worked with or shared the same views as a leader of color, it absolves you from ever having interacted with communities of color with anything other than the purest of intentions.
Just last month, GLAAD announced a new campaign to make sure that the average consumer of mainstream media knew the truth about "experts" like Maggie Gallagher; namely, that they're bigots whose "expert opinion" isn't based on research or education, but personal bias. In this case, it would appear that NOM may be doing their job for them — it should be obvious to anyone paying attention at all that NOM's entire project is based in injustice and a perpetuation of harmful hegemony.