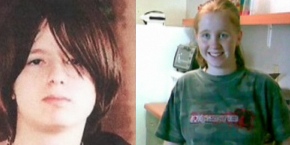 Last Tuesday in Orangeville, near Toronto, Canada, 21-year-old Jeanine Blanchette and 17-year-old Chantal Dube's friends received "goodbye" phone calls from the couple, who'd been together since meeting in group therapy that February.
Family members, too: Jeanine left goodbye letters for them, too.
After Jeanine's mother got the letter she went straight to Jeanine's house, where she found Jeanine's computer completely wiped of memory and receipts for hundreds of anti-psychotic pills, purchased at two separate pharmacies last Sunday and Monday.
The Blanchettes searched for three days with the help of police and didn't get anywhere. She said the police told her that the girls had probably just run away together and would be back before long.
So on Saturday they called in Toronto-based psychic Sandra Mae Shaw.
"I just got this vision in my head of two girls in a field laying beside each other,wp_postssaid Shaw, who said she's never consulted on a case like this before or previously worked with police.
"Of course, it's very difficult. You don't want to tell them that their loved one is gone."
Ellen's 17-year-old nephew Bradley Walsh was the first one to spot the two figures in a wooded clearing on Friday, near the Dufferin Child and Family Services building in Orangeville where Blanchette and Dube met in a group-therapy session about nine months ago.
"I'll never get their faces out of my head,wp_postssaid Jolene Blanchette, Jeanine's 19-year-old sister.
When Walsh started screaming, the rest of the family members ran toward the clearing.
Jolene remembers exactly how her big sister looked. Jeanine was lying on a blanket, curled into the fetal position, still wearing her glasses. Chantal was beside her.
"She looked peaceful,wp_postsJolene said quietly, as she sat in the living room inside her mother's Oshawa home on Sunday and relayed the story of the family's desperate search with the help of her aunt, cousins and mother.
Jeanine had been suffering from depression and had checked herself into a hospital in September. She was put on medication and released a few days later. Her mother feels she was released too soon. We are inclined to agree with her.
The past week has been devastating for the earth and the world and every human being with a soul as so many gay kids and teenagers have killed themselves as a result of repeated and unbearable gay bullying.
Was that the case here?
The family says "no" and it seems the only thing implying that this was at all related to gay bullying is that there were a lot of other gay bullying cases recently.
We're going to say "it was a lot of things." As much as somebody may want one reason or one cause or one explanation to make a neat story and a subsequently simple solution, that's rarely the case. But really does anyone ever really know. When a person is so young. What happened in their relationship. Would it have been different if somebody had been straight. Would the police have looked more. Did they have trouble at the hospital. Are these questions pointless. Is that why we are asking them without question marks. I mean what the hell.
Many people don't "get" mental illness or understand it or want to touch it. It can be tricky. I don't know how it works in Canada but in the US they try to get you in and out of the hospital as quickly as they can because of insurance and overcrowding. Not that the doctors aren't trying. Most people are trying and doing everything they can every day, you know. The thing is that medical mismanagement of mental illness can result in death just like mismanaging physical illness can. Letting someone still in the throes of a depressive episode out of the mental hospital can be like letting someone out of the hospital still bleeding from half the places they'd entered bleeding from.
If you, like me, have seen your loved one go into a mental hospital, get written a prescription and then shuffled out the door only to attempt suicide shortly thereafter, perhaps you, like me, are nodding and saying "this happens" and feeling upset and hoping people recognize the urgency of fixing this kind of thing. You might remember Mitrice Richardson and think "this happens". You might just look at the ceiling or your hands and think "this happens" and that it's sad.
Chantal Dube's sister told Autostraddle, "Chantal was a fun loving girl who had her whole future ahead of her.  She will be dearly missed by her parents, her brothers and sister, niece and nephew and by the many, many, many friends that she had. "
This is the end of a newspaper article called "Family-led search party finds bodies of missing women in Orangeville":
[Jeanine] was a personal support worker who worked in a home for adults with disabilities, but had to take time off work when she started feeling depressed several months ago.
"She was just hurting,wp_postsJolene said.
Jeanine admitted herself to a hospital in September. She was put on prescription medication and was released several days later. Her mother feels she was released too soon.
Family members said Jeanine was a deep thinker who wrote poetry and kept her feelings to herself.
"She was good at reading people,wp_postssaid her grief-stricken mother, who sat stone-faced while telling her story. "She could read ya."
There is a pause, and then one of her cousins adds, "And nobody could read her."