In news that takes a baby step towards restoring our faith in the logic of the universe after this week's total f*cking shit show of bad news, the Michigan Assistant Attorney General who has been openly stalking and harassing the openly gay student body president of U of Michigan, has taken a "voluntary leave of absence" from his job as a salaried state official. Technically, this is just Shirvell choosing to take some time off for undisclosed reasons. Possibly because having a full-time job doesn't allow him enough time to follow every friend and family member of Chris Armstrong on Facebook and Myspace and OKCupid, as well as updating his twitter account, which really if you haven't read is pretty fucking special. Ok fine this isn't actually him, but still, pretty perfect, no?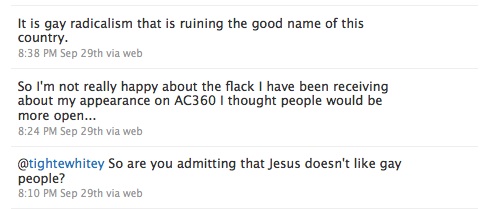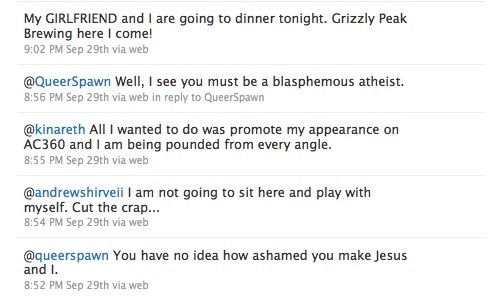 Access to his insane Chris Armstrong stalker blog has been password-protected, and Chris Armstrong is seeking a restraining order against Shervill. School officials have already banned Shervill from campus property. When he does return to work, he will face hearings for possible disciplinary action. Although Cox initially defended his assistant and still pretty much is, apparently "more issues regarding Mr. Shirvell's conduct had come to light in recent days." Maybe things like his showing up at Armstrong's house at 1:30 AM? When he doesn't even live in Ann Arbor? (@jezebel)(@nytimes)
In other but also heartening news, Jene Newsome, the lesbian Air Force veteran who was outed to her employer by vindictive and racist police officers, is suing. As we mentioned when we first covered this story earlier this year, Newsome did not tell the military about being gay, a completely uninvolved third party did. And furthermore, that third party had to go to pretty considerable lengths to even find this out (coincidentally catching a glimpse of her marriage license, which was inside her house, which they did not have a warrant to enter). They then notified the Air Force because that's their "standard practice" even though their case did not in fact involve Newsome at all but her wife. In the face of this outrageous indignity and perversion of actual policy, Newsome is suing the Rapid City police department for monetary damages and lost income. While suing the police for injustice/racism hasn't had a real high success rate in the past, we're hoping real hard for this one. (@queerty)
It's sad commentary that our "good news" is mostly optimism about possible partial redress of previous "very bad news", but we're not looking gift karma in the mouth. Not this week. Possibly the days to come will bring actual positive events! Here's to hoping!