It's Sunday Funday again! If your week was anything like mine this is the day you are spending inside resisting all contact with the outside world and going on the Internet in bed. You deserve it.
But if your Sunday Funday is anything like the happy gay things going on right here, right now, in this world and universe, then it's more likely you're out making big changes in your local community. And if you're not, you're probably in a bikini. Just sayin'.
White House Names (Interim) LGBT Liason
Brian Bonds, the current LGBT liason to the White House, is leaving the position. (Bond is leaving for a job with the DNC, so he isn't going too far.) And until a full-time replacement is found, Raul Alvillar from the Office of the Vice President will be serving as the administration's point of contact on the LGBT community. 
Shin Inouye, a White House spokesperson, has asserted that a full-time replacement will be set up by October. Until then, Alvillar will tackle the work. It is also unclear whether the White House will have the permanent successor doing the same position or a modified role.
Winnie Stachelberg from the Center for American Progress said Alvillar's work makes her excited to have him serve:
"He's certainly got the ear of senior leadership in the White House, and it's a good step," Stachelberg said. "He's got a sense of the policy from having worked in the legislative office. He's worked in state politics, which I think is terribly important. He's worked on the campaign. So, he's someone who's absolutely worked in a range of different positions, which I think will help him, and, ultimately, help the community to navigate these times and continue the progress that we've made on LGBT issues in the past two-and-a-half years."
LGBT Rights Tour Begins in Utah
The HRC is now beginning a 17-city tour meant to raise awareness about gay rights, or rather, our lack thereof. They started in Utah, and will eventually hit states like Alabama, Kansas, Nebraska, and Florida. Hopefully, it can capitalize on the current victories and shifting opinions about gay people nationwide:
The campaign comes as Utahns say their understanding of LGBT issues has changed in recent years, and 70% say they know someone who is gay or lesbian, according to a poll administered by the HRC. Still, 63% say they oppose marriage equality, but 77% support antidiscrimination protections for LGBT people.
DC Mayor Helping Trans People to Have Jobs
Vincent Gray, the Mayor of Washington, DC, began a first-ever pilot program through the District's Department of Employment Services meant to target transgender people for job training and placement opportunities. The initiative comes at the recommendation of transgender activists in DC (as well as complaints that city employers have been turning away qualified transgender applicants, in violation of DC's Human Rights Act), and Gray will be having a follow-up meeting with them in September to track its progress. The program includes six weeks of training and subsidized paid employment.
Scottish People Like Gay Marriage
Your Sunday Funday Marriage Fact of the Week (because there always has to be a picture of two lesbian brides):
The Scottish Social Attitudes Survey has revealed that in 2010 almost two-thirds of people (61%) supported same-sex marriage, up from 41% in 2002.
A Brief History of the Bikini
It's the 60th anniversary of the reason we've always loved pool parties: the bikini. It debuted in France in 1941, obviously at Fashion Week. So why did everyone take to it? And how long has it actually been around? Slate answers all, and includes great historical bikini footage in the mix, in this photography-based history.
If You Live in Charlotte, Go Get Your (Autographed) Lesbo Book
Frances Richter is a local lesbian author to anyone living in Charlotte, North Carolina. On August 27, she'll be offering autographed copies of her book to people attending Pride Charlotte. The first 50 people at her booth will get a copy of her introductory novel, "Friend of the Firm," and a free copy of her second novel, "Love Valley," will be made available to anyone who becomes a member of the Charlotte Business Guild at the festival. (That's the booth she's sitting at.) So come one, come all! There's lesbian reading to be done. You know, when you're done reading Eileen Myles.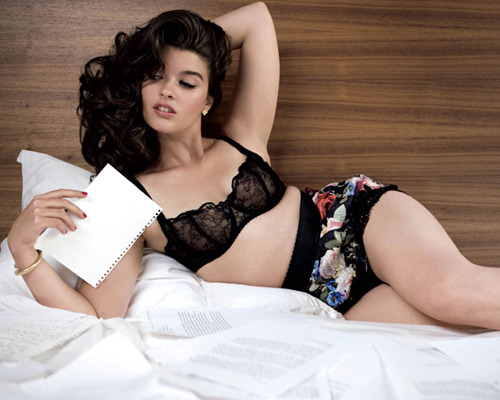 "Friend of the Firm," Richter's first release in the Sheldon Bailey Mystery Series, features lesbian attorney Sheldon Bailey, who appears to have everything: a great career, a devoted life-partner, and an active social life. But Sheldon reels when she unexpectedly becomes embroiled in the passionate schemes of Liv Jordan, who is charged with murder. Sheldon faces thorny consequences when Liv's secret past unravels the clever schemes of a sociopath that threaten to destroy Sheldon's reputation, her career, and ultimately, her life.
"Love Valley" is the second novel in the series. This historic horse-lover's town is turned on its heels when strapping cowboy Bart Tilley is brutally murdered. When Sheldon heads into town to defend a ranch hand that has been saddled with the crime, curious sexual behaviors begin to transcend the deceptions that infest the community.
Jane Lynch Will Be Fabulous at the Emmys, Photos to Prove It
The Emmy website released the official Primetime Emmys Host Gallery this Saturday. Jane Lynch is going to make us proud, I can feel it in my bones, as she hosts the 63rd ceremony:
The full gallery is at Emmy.com.
The Spice Girls Musical
The Spice Girls introduced us to girl power, eyeliner, and Elton John. They pretty much raised us.
Which explains why Viva Forever, an upcoming romantic comedy live musical, channeled their energies for a production centered on "girl power, friendship and female identity."
Bottom line is, The Spice Girls will never go out of style because well, without them we wouldn't have ever had this:
Tina Fey's Second Baby Got Born
Penelope Athena, welcome to the world. I like your mom's glasses.
Raised By Drag Queens
Rose McGowan was raised by drag queens. And nobody knew until just now, when she interviewed with The Advocate:
At 13, when I was a runaway, I was taken in by the most amazing drag queens in Portland, Ore. We didn't always know where our next meal was coming from, but there was so much camaraderie and love. Not to mention, those girls could paint a face, and I learned how because of them.
It turns out she also has a bit of a lesbian posse, in addition to a gay sister and a fear of straight dudes:
I had one [a lesbian assistant] for four years, and now I have a new one. She and her friends — they're all exes of each other — are an unbelievable family. It's a group effort: If my fridge breaks down, one of them is here with an ice chest in 15 minutes. It's a great club I've been invited into without having to be a lesbian. I totally have my own little L Word. We go to lesbian nightclubs a lot. 
VMA's Include Tribute to Britney
Because she's Britney, bitch, and because nobody deserves some honor from MTV like Britney Spears.
(And because if it's anything like the promo video, it's gonna be a big dance party.)
John Stamos Teaches Us How to Cuddle
John Stamos, the dreamboat you may never be attracted to but still have to admit has a pretty face, recently filmed a video for CollegeHumor of his cuddling tips, guaranteed to swoon any woman. I watched it and guarantee it is 100 percent cross-cultural, and that his cuddling maneuvers: The Stamos Soother, The Stamos Spoonful, and The Stamos S'Touching (Her With Your Fingers), are all applicable to the lesbian community as well.
Plus, the video is hilarious.
Pugs in People Clothes
There may or may not be a photostream called 35 Photos of Sad Pugs in Costumes on the Internet.
To honor John Stamos, I have also discovered that pugs cuddle. And that pugs can sometimes get in the nook: