by riese & julie & brandy
Much like the coffee beans used to prepare the fresh breakfast coffee in Dunkin' Donuts commercials, Julie Goldman and Brandy Howard are harvested and slow-roasted into perfection, and that takes time, which's why it's been so long since we last checked in with In Your Box Office's Legendary Season Two. Luckily they're totally roasted and they're back!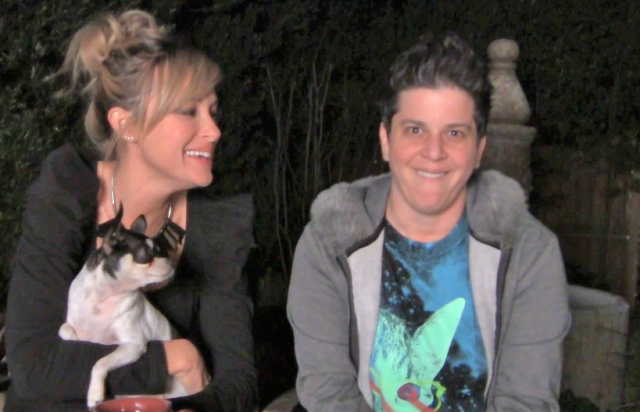 Before we go any further, you should know that January 19th is Brandy's birthday, so you all should tell her how pretty she is and be extra nice. Also you should know that when they're not buying buckets of cheeseballs, being supermodels, or telling stories about drugrunning in Mexico for The Gay Pimp Podcasts, Julie Goldman & Brandy Howard are now both on the writing team for Joan Rivers' Fashion Police Teevee Show! GOING PLACES!
A quick refresher about In Your Box Office, World's Most Beloved Webseries:
Julie Goldman & Brandy Howard are a sensational acting/writing duo trying to cause a sensation with their romantic-comedy, Nicest Thing.
But since no one wants to make their movie or cast them in anything, they feel it is their duty to harshly judge everyone else's work based on a sliding scale of rage, bitterness, lesbianism, and lack of any real significant training.
So, due to popular demand — and in honor of YouTube's new policies allowing 15-minute videos (the limit was ten, originally) — I'm experimenting with making these episodes just a tad bit longer because, you know, why not? That being said, there was still more to say about the movie which I've added after the video. You can read it before or after or not at all. It's up to you! The world is at your fingertips!
Speaking of fingertips, time to pop your popcorn and wrap your girlfriend or otherwise-inclined real-or-imaginary companion in a warm blanket, cuddle up and see what Julie and Brandy thought about The Girl With The Dragon Tattoo starring your girlfriend Lisbeth!
There's one more point I'd like to add that Julie & Brandy made that there wasn't room for in the video — they felt like in the Swedish film it didn't seem like Lisbeth was falling in love with Blomkvist so much as appreciating that someone was being normal to her; like the sex stuff was almost a way of saying "thank you." Their situation seemed weird and fluid and complicated and Lisbeth seemed way more queer. In David Fincher's version, they felt hit over the head with "the sanctity of man-love" — like Lisbeth was mega in-love with him. It was like David Fincher wanted to be the hero and help an abused women who feels more secure around other women/piercings to really blossom via the gentle, muscly love of Daniel Craig. Also despite liking David Fincher usually, it seemed like Lisbeth got the short end of the stick here despite being the titular character.
Okay, war criminals, tell them how funny they are!