ROSIE:
Anyone else watching The Rosie Show nightly as I am? The show continues to find its legs (she randomly changed the entire set this week) but it's always entertaining and definitely brings me back to my high school days when I used to come home to the original syndicated Rosie show after school.
One of my favorite bits on the show featured a young boy named Ben, a budding fashion designer at the ripe age of…11 years old! He talks about his admiration for RuPaul, his love of design and how it feels to get bullied at school for being different.
ADAM LAMBERT:
Adam performed the TV debut of Trespassing's (out March 20) first single "Better Than I Know Myself" on The Tonight Show last night sans the usual eye make-up.  Heads up: set your DVR for Ellen on Thursday!
RUPAUL:
In a new interview with the Huffington Post, RuPaul pretty much tells politically correct America to get over itself: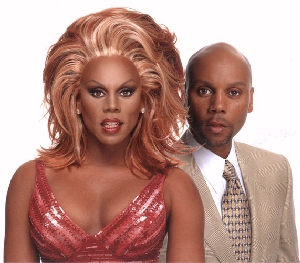 On Lance Bass's apology for using the word "tranny":
"…His intent would never be to be derogatory. Never. So, you know, that's really ridiculous. And I hate the fact that he's apologized. I wish he would have said, "F-you, you tranny jerk!"
And he unsurprisingly had no problem with Work It:
You know, I gotta tell you, my 10th grade teacher, Mr. Penell, told me, he said, "Ru" — my real name — "Don't take life so seriously." I didn't get it then at 15 years old, but trust me, as the years went on I got it. We live in a culture where everyone is offended by everything. Everybody's like, "Oh my god, I'm offended!" It's an ego-based culture we live in. The ego has everything to do with identity. So, you know, drag actually mocks identity. So it doesn't really make any sense. I think, in my world, in my circle of friends, we mock everything! [laughter]. Everything is up to be mocked. Don't take anything seriously.
And listen, if you're offended by a name that somebody calls you, or something, whatever, you gotta take that up with your therapist, kiddo, cause you know what, you're not going to be able — now you got me riled up! You know, I live in the West Village, and everybody wants to make the world baby-safe, soften the corners, so that nobody gets hurt. It's like, kiddo, this world, there will be blood — there will be blood — so you better toughen up now or you're going to suffer the consequences later.
GLEE:
Rachel Berry's two gay dads have finally been cast and will make their debut on the Valentine's Day episode (airing February 14). Jeff Goldblum and Broadway vet Brian Stokes Mitchell will share the honors of being Papa Berry.
NEIL PATRICK HARRIS:
NPH and partner David Burtka are featured in a lengthy article and romantic photo spread in Out Magazine's "Love" issue.