In 1997, M&M created its first female spokescandy. Ms. Green became the Smurfette to the candy's already existing spokesmen Red, Yellow, Green, Orange, and Blue. With her white go-go boots and flirtatious personality, the green M&M wasn't exactly what many of us had in mind. Perhaps because of the urban legend that green M&Ms make you horny or because advertisers have no shame, this candy personality became another one of the sexualized images present in commercials and branding campaigns.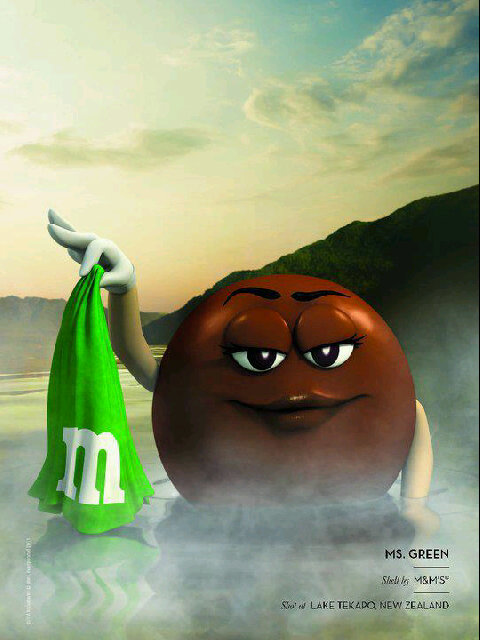 Fifteen years later, the final M&M will receive a personality and be unveiled on Feb. 5th during a Super Bowl commercial. Ms. Brown, Chief Chocolate Officer according to her card, is "an intelligent woman with a sharp wit who finally decided to reveal herself after working for decades behind the scenes." The chairman and chief creative officer at BBDO North America claims not to know why the brown M&M was the only one not to have a personality yet. I think we all know the answer to that: racism.
Already dubbed a "feminist candy icon," there are lots of concerns regarding how this character will be presented. By unloading these expectations on a candy, are we giving the go ahead for BBDO New York, the creative agency producing the campaign, to tell the American public what a feminist should look like?

Maybe it won't hurt to associate feminists with having important job titles, wearing glasses, or visiting museums. But then aren't we agreeing that the activities Ms. Green enjoys and the traits she's made to portray are inherently not feminist? Green can't be a feminist because she's confident, attractive, and sometimes takes off her coating seductively?
Sure she's annoying and consumerism-obsessed, but what has Ms. Green done to remain unclaimed by feminists? The special treatment and judgment she faces are no different than the experience many non-candy women face on a daily basis. So why when she said no to street harassment, did we ignore her? Why, when she deals with the childish expectations of women, do we blame her for how she's presented? In short, why wasn't she  good enough to be a feminist candy icon?
We have no clue how Ms. Brown feels about feminism and can't judge her by more than a silhouette, some glasses, and a few tweets yet here we are asserting that since she appears to be a strong woman, she must be a feminist. I think we all know that's not exactly how things work so maybe we need to check our own judgments about who is automatically a feminist and what that looks like before we get excited about an advertising campaign meant to make you buy candy, not fight sexism.