Welcome to the sapphic table, a series of (hopefully!) unfussy seasonal recipes for your farmers market, your CSA bounty — or your grocery store. Today we're making a peach blueberry cobbler that's so good, I ate it cold from it's pan at 3am.
---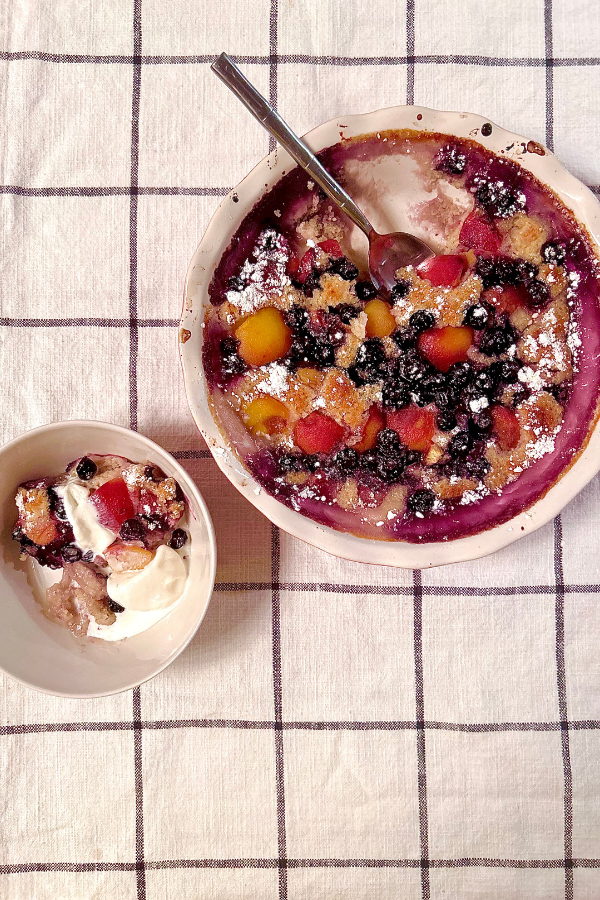 I have tried to write — and deleted! — the intro to this post at least three times now. I thought about calling this cobbler "insomnia cobblerwp_postsbecause I found myself eating it at 3a.m. cold from the pan while watching poorly edited reruns of Sex and the City. I considered "magic cobbler,wp_postsas it is often called across the internet for the magical way that the fruit sinks into the cobbler topping during baking, switching places as one rises and the other falls. But the best thing I can say is to cut right to the chase: this cobbler is the perfect cross-section of messy, juicy, summer fruit nestled in a cloud-like topping that's somewhere between a buttery pancake and a just sweet enough biscuit. You want it.
A thing about me is that I love cobblers in the summer, which feel like all the best parts of pie (butter, sweet comforting smells of cinnamon, and fruit) without the pain of spending multiple hours fiddling with pastry dough that has to remain cold to create flakes, but warm enough to remain pliable, in a 90 degree kitchen that is too fucking hot for either. Cobblers are inviting, they encourage lopsided smiles and that "hhhmmmmmwp_postssound people make when the food is just too good, pointing at the plate while they eat. And if you pair a still a touch too warm cobbler with vanilla ice cream, allowing the ice cream to melt into all the nooks and crannies of fruit and topping until it's impossible to tell where one ends and the other begins — well, in that case, you have a friend in me for life.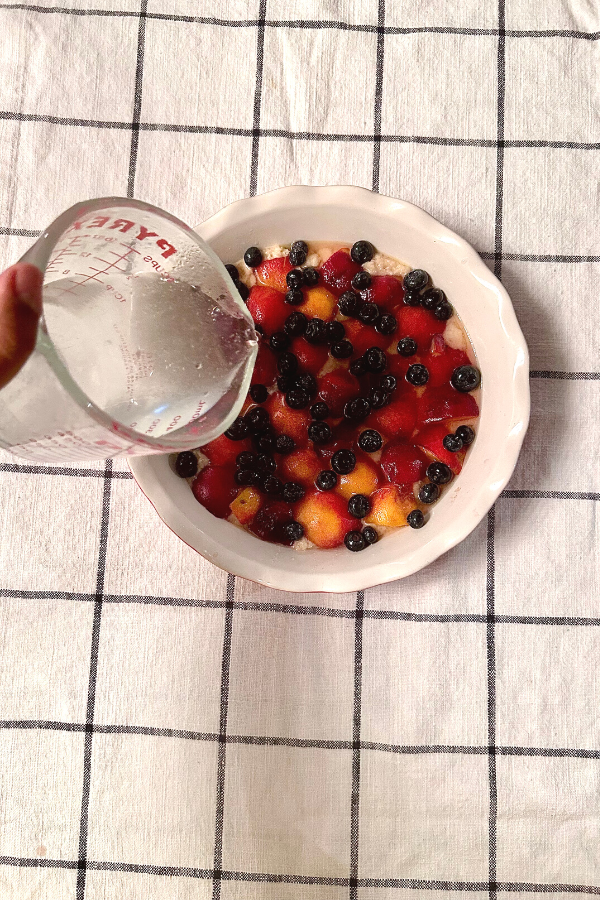 Now this cobbler is indeed magic. Not just because of the cool science experiment where the fruit — starting its journey sitting on top of the cobbler batter – melts and sinks while it cooks, creating a rich syrup that envelopes the bottom and sides like velvet.
And it's not just magic because it is as delicious fresh and hot from the oven, when the pancake-biscuit topping is impossible light and soft, but also crisp at the edges, as it is ice cold directly from the fridge, when the butter of the topping becomes dense and rich, nearly the texture of a fudge cake.
No, this cobbler is magic because no matter which summer fruit I have paired it with (thus far strawberries, then cherries, now peaches and blueberries) – it is uniquely delicious every time. As you can probably tell from my opening love letter soliloquy, I'm someone who tries out a new cobbler recipe nearly every summer, so I know of which I speak, and this baby is running up on GOAT status. But I gotta say, peaches and blueberries remain my fav.
I was first introduced to this recipe from The New York Times Cooking, which quizzically calls it a "Pudding Cakewp_postsbut to each their own. Most notably, I swapped out their suggested strawberries for my favorite couple. I recommend lime juice for lemon, and I also replaced their lemon zest for cinnamon — because I believe if you're going to turn on your oven when the temperature outside is boiling, your house should get to smell damn good.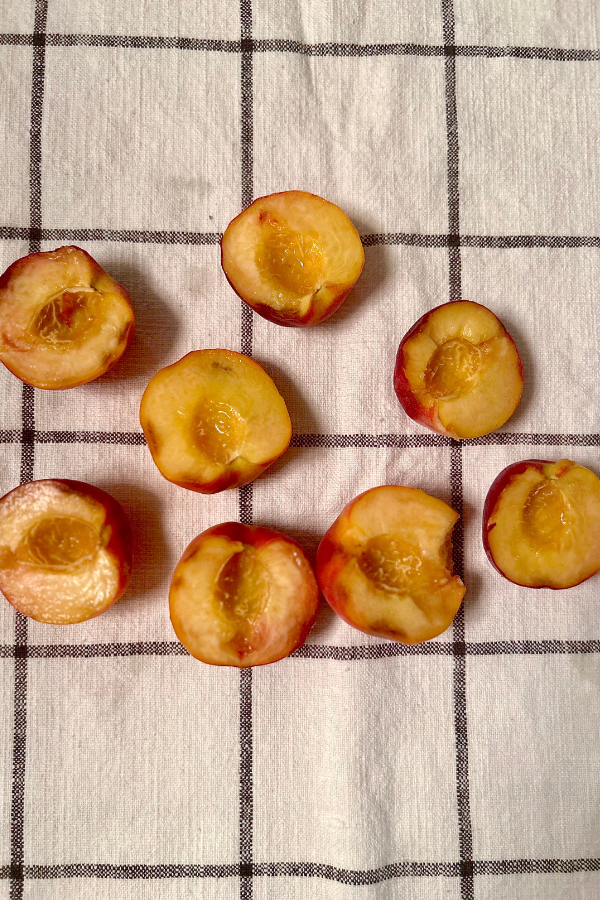 Peach Blueberry Cobbler for Peak Summer
Serves four
Ingredients for Peach Blueberry Cobbler
4 tablespoons unsalted butter
3 ounces blueberries (for me this came to a little over 1/2 cup)
9 ounces peaches, cut into chunks (I used three very small, early season Peaches that haven't hit their full size just yet. I'd expect this would be roughly 1 1/2 medium-to-large peaches, look at photos for an idea of blueberries-to-peaches fruit ratio)
1/2 teaspoon lime or lemon juice
3/4 cup granulated sugar
Salt
3/4 cup all-purpose flour
2 teaspoons baking powder
1-2 teaspoons cinnamon (dealer's choice)
1/3 cup milk
1 1/4 cups boiling water
Powdered sugar, for serving
Directions for Peach Blueberry Cobbler
Pre-heat your oven to 425 degrees. Place your butter in the bottom of a 8-to10-inch oven safe pan of your choice (cake pan, deep dish pie plate, a small roasting pan would even work — as long as whoever you use is at least 2 inches deep). Put pan in oven while its warming, melting your butter. This is a two birds-one stone approach to cooking.
Once the butter has melted, swirl it along bottom and sides of pan to coat, then pour the butter into a cup or anything large enough to eventually mix with milk, which we'll get to in one second.
In a medium bowl, add your fruit, 1/2 teaspoon of lime/lemon juice (whichever is your preference), 1/4 cup granulated sugar, and 1/4 teaspoon salt. Toss it all together until the sugar has coated the fruit. Set aside so that the sugar gathers up the fruit juices and becomes syrupy. This will happen naturally while you do other things.
In a separate medium bowl, mix together the flower, baking powder, cinnamon, the remaining 1/2 cup sugar, and 1/2 teaspoon of salt.
Return to your butter. Mix milk into the melted butter. Slowly pour the butter mixture into the dry ingredients. Stir with a spoon until everything's combined — the batter will be thick, but spreadable, like soft cookie dough.
Transfer your batter into your buttered oven safe pan and spread into an even layer (I sometimes have to push everything down a bit with my spoon and force it out to the sides, but it works out easily). Arrange fruit over batter, making sure peaches are cut side down. Press them slightly into the batter for safe keeping. Pour any remaining syrup over the top.
Here comes the part that will make you feel like a mad scientist! Boil your water. Once boiling, pour water over the top of your cobbler, the fruit will float and there will be steam everywhere and it is a lot of fun.
OK! Now put your masterpiece into the oven. Bake until the cake is golden brown on top and the sauce has thickened and bubbles along the sides, about 25 to 27 minutes.
Dust with powder sugar, serve it warm (but obviously not so hot that you're burning your mouth with boiling fruit!).