This summer may go down in history as the summer of the pop-ups and here in NYC the gays have our very own thing going: The Pop-Up Museum of Queer History.
Following the initial one day showing of Pop-Up Brooklyn in Bushwick, Brooklyn, the second incarnation of  the museum was hosted by the Leslie/Lohman Gay Art Foundation and co-sponsored by CLAGS (The Center for Gay and Lesbian Studies at CUNY) and included several events in addition to the museum itself.
As described on the museum's website:
The Pop-Up Museum of Queer History is a grassroots organization that transforms spaces into temporary installations celebrating the rich, long, and largely unknown histories of lesbian, gay, bisexual, and transgender people.
We believe that our community – and especially our youth – deserve to know our history. If you don't know you have a past, how can you believe you have a future?
Featuring over thirty artists, archivists and academics,  the curators Hugh Ryan and Buzz Slutsky have created an exciting compilation of queer art and history. Personally I really enjoyed the exhibit by the Lesbian Herstory Archives which included a collection of saucy lesbian pulp fiction covers.
The opening reception of the Pop-Up Soho exhibit was reportedly attended by over 700 people. Check out some photos of the opening night and get a glimpse of the exhibits here. The closing reception I attended featured a performance of RADCLYFFE, by Kestryl Cael Lowrey, a self proclaimed dandy trans butch performance artist.
Lowrey's performance of RADCLYFFE channels the English lesbian poet and author Radcylffe Hall's persona and is described as follows:
Radclyffe Hall was a butch who swaggered her way through the early 20th century.She smoked green cigars, had innumerable illicit affairs, and penned the swiftly censored lesbian literary classic, 'The Well of Loneliness.' This pseudo-historical solo performance weaves together stories from Radclyffe's life and times with what England's second most notorious invert would have to say about queer life today, such as: "Whatever happened to 'romantic friendships'? What the hell is a 'genderqueer?' And where can a butch get a good haircut in this town?!"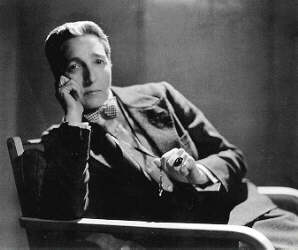 With over 1500 attendees to the three-week Soho Pop-Up, there are plans in the works to travel to other parts of the country in the near future. It was only this year that the first GLBT History Museum opened in the San Francisco, so this has been an exciting year for celebrating queer history.
Follow the Pop-Up Museum of Queer History's facebook page for up to date info on future shows.