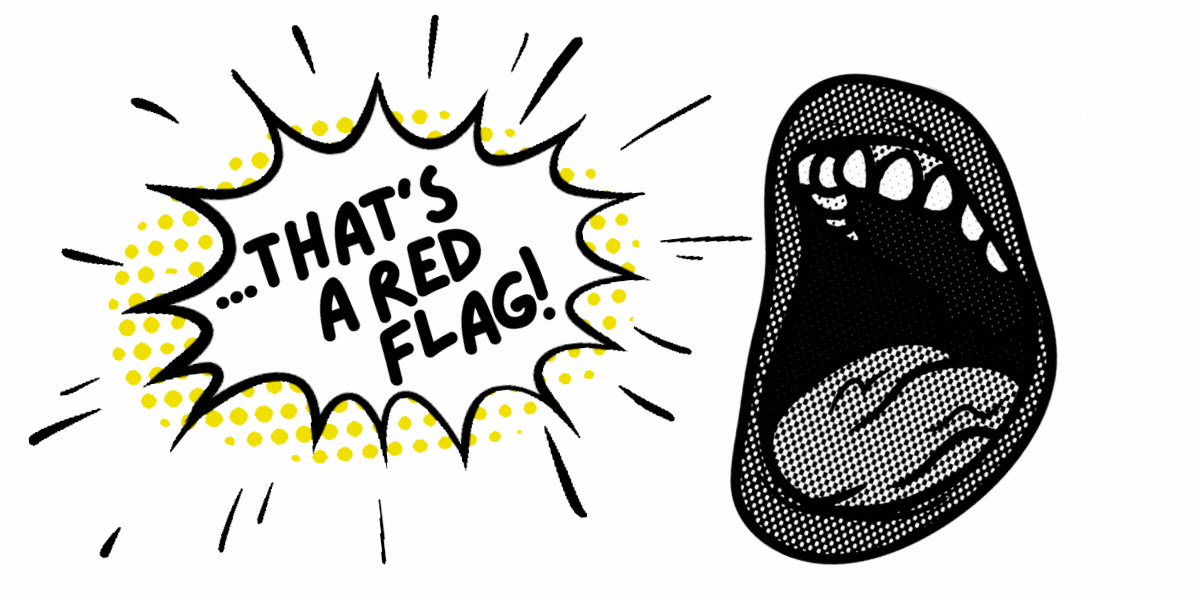 That's a Red Flag! is a miniseries about the warning signs we look for in queer dating & relationships.
---
There's something irresistibly satisfying about a group of close friends talking about our worst exes, comparing and contrasting our phantoms. It's catharsis, maybe. Or a bonding ritual. Or a way to try to make sense of things. Red flags are always easier to see in hindsight, with some remove. Red flags, when gabbed about in a group, become patterns. And patterns are useful, because they provide control. They provide an arc. And yeah, real life isn't that simple or explainable. But it's satisfying to pretend, right? To tell yourself, well, they did X, so it tracks that they would then do Y.
When I told friends about my ex cheating on me, they shared their own stories about their exes cheating on them. Many of my friends had almost the exact same experiences. An affair between the person and a mutual friend. Months and months of lies and gaslighting that were worse than the act of infidelity itself. The cheating is so rarely the point.
Our exes were different, but they'd done the same thing to us. And we found that there was only one thing those exes shared in common before their affairs began: They all had road rage.
Clearly, anyone with road rage will eventually cheat on you.
Clearly, I'm joking.
But there was something there, we decided, reminiscing on the various shapes our exes' road rage took. There's such a pointlessness to road rage. It doesn't change anything. It can have dangerous consequences, depending on who it's directed at. But that was one of those things our exes had in common: a lack of awareness about consequences. Like they were untouchable. Like they could just hit the gas, the horn, and fly through life wildly. According to studies, people with road rage tend to be impulsive, angry, anxious. Other studies point to just how common it is.
Consistent road rage was such a tangible, obvious red flag. And yet, from the passenger's seat, it just seemed like any personality trait, like something you either had or you didn't. I got frustrated at mundane things, too, didn't I? It's so easy to convince yourself road rage exists in a vacuum, that it's merely people blowing off steam, misplaced or projected anger. Like screaming into a void.
Only, a void isn't a physical container hurtling down a path at high speeds. It seems like road rage is one of the most acceptable forms of anger, but it fucking shouldn't be! Sometimes I talk about road rage, and people are like "oh, yeah, sure, everyone gets mad while driving sometimes." But it's not the same. Whether you've experienced it yourself or from another, I think you know that when I say "road rage," I don't just mean little moments of frustration, a middle finger here and there. I think you know exactly what I'm talking about.
I never felt unsafe with her in the driver's seat, even when she screamed at other cars. I didn't feel scared. I felt drained. I felt completely out of my body. I didn't know how to respond or react to someone yelling at a hunk of metal. The unbridled, unfiltered anger that emitted from her was like an earthquake, impossible to see coming, disorienting. I went quiet and numb. It made me inexplicably sad, and then I didn't know how to explain it, so I just pushed it down and away.
I'm not angry at YOU, she'd say.
I know, I'd say. And that was true. I knew it wasn't directed at me. But it felt bad in a different way, to be a passive observer of these outbursts.
If road rage is just an impulse, just an inconsequential tantrum, then why have I never even come close to experiencing it?
I don't think this makes me better than anyone, just like I don't think road rage automatically makes someone a bad person. Red flags aren't about labeling people bad. Relationships aren't math. If someone does X, then maybe they'll do Y, but maybe they don't do X at all, and they'll still do Y. Maybe there are a thousand other variables to consider. It felt satisfying to talk about our exes, to pathologize their driving behaviors and squeeze them into a discernible pattern of behavior. Not fair, not productive — but satisfying. But what really mattered wasn't our exes' actions at all. It was that we found a place of familiarity, of connection with each other. I always thought it impossible to explain the way I felt in the passenger's seat, and with them I didn't have to.
Red flags are a choice, really. A choice to walk away from something. A choice to never feel that way again, earthquaken and fragile.
---
Feel free to share your own red flags in the comments!