I'm seven days into a month-long trip on the east coast and can feel fall approaching in the air, bringing memories of all the falls I spent here flooding back with it. Like the last time I went apple picking with my friend's in Philly. I spent the whole day dreaming of arriving to the orchard and picking as many Fuji apples as I could carry into my baskets only to arrive and find caution tape wrapped all around the Fuji section of the orchard that said "no picking." I was devastated. We walked up and down the rows filled with every other variety off apple imaginable and I begrudgingly filled my basket with them but I couldn't stop thinking about the Fujis. They're my favorite apple, there were so many of them just steps away, and the fire sign youngest child in me hated being told I couldn't have any.
It was such a textbook Eve and the apple temptation scene that I resented myself for even making the mental comparison but once I did I knew exactly what I was gonna do. I waited till no one was around, ducked under the tape and quickly grabbed the most beautiful, shining, delicious Fuji apple I could reach then immediately ate the evidence so no one would ever know. It was the most delicious apple I'd ever eaten. So crisp, so sweet, so juicy, and so thrilling. Who knew temptation could taste so good.
I've never the been the best at resisting temptation, which makes where I am today — in a house full of powerful, talented, gorgeous women spending the week together loving our bodies — a bit of a challenge. I've been flirting non-stop, blushing so much my cheeks are permanently red, and looking for ways to release all this energy and tension; so naturally, I baked.
It seemed only fitting that what I baked be full of apples, the literal fruit of temptation. This bread reminds me of everything I love about fall. The cinnamon sugar lid that crunches when you cut into it like fallen leaves. The spiced batter reminiscent of apple pie that fills the air wand your mouth with warmth, and of course the sweet soft baked morsels of apple throughout. I think Granny Smith apples work best here given their sweet-tart quality but you can use pretty much any apple your heart desires with good results. The apples release their juices into the batter as they steam in the oven layering the batter with natural sweetness, and lending the perfect amount of moisture to the crumb. This is my favorite eaten warm with a pat of butter melted on top and soaked in, of course with a cup of coffee nearby for dunking the corners. A generous slather of apple butter is also perfection.
This really hits all my comfort food spots. It's doughy, sweet, gooey, crunchy, and as if that wasn't enough, beautifully rustic. So if you happen to be lucky enough to live where the fall season is approaching, I hope when the apples start dominating real estate in the stores and the orchards are open for business, you'll keep this in mind.
Ingredients
For the apple filling
2 granny smith apples, peeled, cored, and cubed
2 teaspoons granulated sugar
1 teaspoon lemon juice
1 teaspoon all purpose flour
1/2 teaspoon ground cinnamon
For the batter
1 1/2 cups all purpose flour
1 1/2 teaspoons baking powder
1/2 teaspoon baking soda
1/2 teaspoon salt
1/2 teaspoon ground cinnamon
1/4 teaspoon ground nutmeg
1/4 teaspoon ground ginger
3/4 cups granulated sugar
1/2 cup (1 stick, 113g) unsalted butter, melted.
2 eggs, room temperature
1/2 cup milk
1 teaspoon vanilla extract
Cinnamon sugar topping:
2 teaspoons granulated sugar
1/2 teaspoon ground cinnamon
1. Preheat oven to 350° F. Butter a 9×5 inch loaf pan and set aside.
2. Combine the cubed apples, granulated sugar, lemon juice, and ground cinnamon in a medium bowl and stir until the apples are evenly coated in the spices. Set aside.
3. Make the batter! In a large bowl, whisk together the flour, baking powder and soda, salt, cinnamon, nutmeg, and ginger and set aside. Next, in a medium sized bowl whisk together the melted butter and sugar until smooth and glossy. Then, add the eggs, milk, and vanilla extract and whisk until combined then pour the wet ingredients into the dry and stir just until no dry clumps of flour remain. Then, pour your cinnamon apple filling into the batter and gently fold it in so that the apples are evenly distributed in the batter, and pour into your prepared loaf pan.
4. Lastly, combine the sugar and cinnamon for the topping in a small bowl and whisk or stir together with a fork, then sprinkle it on top of the apple bread.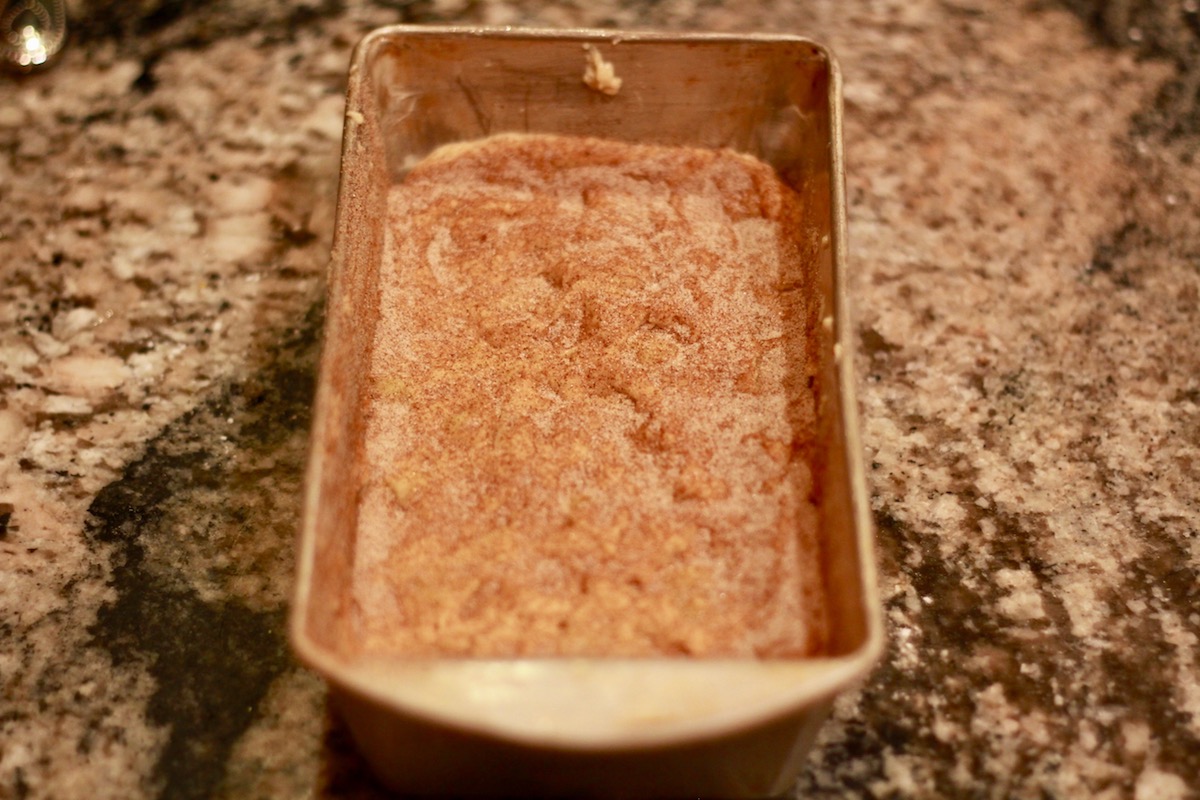 5. Bake for 40-50 minutes or until the sugar is crackly on top, the bread is golden brown, and a cake tester comes out clean. Remove from the oven and allow to cool for 10 minutes in the pan before removing and transferring to a wire rack to finish cooling.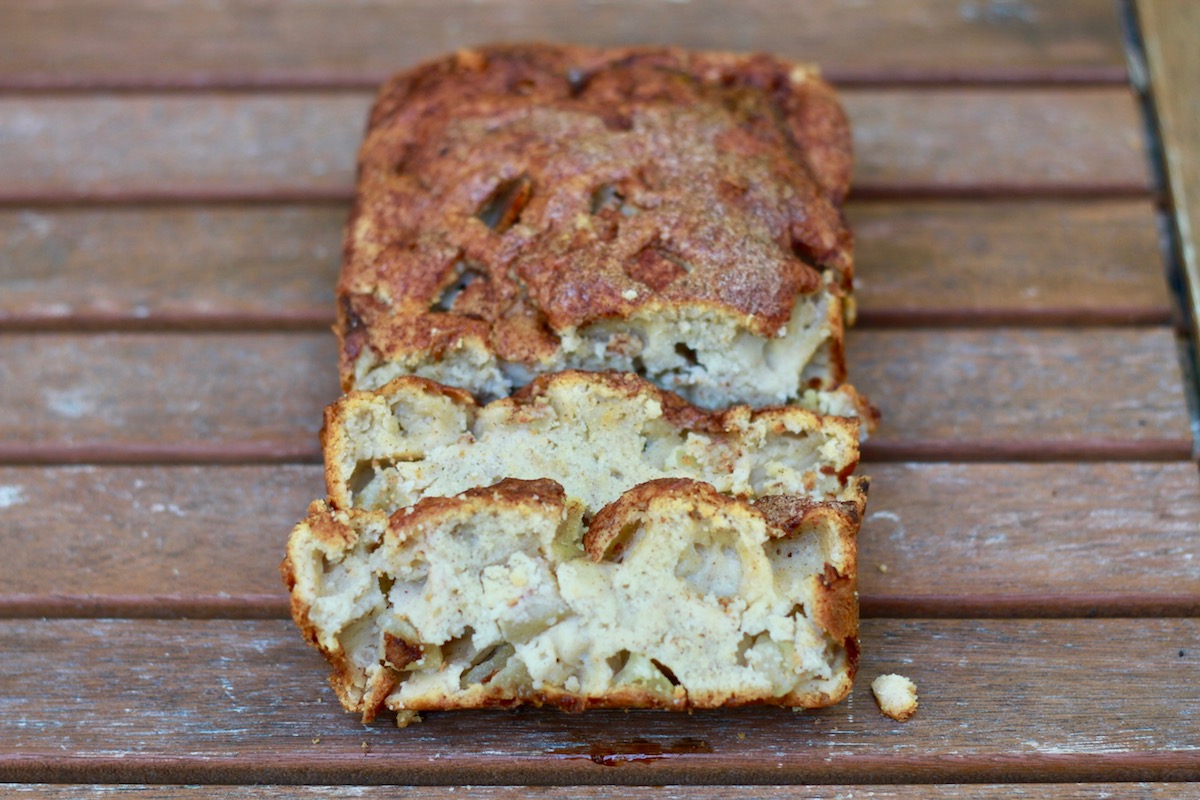 6. Once the bread has cooled, slice that beautiful loaf of spiced apple bread, take a bite, and dream of fall.