When you spend a lot of time writing about the same television program and also find "data collection" to be soothing to your various mental problems, you might find yourself where I found myself last week and where we all find ourselves now, together; looking at three important infographics I made for you about The  L Word: Generation Q.
---
1. Generation Q Sex Scenes
One of the most exciting elements of The L Word: Generation Q were its incredibly hot sex scenes, most of which featured at least one actual queer actor — a big change from the original series! Despite praise for its realistic and abundant sex scenes in its first two seasons, season three turned out remarkably chaste, a situation which we have yet to fully grapple with as a community. However, some things never change: Shane had the #1 most sex scenes in the original series and in Generation Q. Thank you Kate Moennig for your service!

---
2. The Chart
Alice's "chart" was intrinsic to the original series, as it provided a groundbreaking visual representation of what it's like to live, laugh and love in an unavoidably insular queer community. Anyhow I made this chart while on cough syrup on my third day of having the coronavirus but then I updated it to reflect the entire season's events. And let me tell you that Sophie hooking up with Pippa really required a lot of maneuvering I was not prepared for!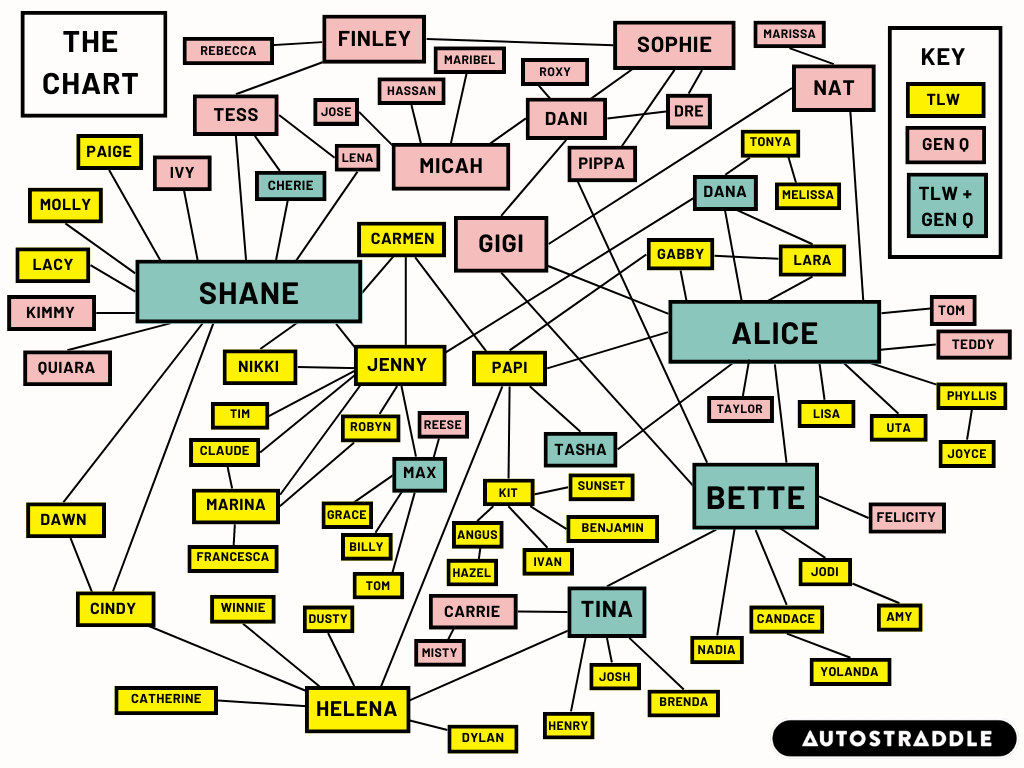 ---
3. Everybody's Name Sounds the Same To Me
It is just confusing to me how all the new names ended up sounding the same? Like I'm writing a book and my agent told me I couldn't have a character named "Allison" because I already had one named "Abigail" and they are out here making everyone's name end with long "e" sound!