Hey, remember Summer Book Club? Did you read a lot of books? Did you win a prize? (If so, it's on its way to you!) Summer Book Club was very magical and special but now it's over. This means that we're going back to picking a book and all reading it together, and also that the book will turn out to be sort of heartbreaking because it's becoming apparent that that's something of, I don't know, a theme in queer literature? Or maybe it's just me, la la la! Next time if you want we can read a cookbook or something. Cat Cora probably has one.
Anyways, this is all to say that via a very rigorous scientific process, it has been determined that the next stop on this extra special adventure over the reading rainbow will be Alison Bechdel's Fun Home! Probably you know about Alison Bechdel! She's also the author of Dykes to Watch Out For, which you (and I!) obviously love, and responsible for the Bechdel Test, which maybe you've heard of?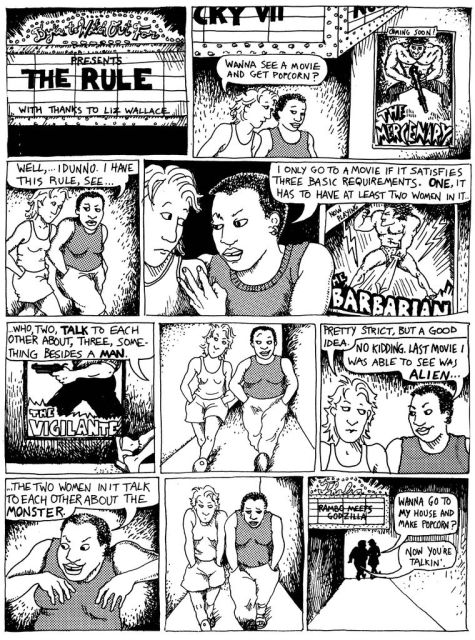 If Dykes to Watch Out For is an important milestone in representations of queer women and their relationships and families, Fun Home is a representation of Bechdel herself. It's a graphic novel memoir about growing up with a cold, distant father who's also a closeted gay. Which complicates the fact that Bechdel herself is, you know, also gay. Also, you can look forward to "challenging references to Albert Camus, James Joyce, and classical mythology" according to Bookmarks Magazine! Here it is in the publisher's words:
This breakout book by Alison Bechdel takes its place alongside the unnerving, memorable, darkly funny family memoirs of Augusten Burroughs and Mary Karr. It's a father-daughter tale pitch-perfectly illustrated with Bechdel's sweetly gothic drawings and — like Marjane Satrapi's Persepolis — a story exhilaratingly suited to the graphic memoir form.
Meet Alison's father, a historic preservation expert and obsessive restorer of the family's Victorian house, a third-generation funeral home director, a high school English teacher, an icily distant parent, and a closeted homosexual who, as it turns out, is involved with male students and a family babysitter. Through narrative that is alternately heartbreaking and fiercely funny, we are drawn into a daughter's complex yearning for her father. And yet, apart from assigned stints dusting caskets at the family-owned "fun home," as Alison and her brothers call it, the relationship achieves its most intimate expression through the shared code of books. When Alison comes out as homosexual herself in late adolescence, the denouement is swift…graphic…and redemptive.
This will be the first graphic novel we've read for Book Club, which will be exciting and novel. (See what I did there?) If you haven't gotten into Bechdel before now, this is a great place to start! Find a copy! We will meet back here to discuss our thoughts and feelings during the first week of November. Synchronize your watches now!