SUPREME COURT:

Supreme Court Justice John Paul Stevens announced his retirement yesterday by sending a letter to President Obama. At 89, he is the oldest member of the court. In case you aren't aware, THIS IS A BIG EFFING DEAL. This means that Obama gets to appoint another justice, and that fight will probably take up most/all of his time this summer. You might remember the huge fight over Sonia Sotomayor? This probably won't be as rough because of the Democratic Senate majority, but it certainly won't be easy, either.
This vacancy on the court comes at a crucial time for gay rights supporters. The Proposition 8 trial is in the federal court system now, and it could reach the Supreme Court in the next few years. What does this mean for gay rights? It's hard to tell. Stevens was generally in our corner, but Obama might find someone who is even more solidly pro gay rights.
And what kind of legacy will Stevens leave? It's a bit hard to categorize him, as he is mostly known for being fiercely independent and somewhat idiosyncratic. The press right now is labeling him as a liberal leader on the court, but Newsweek has a more detailed analysis of his conservative and liberal sides.
The prevailing view is that "there really were two Justice Stevenses," as Richard Fallon, a constitutional law professor at Harvard Law School, recently told Business Week: one who was "a somewhat iconoclastic moderate" and another who was a "great liberal voice." But ultimately Stevens's shifting status has less to do with changes in his judicial philosophy than with changes in the court. While it moved right, he stayed put. As a result, he has played a key role in defining what it means to be a liberal on the court in post-Reagan America–even though he isn't really a liberal himself.
In his time on the Court, Stevens had a hand in a lot of important cases. He was known as a champion for womens' rights (he voted to uphold Roe v. Wade), as well as for gay rights (he was a key figure in Lawrence v. Texas, which struck down sodomy laws).
Here's what Obama had to say about picking Stevens' successor: "I'll seek someone in the coming weeks with similar qualities: an independent mind, a record of excellence and integrity, a fierce dedication to the rule of law and a keen understanding of how the law affects the daily lives of the American people. It will also be someone who, like Justice Stevens, knows that in democracy powerful interests must not be allowed to drown out the voices of ordinary citizens."
As far as possible nominees, it's difficult to say who is on Obama's short list, but the Washington Post has a series of profiles on potential candidates. These top three are probably the most likely, but the others could also end up on the list:
+ Judge Merrick Garland: he'd be easy to confirm, but he's a white dude who is less liberal than Stevens
+ Solicitor General Elana Kagan: she would most likely shift the court to the right
+ Judge Diane Wood: described by conservatives as "extremely pro-abortion"
+ Homeland Security Secretary Janet Napolitano: she took some heat about her comments on the Christmas Day airplane bombing
+ Michigan Gov. Jennifer Granholm: campaigned with Obama in 2008
+ Leah Ward Sears: she was the first black woman to head a state Supreme Court, and she would be the first one to sit on the U.S. Supreme Court
+ Calif. Supreme Court Justice Carlos Moreno: he voted against Prop 8 in the California Supreme Court trial
+ Gov. Deval Patrick: they say he's good on civil rights, and he'd be the second black man on the Court He announced today he didn't want to be considered.
Here's a bunch more links so you can sound really smart when people bring this up at dinner!
+ The basic news: Justice Stevens to Retire From Supreme Court (@wapo)
+ On nominees: Potential Obama Nominees for Supreme Court (@houstonchronicle)
+ Looking back: Farewell to Justice Stevens From Those Who Knew Him Well (@wapo)
+ On confirmation hearings: How Replacing John Paul Stevens Could Get Interesting (@time)
+ Some general stuff: Four Enduring Myths About Supreme Court Nominees (@time)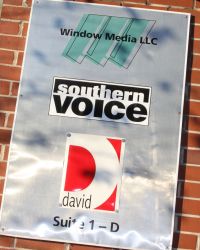 GAY PAPER:
The Southern Voice will reopen next week. The long-time, Atlanta-based gay publication shut down last year when publisher Window Media filed for bankruptcy. New owner Matt Neumann, publisher of Gaydar Magazine LLC, tells The Atlanta Journal-Constitution he's going to start publishing the newspaper again Wednesday. (@walb)
CONSTANCE:
Constance McMillen will get a second shot at prom. She will be attending a dance put on by the National Center for Lesbian Rights in San Francisco in May, which apparently is a lot like a gay prom for grownups. Seriously, someone needs to take a PHOTO of this and then send it to us. (@ap)
DOMA:
A court date has been set in a trial testing the constitutionality of the Defense of Marriage Act. Arguments will begin on May 6. Probs we will liveblog that ish, so watch out! (@advocate)
SEX TAPE:
A gay Indian professor killed himself after students filmed him having sex.
Srinivas Ramchander Siras, professor of modern languages at Aligarh Muslim University, was suspended from his job "on moral grounds" and evicted from his college accommodation after students broke in and filmed him with his partner.
He was expected to return to his job later this month after the Allahabad High Court revoked his suspension and ordered him to be reinstated at a hearing last week.
Some people are debating the suicide part and are arguing that students and some administrators drove the man to his death. (@telegraph)