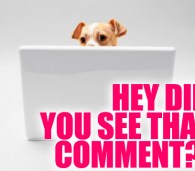 Guys, it's April, and April is so much better than March. I hope that you had nice weather wherever you are. I wish I had something exciting to tell you, but I just got a job as a hostess at a swanky restaurant, which means I can't be funny or actually talk to anyone. I just have to talk about the weather. Luckily, Autostraddle had plenty of humor/debates/excitement this week, so I'm not going to completely lose my mind from the boredom that is smiling at customers anytime soon.
What happened? Well, let me tell you. We had an exclusive look at "The Real L Word" Trailer, and Rachel and the team finished up the Dinah Shore liveblog. Your Technostraddle editor Taylor went to PAX East 2010 and shared her feelings about Apple's new iPhone OS 4.0. Scribegrrrl Wrote an open love letter to Caprica, Julie and Brandy reviewed The Runaways for In Your Box Office, and Jess interviewed comedienne Liz Feldman. LezProm2010 hit rock bottom when the kids held a fake prom and Riese and everyone else had a lot of feelings about it. OUTmedia wants your videos for a contest to win $10,000, and Crystal wants your reasons why you should win tickets to see Chris Pureka. Don't forget to check out Audiostraddle's headphone guide, and Sarah Croce, Autostraddle's Miss April.
---
The A;ex Award for Typographic OCD to Matthew: "Styling is totally weird. That was my number one feeling. And the typeface choice for the word "real" bothers me. That was my number two feeling."
The bcw award for bcw to bcw: autostraddle is actually bisexual. she told me in a note that she had feelings for afterellen but didn't know how to tell her, but also didn't want to break up with her boyfriend fourfour. so she's currently straddling the line between order and chaos, which i've been told is the sad fate of all bisexuals. apparently.
On Live-Blogging Dinah Shore Weekend Part III:
The Knight in Shining Armor Award to Kristina: "miley cyrus WTF! bhahaha she's obviously gay and dating t-swift. let's start that rumor."
On NSFW Sunday: A Tumble Through Lesbo Homosexy Goodness:
The Autostraddle is Good for Your Fingers Award to Rockets: "I'm sorry. Facebook has made me lazy. I was looking for a "like" button."
On Autostraddle Calendar Girls: Sarah is Miss April:
The Johnny Got His Gun Award to wasteunit: "I'm so sick of seeing people with two arms and two legs on this site. FAT BLACK TORSOS ONLY PLZ."
On Lady Gaga Headlines Lollapalooza, Ellen "Hijacks" Idol & Maddow Does "People":
The Award for Special Achievement in Identifying Heteronormativity to Barbara: "Ok, but then straight people are flaunting off a lot more, and they don't realize it, or take it for granted that they are entitled to it.
For example, I was walking back home this morning and I met a girl in my complex who had a really weird, really big inflated balloon on her hands. And I could not figure out what the balloon was made of, so I asked her "hey, what kind of material is that?" And she replied "it's a fabric balloon for my boyfriend"
WTF?!?! I asked for information about the balloon, not your sexual orientation!!! Who's flaunting off now???"
The Gross Award to birobot: "I get that "@ew" stands for "at Entertainment Weekly", but seeing EW after Ke$ha's "equal rights" suggestion literally made me laugh out loud."
On Best Headphones: Autostraddle's Headphone Shopping Guide:
The Award for Fantastic Mental Pictures to bolgaomka: "For $40, Aerial7 Sumo earphones work nicely. They stay in my ear when I jog, the bass sounds great on Telephone, and they block external noise so well – that I was once almost tackled by a capital hill security guard. I couldn't hear him yelling at me to stop!"
The Life's Mysteries Award to Brianna: "Whenever I have headphones that crap out, it's always the left side that goes. And I've never had apple ear buds.
If you google search "right headphone not working"(full phrase) you get 4 results. But when you search for "left headphone not working" you get 4,000 results.
Hm."
On Constance McMillen Fake Prom 1020 Student Rebuttal:
Laura's Award for RachelwasHere Reading The Rest of My Fix And Also Being An All-Around Superstar Commenter to RachelwasHere: "I had to make this a separate comment, because I didn't want to just throw it in with a whole bunch of other feelings.

Thank you for including the article on Wilma Mankiller. She was an inspiring woman. I read her statement a while back when she announced that her cancer was stage 4 and the courage and grace with which she faced death were remarkable, as was her life. She was a passionate, intelligent activist for the rights of women and her people and truly made a difference in this world. Her friend Gloria Steinem said that in a just world, Wilma Mankiller would have been President. But she certainly showed that in our world of injustice, nothing should stop us from making a difference in our community."
On Google is Butchering the Written Word:
The Newspeak Award to Ziggy Hreins: "War is Peace. Slavery is Freedom. Google is Love."
The Syfy Sci-Fi Award to yayme: "If I was straight, I'd take a gay pill. Make that three or four…or ten, I'd want to be SUPERgay. I'd OD on gay pills."