Constance McMillen Prom Fiasco – Welcome to the Dollhouse:
More fallout from Constance's prom fiasco. A student from IAHS wrote a nasty Open Letter about the fake prom debacle, and it's official, Constance McMillen Promgate 2010 has hit an all time low.
A classmate published this to defend the student body's actions when they scheduled a prom for themselves and deliberately sent Constance elsewhere with five other kids (the **open minded readers only** disclaimer is the author's, not our own, FYI):

**Open Minded Readers Only**

I am a senior at IAHS, and I've known Constance for the last 6 years. Please hear our side of the story before you decide on our fate.
The party we had in Evergreen (the county neighborhood I live in) is 30 mins away from the school. we rented out the community center, hired vendors, decorated, and our parents ran the security/chaperone staff- but it wasn't prom. Prom was at the country club where constance and 7 other students were. The reason the senior class boycotted the actual prom was not because we hate gays.
We wanted a drama-free gathering to celebrate 3 great years and 1 lousy one together, and we wanted to lay low. We also wanted to do it without the main cause of the lousy. What people are failing to realize is that much of the fault of this whole stink lies with Constance, not her mistreatment by the school district, but her crazy-reckless need for attention. It sounds mean and horrible and like we planned it all specifically to embarrass Constance, but we didn't. We let her have her prom with her girlfriend and her tuxedo and we went to party it up in the "boondockswp_postsnot because we wanted her rights violated, but so we could salvage what has turned into a total fiasco.
As a whole we didn't support her decision to throw the district under the bus, or her insinuations that we're all just a bunch 'a hicks driving around in beater pick up trucks spitting tobacco and burning crosses. IAHS is one of the top schools in the state and I'm proud of that, and I'm proud that we took a stand and just said you know what? forget it, we have just as much right as you do to have a party for ourselves. So we did, and now we're getting flack because poor Connie's ego got a bit of bruising. She's playing the lesbian card to prove she ALWAYS gets what she wants. This time, we didn't just let her.

Take it as you will, because I'm sure it sounds like we faked her out, but understand this- the decision NOT to attend prom had nothing to do with the school or with Constance's sexual preferences; it had everything to do with proving we weren't going to let her and the ACLU steamroll us into doing what Constance wanted. We flexed the muscle of the majority and we'll suffer the consequences.

DISCLAIMER PLEASE READ:
Obvs this gross letter by a classmate of Constance's gave us a lot of feelings and so we wrote about it below. We got some pretty nasty comments about our feelings, which follow, so please read it thoroughly before commenting.

Following the mercilessly cruel and parentally-enabled actions of Constance's classmates this weekend and the aforementioned despicable and hate-filled letter written by a fellow classmate, a few of us here started discussing our own confusion about the student body's absolute depravity, as well as the fact that none of her friends stuck up for her and why none of her enemies spoke to the press and how anyone could start the "Constance Quit Your Whinin'" Facebook group. Could kids and parents really be this homophobic? Where were the gay haters with their anti-gay religious signs? There were also questions raised by us, and the press, as to why Constance didn't talk about her mom being gay more often (she mentioned it once, quickly, in a radio interview).
The Constance conversation seemed notably absent of religious rhetoric, which is unusual for a case like this. Is it productive for us to blame homophobia for 100% of the actions happening here? Does that get at the root of the problem and help us combat it in the future? We suggest that it does not. This is also about being a teenager and bullying, just as the DADT discharge of Jene Newsome by some asshole cops was not just about homophobia — it was also, to a large degree, about racism — Constance's situation is not just about homophobia, it's about bullying and the cruelty of teenagers, and how homophobia is such an essential element of teenage bullying these days.
90% of LGBT students have been harassed in school based on their perceived sexual orientation. Yet 60% of teenagers support gay rights and gay marriage rights. This disparity is worth our attention.
We believe that we can ask these questions and that it's responsible to ask these questions and that asking them does not negate or even challenge our absolute empathy for and support of Constance, as has been expressed in all our coverage of this so far.
We wrote this under the assumption that we all know here that we're on Constance's side. OBVIOUSLY M*THERF*CKERS!! OBVIOUSLY?!! Hello! Guess who we were in high school? YAAH! We were the 'uppity feminazis' who got eyerolls every time we raised our hands! Words like 'feminazi' are not words we endorse, they are words volleyed against us.
We aren't victim-blaming! As gay press, I think when people are homophobic against us, we need to fully understand the root of the issue in order to combat it properly and strategize for a more harmonious future!
OK, let's begin! This is our response to the student open letter:

You know what this feels like to me? I just think that for whatever [ridiculous] reason, most of Constance's peers found her personality annoying. Constance was unpopular. And not in a quiet, unassuming reject way — Constance is not Allison in The Breakfast Club or even Dawn Weiner in Welcome to the Dollhouse or even Fern Mayo in Jawbreaker. She is disliked in a catty, teenaged way, and her queerness just makes it that much easier to ridicule her. Constance is more of a Rachel Berry or Tracy Flick, you follow?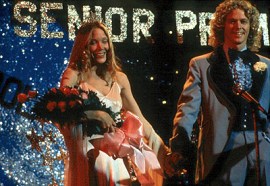 Sure, many of them probably disliked her specifically for being gay, or suspected her of being a 'pushy feminazi' because her mom was gay. The Student Rebuttal loathes "Connie"'s personality way more than her homosexuality, but damn if that ain't convenient 'cause her church doesn't like homos either. The students couldn't even resist the chance to make fun of the special needs kids by sending them away from their own prom, and it's not 'cause G-d thinks the special needs kids are sinners, it's 'cause kids are assholes.
The Facebook group Constance Quit Your Whinin'? That wasn't started by kids who started disliking her the moment prom got canceled. That was started by kids who disliked her already. If Constance was the most popular girl in school, the kids would've rallied against the school administration (kids are always more likely to rebel against authority figures than each other), but she wasn't. This whole story started way before the ACLU showed up. It makes Constance's strength even more admirable.
We wondered how on earth a story like this could erupt with no one from the other side wanting to speak to the press. That was one of our questions. We think we get it now: they didn't speak out because they truly felt Constance was doing it for attention and didn't want to show they fell for the drama by getting on TV or calling the newspaper. [ETA: Of course, students are desperately wrong to interpret activism as drama, this essay is an explanation/speculation, not a defense]
These kids had already decided that was how Constance usually did act, and this time her actions put a mean spotlight on them — bonus! church hates gays — and so they saved their biggest senior prank for Constance. The students didn't run from the press, they rolled their eyes and walked the other way. They're annoyed that they can't embarrass her so much that she'll stop telling people about it, that she prefers speaking out to being shamed when they try to shame and silence her. That's the kind of cruelty we've been witnessing — bullying.
To these kids, Constance is the angry feminist lesbian their parents warned them about. She seems quite lovely to us, obvi. Teenage groupthink is merciless. Personality is important. Would this have happened if Constance was the most popular girl in school? If you think the answer to that is "no," then you have just opened a door worth walking into. We've seen how differently America reacts to Rosie O'Donnell vs. Ellen DeGeneres, yes? We fucking love the hell out of both of those women (I prefer Rosie, 'cause she yells more, but that's just me), but America doesn't. These are worthwhile conversations to have.
Why was Constance kinda on the DL about her mom being gay (or "being ignored by the gay media" according to this article) — only mentioning it really in a radio interview most news outlets didn't bother to listen to? Maybe Constance wasn't sure that she wanted us to know. We are wondering if Constance's peers had accused her of being attention-seeking from the get-go because all the moms who knew Constance's mom told their sons and daughters to avoid Constance's Mom's daughter. Maybe it wasn't the press that downplayed it. It was Constance. She said it once, on the radio. Her mom wasn't at the Ellen taping, as far as we know. Correct me if I'm wrong, but I think Constance has never mentioned her mom specifically, only her dad or her 'parents.' Maybe Constance was afraid that having a gay Mom would open her up for more ridicule, and she'd be taken less seriously. If so, that's a problem, and we need to talk about that!
I mean, I have a lesbian mom, and it took me three years to tell a friend that my mom was gay for the first time. I did it because he was my best friend, and he asked me the night before he met her if she'd dislike him because he was gay. His own parents didn't know, after all. And I laughed and wondered what would happen if I opened my mouth and told him the truth, and then I did. It was snowing; we were walking outside. He held my hand and we kept on walking until we reached a building, and he opened the door and we walked in. Life kept on going, after all. That might have been the only time it didn't feel slightly awkward. After that, though, I told everyone.
Even now, (as far as I can remember) I've never mentioned my mom's sexuality in a serious context; it's always a throwaway line unless it's part of an emotional essay of some sort. But in general I only let it come up as a joke. Except I guess those few sentences up there in that paragraph before the one you're reading now.
And I didn't feel comfortable identifying publicly as queer until I felt I was old enough and far enough from home that my sexuality and reputation would have nothing to do with hers. I also, somehow, didn't want to play into that conservative fear-mongering concept that gay parents make gay kids.
See when I was younger, I couldn't get this image out of my head from a bad talk show I saw in the late '80s or early '90s, where a few kids with gay parents were there to discuss if their parents had turned them gay or not. It turned out that SURPRISE THANK YOU PHIL DONAHUE most of these kids had indeed been turned gay by their parents. This was like a different time when people wanted to believe that Evil Gays Recruit Recruit Recruit so they produced this kind of propaganda (like this talk show) to ensure it. Before I knew that stuff wasn't true I had to consider that it was true. And it scared me.
I don't think these kids only hate her for her homosexuality, though they might hate homosexuality more than normal because they hate her, like how kids make fun of an annoying kid for being a redhead not b/c they necessarily hate redheads, but because they hate that kid, and use his redheadedness as yet another tool from which to craft their oh-so-clever bullying. There is more at work here than just homophobia, I think. When the school canceled prom, the students should've rallied behind Constance and made the school change their mind. Instead, they decided to make their own prom without her so-called "drama" and blamed Constance, not the school.
And the parents? Well, chances are they just really do hate gay people. Just enough to do this, and to endorse their children's grotesque cruelty.
GAY PARENTS:
Speaking of gay parents, here's a college English essay written in defense of gay parenting. (@dallasvoice)
As the child of a gay father myself, I know personally what it's like to be worried about someone finding out that my family is different. I feared that if my friends found out my dad was gay, they wouldn't want to talk to me anymore and would probably tease me and think I was a lesbian.
Children who grow up with a gay parent are inevitably going to be judged and ridiculed at some point in their life because of their parent's sexual orientation. However, I believe this helps us to grow up as stronger and more tolerant individuals.
BEAUTY AND BASKETBALL:
The New York Times says Baylor University basketball play Brittney Griner is revolutionizing beauty, but Jezebel calls bullshit. "Though the piece does acknowledge that most web chatter is devoted to speculating about whether or not the teen is a lesbian or, indeed, a man. How to work around this? With "beauty arbiters" giving half-hearted endorsements!"
VISIBILITY:
Knockout Homophobia, a campaign to raise awareness about us [us being gays], is in the running to win a grant from Pepsi's refresh project. You can vote now and every day in April!
BOLLYWOOD:
Actress Celina Jailtey has urged her followers on twitter to boycott Bombay Gymkhana after the club asked a well-known transgender activist to leave. "Apparently it is the same club where during the British rule it used to be written outside "Indians and dogs not allowed."" (@indiainfo)
COPING:

Racism can lead to depression: a new study finds that those who deny or ignore their experiences of discrimination are likely to suffer from anxiety and depression. (@science daily)
CHIEF:
Cherokee Leader Wilma Mankiller dies. Mankiller was the first female leader of the Cherokee Nation and was inducted into the National Women's Hall of Fame in 1993. (@cnn)
SEX SHAKE DOWN:

Yale bans sex between professors and students, and the writers at Salon wonder if the administration is overstepping their bounds.