It's Wellness Vibes Week! We're taking some time at the start of this brand new year to explore wellness culture/wElLnEsS cUlTuRe through a queer lens, specifically the kind of queer lens that you can only find at your local Autostraddle. No celery juice or vagina steaming, just some chill tips for making your spiritual, physical and mental health a little better in 2020.
---
I'd never heard of non-violent communication before my friend NK was suddenly going wild about it. I was at a BBQ at her house, when she and another friend began waxing poetic about the non-violent communication (NVC) workshop they were in together. It sounded to me like they were in some kind of coven. They were doing exercises in accessing rage and shame, and having conversations with their subconscious minds. They were opening up new levels of empathy, intimacy and self-awareness, gathering powers to build something big. I was intrigued. "It's changed my life! You should take NVC in the spring!" NK suggested with enthusiasm. Which sounded like the exciting challenge I was looking for.
I wasn't raised to be a person in touch with my emotions. I was led to believe that feelings clouded the truth, that emotional decisions were impractical, weak and unwise. So I had feelings in private, when I could be alone and write them down, control them into making sense and meaning. When I was in second grade, I started cataloging how I felt in a locked diary that I'd return to every few months to see what the patterns revealed about me. That's how I became a writer. But the truth — primarily shown to me by the incredible women who have loved me into adulthood — is that the way life feels is life. That's all it is. Since I wanted to be in a community, one that was seriously invested in each other, it seemed important that I know how to engage in both my and other peoples' emotional lives better.
So I enrolled in the 10-week workshop, which NK so ardently endorsed. Who on earth had the skills to teach something like this? I wondered. Who was so strong, so unafraid of conflict, so eager to grow and change and connect that being totally vulnerable wasn't scary? And that's how I met Meenadchi. M has since become a node in the friend group that I'm committed to as family. In various ways, we're attempting to build the springy, interdependent web of our dreams. Through Meenadchi's workshop, I did learn very helpful methods for keeping in touch with my body when I'm uncomfortable, and am learning to hold the same space for myself that I do for other people. The ways I think about all of my relationships has changed, but the truth is that I'm still working on being comfortable and maintaining control while in my feelings.
So I wanted to ask Meenadchi about their practice, what it means to them. Their workshops offer a trauma-informed approach specifically focused on supporting queer, BIPOC people. Last year, M published a workbook called Decolonizing Non-Violent Communication on Co-conspirator Press that's selling like hotcakes. I wanted to hear about what M hopes these tools can do for our communities.
---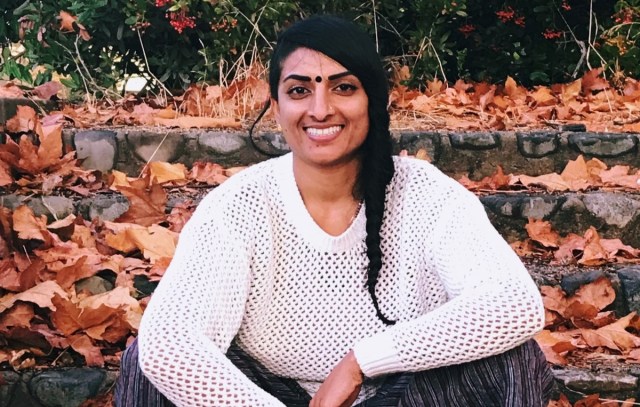 Kamala: Okay, so what is non-violent communication?
Meenadchi: My definition for non-violent communication is behaving in ways that are in alignment with your body. It's not a formula, it's not speaking with compassion — fuck compassion. Non-violent communication is about speaking from a place that's in alignment with your body. Which means you must have access to rage, you must have access to grief, you must have access to the full range of emotions to know what your body is actually saying, and then be able to communicate it.
Kamala: Wow, yeah. So it's accessing a kind of truth.
Meenadchi: Yeah, because it's also not about avoiding conflict. Conflict is meant to happen. Relationships are strengthened by conflict. It always comes back to how do we choose to move through conflict? What are our capacities to engage with conflict in a way that doesn't destroy us, but help us better understand each other?
Kamala: Obviously this sounds ideal, and I know I would love to be in a place where I can walk into conflict knowing it will be generative. But what do you think is hardest about practicing NVC? Like, for most people, are there are messages and stories in our bodies that we're missing?
Meenadchi: Sure. I mean, I'll ask you. You were in the workshop, what were you missing? What did you find in your body?
Kamala: I think I found a lot of tensions and fears that I was trying to ignore. I felt an unease that maybe I hadn't realized, and that I didn't want to be there, because I intellectually wanted the things I was doing to feel good. I also found a lot of defensive voices trying to protect me and not doing a good job of it.
Meenadchi: It can be a hard surprise finding things in your body that you didn't realize were there. Sometimes there's grief that comes up after the surprise.
Kamala: Yes, also true. So what does practicing NVC do for you?
Meenadchi: It gives me a lot of tools for self regulation. So that I can a) calm myself down when I'm upset and b) I can humanize people who do things that feel harmful and painful.
Kamala: Having control over how you express yourself and the ability to be intentional about the effects on people seems like a really big resource to have at your disposal.
Meenadchi: Yeah, that's why it seems important to me to offer NVC to queer, Black and Indigenous POC community that has experienced a lot of harm, that have survived a lot of trauma. There aren't enough tools for self regulation. Like there's barely enough therapists to go around. And I love therapy, but we need collective spaces where we're holding each other.
Kamala: Like sometimes a one-on-one conversation just isn't enough?
Meenadchi: Yes. Because interdependence is key. Our needs cannot be met by one person. The lightbulb that I had around that was when I realized I was really good at facilitating. We all have things to contribute to our community and our communities get better and better when we just offer it, and everyone has access to it.
Kamala: Because conflict and trauma and emotions aren't just affecting one person.
Meenadchi: Yes. Because the other thing that NVC gives me is the ability to hold space and listen to people who are trying to figure out things in their relationships without adding fuel to the fire. To be able to help my loved ones come to their own conclusions and figure out their own shit, again, without dehumanizing the people who are causing them pain. And without fracturing the relationships that they are questioning how they want to maintain.
Kamala: Right. Strengthening a whole community so it can thrive together is the ultimate goal, right? What do you think are the qualities of thriving over surviving?
Meenadchi: When you ask that question, the thing I feel like I want to address is loneliness.
Kamala: What about it?
Meenadchi: There's a lot of loneliness, it's one of the impacts of colonialism, it fragments us from everything. So when I think about thriving versus surviving, there's something in it that's about having the capacity to build relationships. Because it's tiring to build relationships, it requires energy. Often times it is easier to just survive alone with the minimal number of people, for understandable reasons. Because a lot of people don't understand you, especially depending on your intersections and experience of impact, it can just be easier to not.
I just finished reading Kai Cheng Thom's book, and hoooooo. I mean, she documents so many instances of harm that she's experienced in queer community. And the whole thing is kinda like this resilient love story about community. But at the end, and this is my read on it, she's like "I'm by myself." She intentionally holds space between her and a lot of people. For safety, calm, stability, ease. So I think what seems important is helping people establish close relationships with each other. That somehow feels like the big difference between thriving and surviving.
Kamala: And maybe also having some kind of control over the relationships that you're building?
Meenadchi: it's like both, like having control, but also not needing control. One of the questions you asked before was about the body. And growing up in all of these ways that are dysfunctional, it's also hard to trust the body. Like, is this message that I'm getting from my body, is it true? Especially about another person. Is it true or is it my reaction trauma stuff? And I like that distinction. What I love about NVC is that it's so much about accountability for your feelings, the agency that it can give people.
Kamala: That seems so powerful!
Meenadchi: The more agency we have, the better we are at engaging in relationships, and the better our relationships will be.
Kamala: Okay, damn, that makes sense. Thank you!
---
You can learn more about Meenadchi and their work on their website, buy their workbook and follow them on Instagram @whostoleserendib.