The Dyke Kitchen is a bi-weekly series about how queerness, identity, culture and love are expressed through food and cooking.
---
Since Reneice has recently moved on to new things in the wild world, we've had to say goodbye to her beloved series Femme Brûlée. So in this Saturday spot, you will now find my new series The Dyke Kitchen. Every other week, this will be a place where I'll show you the delicious food I make on the regular, explore the values and identities that I bring into the kitchen, test out unexpected ideas that occur to me in my madness and talk to people who really know what they're doing. The kitchen is my home and food is my greatest love language — so they're vital to the way I connect with people and I'm excited to share them with you!
I wanted to start out with a little history of where I'm coming from with food. My mom is third-generation Japanese American from what she says used to be "the boonies" northeast of Oakland, CA and my dad moved to the U.S. from Andhra Pradesh in South India when he was seven. The comfort foods of my youth were heavily influenced by their food traditions. There are numerous shots of me as a kid stuffing mochi into my mouth, smearing rice and yogurt all over my face, and family lore about how much fish I could eat as a toddler.
My most notorious moment as a precocious two-year-old took place at an Indian restaurant, where we were regulars. "You stood up in your high-chair and announced 'I think I have diarrhea,'" my dad likes to remind me with hysterical laughter. "We were thinking, 'Oh no!' but other people were impressed that you would know that." I'm ashamed that this might have been the result of an embarrassingly low spice tolerance, though I'm also aware I was only a baby.
I grew up in Oakland and later moved to a posh, Stepford Wives suburb inside of Oakland, called Piedmont, but the Bay Area has always influenced the way we ate: lots of fresh fruits and vegetables, all kinds of cuisines at once. My earliest best friend trio  — in our ballet class we were called Winkin', Blinkin' & Nod — included two girls who were Japanese-Filipina and Mexican-Hawaiian. So it was totally normal for me to go a party with kalua pig, enchiladas, macaroni salad, teryaki and adobo. That's exactly the kind of approach I bring to my cooking.
Truth be told, I'm not considered the finest cook in my family. I'm regularly overshadowed by my sister's epic roast pork masterpieces, my mom's simple yet elegant vegetables, my dad's inventive South Indian staples, and let's not even bring in my aunt, whose creations most people believe are bought from a fancy bakery. Among my friends, however, I get to shine as someone who will always be able to make something reliably tasty with whatever we have, and though I do have refined taste, it includes instant noodles and Flamin' Hot Cheetos alongside caviar. I think that's an accurate picture of my life.
Today, I'm keeping it simple with my favorite go-to snacks. I'm two kinds of Asian, so spoiler-alert, it's rice. Rice is always a star, in my mind. More on that another day.
Rice with soy sauce & furikake
If you're not familiar with furikake, it's a blend of dried Japanese rice seasonings, usually with sesame seeds, nori and various other goodies, from bonito flakes to wasabi, that I've been dumping on my rice with reckless abandon since I was a kid. There's a whole host of flavors for you to experiment with mixing together. Lately, I've been doing the Seto Fumi with a little dusting of the shiso variety too.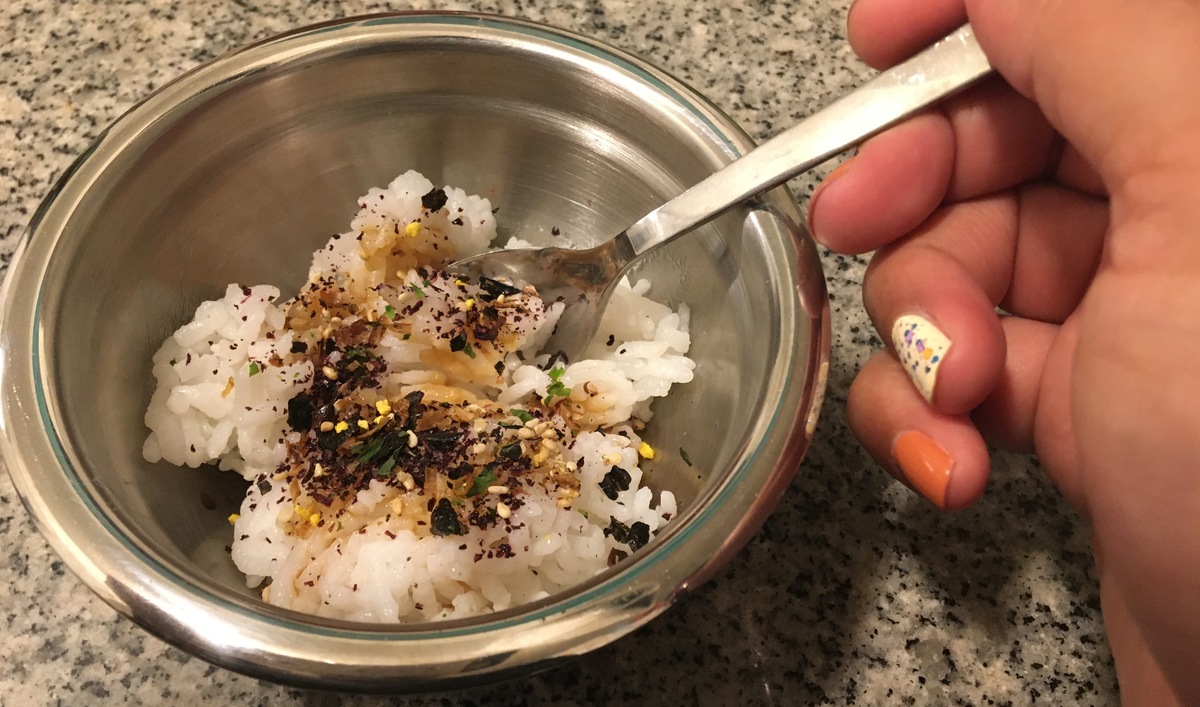 Rice with yogurt & Indian lime pickle
The last time I spent time with my family in India, they spent considerable effort aggressively encouraging me to "take curd." Curd, in this case, was plain yogurt smothering a small pile of rice, which I was supposed to find room for after a giant meal. The intention, I believe, aside from dampening my feminist rage about not being allowed to go out alone, was for it to aid in digestion and soothe the fire of spice I had just eaten. I've always just liked the balance of fatty and tart. It's also my dad's mini meal of choice, and he'll often top his with Milaga podi or gunpowder and fried potatoes. I like mine with an Indian pickle, I'm doing a lime one these days, and if I have some my dad's gunpowder, I'll add that too.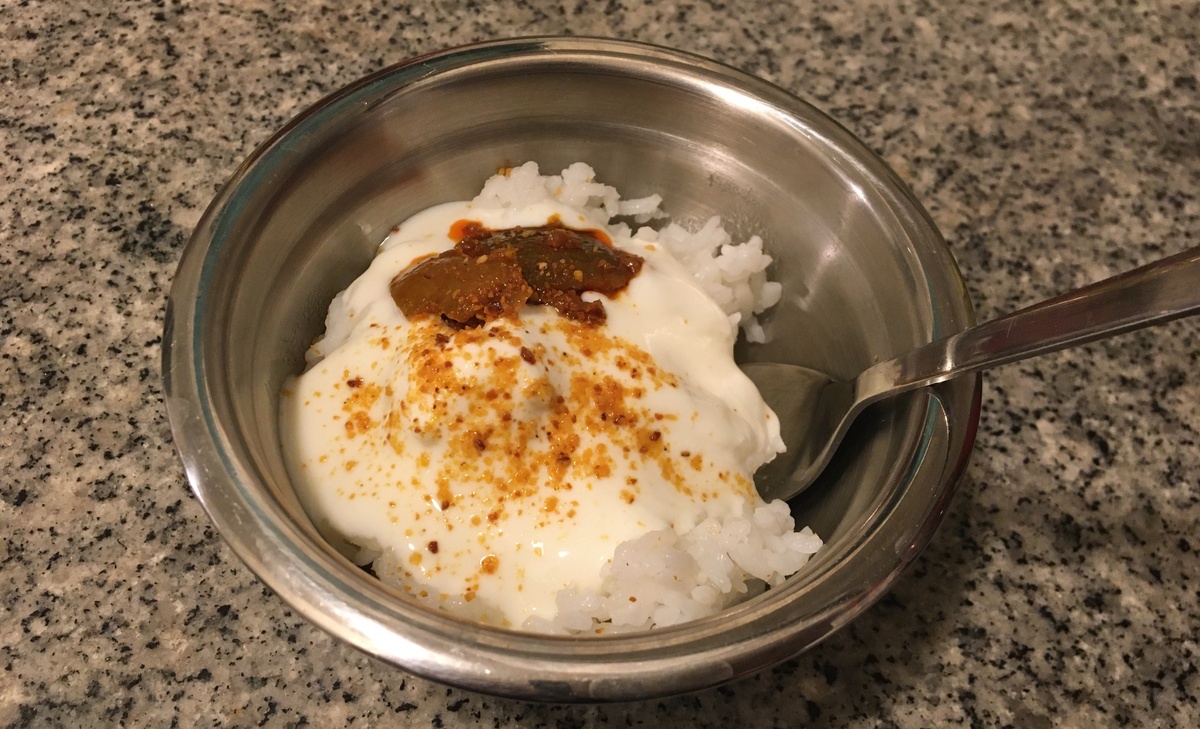 I'm looking forward to sharing more food and stories with you soon!