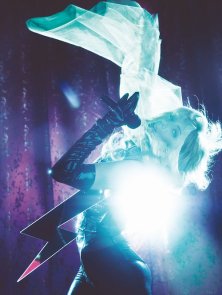 LADY GAGA: Lady Gaga will be headlining Lollapalooza and will be playing along with Erykah Badu, Arcade Fire, The Strokes, Soundgarden, Green Day, Phoenix, MGMT, Jimmy Cliff, Spoon, Devo, Cypress Hill, the New Pornographers, Grizzly Bear, Metric, Blues Traveler, Edward Sharpe & The Magnetic Zeros, the Temper Trap, Stars, Semi Precious Weapon and Dragonette.
ELLEN DEGENERES: Do you think that Ellen DeGeneres is using every possible opportunity on American Idol to mention that she's a lesbian? Because somewhere amid this overall totally flattering, positive and obviously well-intentioned and well-written profile of America's Favorite Lesbian are several bizarre accusations about Ellen over-asserting her sexuality.  Really it's a shame that these tiny comments Ellen Makes, which are certainly more subtle than similar references to male heterosexual or female heterosexual desire or behaviors on the show, stand out so much to other people! We feel if anything, she downplays her sexuality especially on her show, and often on Idol. But here we go!
Ms. DeGeneres, one of America's most popular female comedians and talk-show hosts, is also one of its most beloved gay entertainers — and one of the few who markets herself as such. And she finds a way to remind audiences of her sexual status on almost every episode of "American Idol." More than in any other of her ventures, Ms. DeGeneres's performance on America's favorite television show suggests how hard she works to seem effortlessly funny and how determined she is to be openly but unthreateningly gay.
In conclusion, Ellen is poised to take over the world. (@nytimes)
Furthemore, she is related to Madonna: Researchers have discovered that the two women are 11th cousins with a common "10th great-grandfather" — Martin Aucoin of France — whose daughters emigrated to Nova Scotia in the early 1600s. (@vancouversun)
RACHEL MADDOW:
Clearly we will be getting scans of this pronto, but Maddow let People magazine come inside her house and talk to her and Susan about their amazingness. The Huffington Post has a basic summary of what's in the article:
"It was very 'Desperate Housewives,'" the MSNBC host joked. When they first met, neither of them could cook very well, and Maddow still can't (she "still can't cook an egg," the magazine says). But Mikula has "become an avid home chef," saying they don't exactly live in a "take-out town."
People says that Mikula "loves indulging in girlie accessories like purses" while Maddow claims to "look like a dude."
ANYONE BUT ME:
Now you can get Anyone But Me: The Complete First Season on DVD! All the wonderful moments of hot lesbian love between Aster & Vivian will be right there at your fingertips. And bonus; our very own Alex Vega designed the cover.
THE LYNCH CAN DO NO WRONG:
Jane Lynch and her cute wife want to see you at the National Gala for Gay & Lesbian Rights, because that's where they met and fell in love!
WANDA SYKES:
Did an amazing imitation of Erykah Badu's controversial "Window Seat" video on her show and Erykah thought it was really funny.
LESBIAN TEEVEE KISSES:
Excited Brooke Vincent and Sacha Parkinson are delighted to share the soap's first lesbian smooch this week. (@daily star uk)
GLEE:
Wanna see The GLEE Cast performing at The White House on Easter YEAH YOU DO.
WORLD TOUR:
Ke$ha, who was a hot mess of a performer at Dinah Shore last weekend (you can catch her in all her glory in this video from one more lesbian, who have lots of Dinah Shore 2010 videos for you with more on the way!) will be hitting the road with Nicki Minaj and Rihanna for the Last Girl on Earth tour. We just had like 10 ideas about possible bisexual match-ups due to the word on the street about all these girls, but b/c our love for Rihanna and appreciation of her supreme world beauty is so great, we cannot let her be tarnished by any hypothetical sexual situations that might involve Ke$ha, who told the entire crowd at Dinah Shore's White Diamond Party that all her songs were about "equal rights" and coincidentally "white diamonds." (@ew)