Hello beauties! It's your friendly photoblogger Robin Roemer.  Last weekend Carlytron and I, along with a modest gaggle of our gay boy friends, headed north and east to the very tip of Cape Cod to fun little gaycation spot called Provincetown, Massachusetts. In fact, it is the gayest place known to man AND one of my favorite little beach getaways.
We caught the tail end of the week-long Gay Festival of Lights known as "Carnival" and made it just in time for the big parade, which is basically what the New York Pride Parade would look like if you took out all of the boring parts and added more beads and drag queens.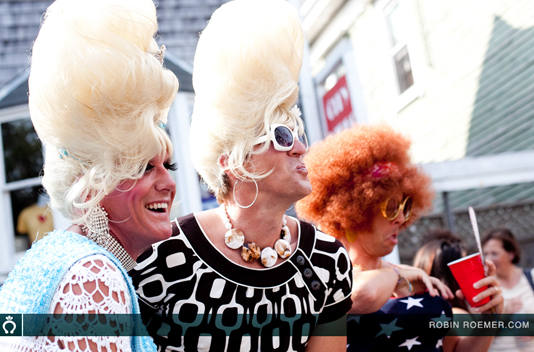 This year, the theme (because you know how the gays love their themed parties) was Peace, Love and Go-Go Boots, in celebration of the anniversary of Woodstock, this super-hippie event that took place before I was born. However I heard there were some good tunes, some mind-altering substances and a whole lot of mud there.
So Carlytron and I happily put on our best Brooklyn hipster hippie-ish attire and headed out to Commercial Street to shop, eat some lobster, drink tropical-tasting things, and dance the night away.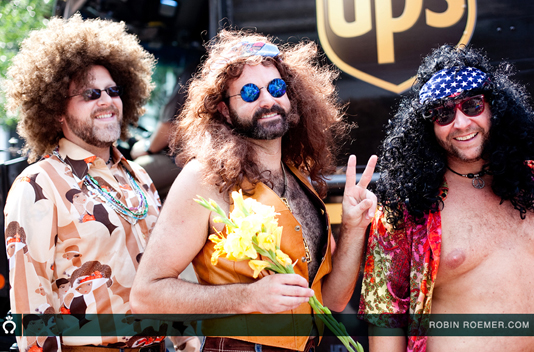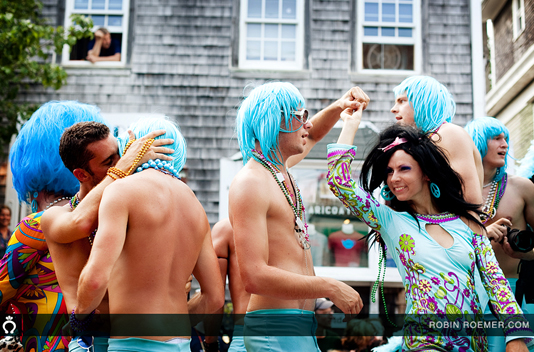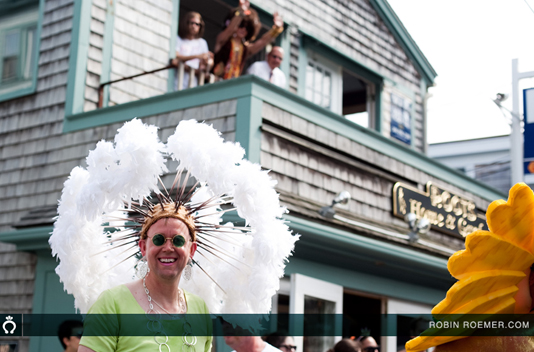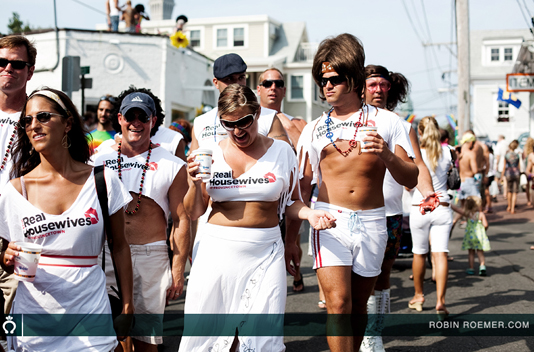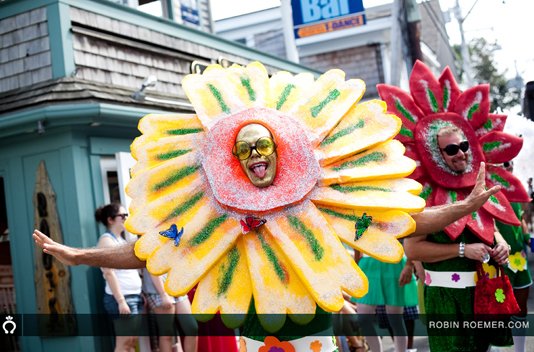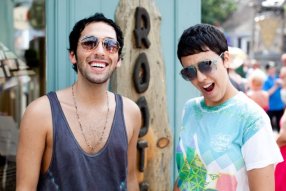 We spent the next several post-parade days sweating it out at a few of the dancey bars in town surrounded by a sea of shirtless boys jumping around to remixed pop. And I had a blast! (Autostraddle does not promote the consumption of illegal substances or promote illegal activity, except gay marriage maybe.)

Provincetown, which is only a little over a mile in length, is lined with rainbow flags, adorable shops, galleries and bed and breakfasts.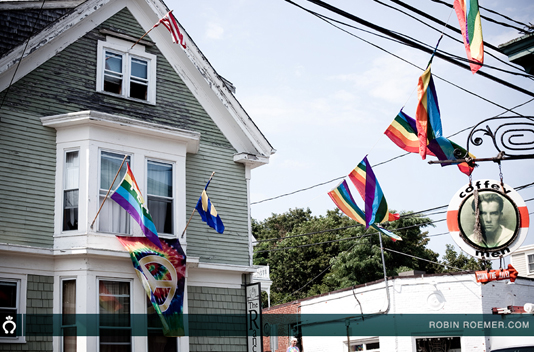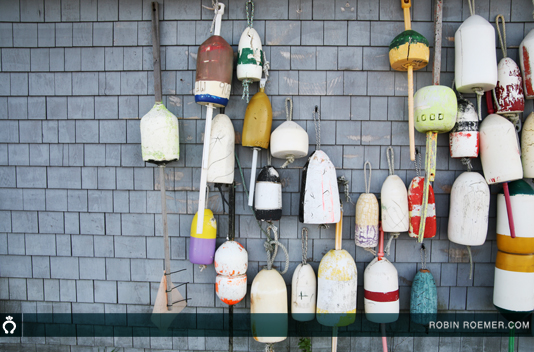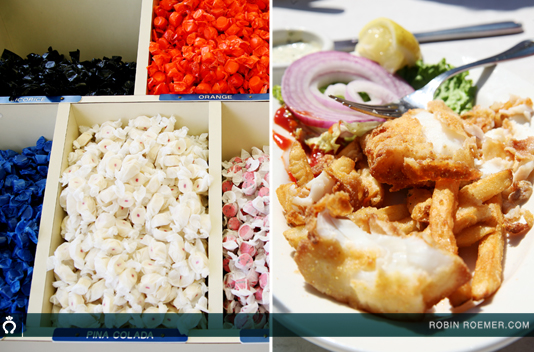 With the beach inches away, you can take a breather from the shopping frenzy to collect your thoughts, take a boat ride, and walk in the sand.  The seafood is particularly fresh, the drinks pack a punch and salt water taffy and fudge are plentiful.  You can go see a drag show every night of the week, check out the afternoon Tea Dance, and shop at Marc by Marc Jacobs.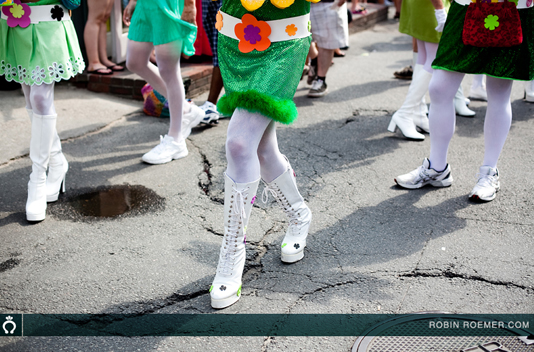 The one thing Carly and I both noticed while we were there however, was a slight lack in the lady department. Maybe because I have already found my lady it didn't bother me too much, but it was sort of like, hey, where our girls at?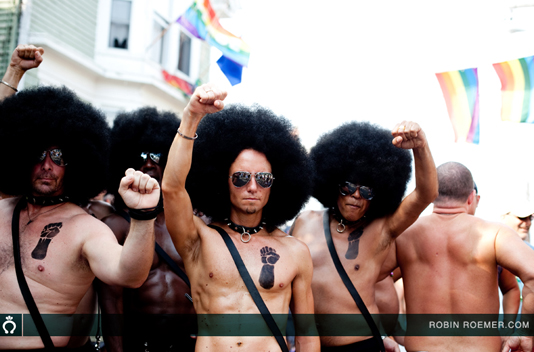 Provincetown has a weekend and a week during the summer dedicated to the ladies.  I was there one summer with three couples (I was in one half of one of those couples) for — unhappy coincidence! — "Single Women's Weekend" … which means we all got yelled at for holding hands. Not exactly the reason we'd traveled to the Gay Mecca.
So I guess other than a weekend here or there, it seems that the men own Provincetown?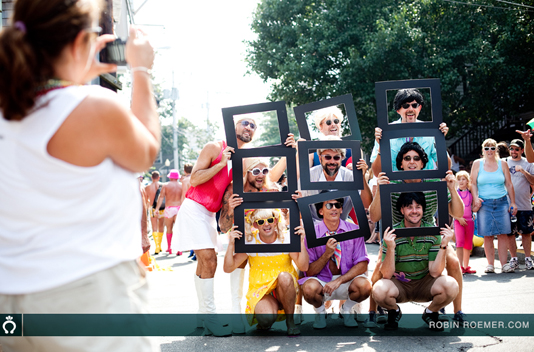 One afternoon Carly and I split from the gaggle of boys to take a little walk down Commercial Street, which is Provincetown's main drag.  After some baking in the hot sun and a few texts to reconnect with our group who were chillin' pool side, we wound up at The Boat Slip where a pool and lawn chairs had been promised to us.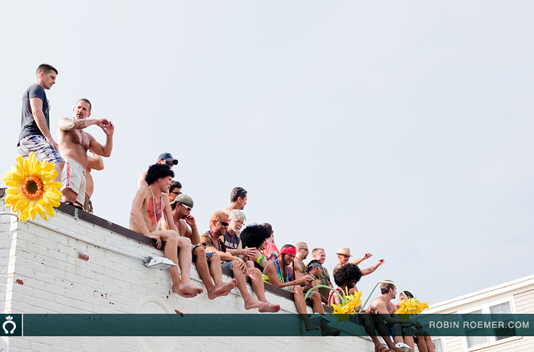 When we showed up, we were quite literally the only females there!! Which again, doesn't bother me, but where the heck were all the women?  Is there some secret lady pool we don't know about?
Numero 15 suntanning oil, 2 crazy drinks, and a crowded pool later we made the walk home to rest up for another night of dancing and debauchery. After a certain hour, jumping up and down at the Video Wave Bar, we again realized we were the only ladies in sight. Thank goodness we had a friendly crowd and the men appreciated our fly dance moves.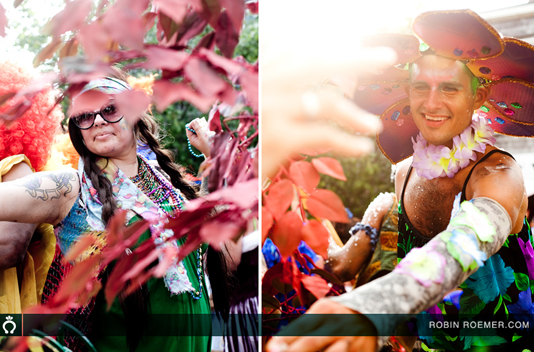 So here is my case for all of you lesbians to come to Provincetown next year:
First off, it's a quaint gorgeous beach town with fun folky elements and plenty of super friendly gay.  Who doesn't love that kind of environment? It's like if you took Fire Island and sucked out the attitude and replaced it with more flair.  Not as sleek but certainly more laid back and fun!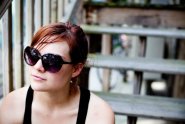 Secondly, Cape Cod is known for its whale watching and everyone knows that lesbians love to observe marine life.  I know, that's completely stereotpical but i have to say, I went on a whale watching tour on one of my trips to P-Town and we saw about 10 whales and schools of dolphins and it was one of the most amazing thing I've ever witnessed!
There's also stores like Womencrafts and Toys of Eros that are totally women-centric and women owned galleries and restaurants galore.  And someday, Carlytron will open a bar and call it Lady Pockets.
My point is… everyone come out to Provincetown next summer. We'll get an Autostraddle summer share, like the old MTV beach house, and party like its going out of style.  Maybe we can even keep up with the boys!