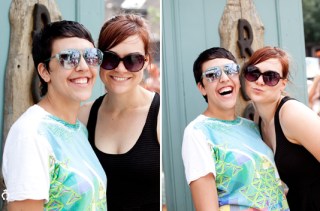 This just freshly posted: Laneia showed us how to make your own cute clay magnets for your fridge!
What are you doing this weekend? The Autostraddle Scavenger Hunt? Obviously! If you want a shot at some truly kickass prizes, your entries are due Monday so keep 'em coming!
Speaking of taking photos of fun summertime activities, our photoblogger Robin visits Provincetown, the gayest gay & lesbian vaycay spot in all the land, and takes some stunning photographs!
On Top Chef lesbian contestant Ashley finds the bachelorette party challenge "beyond comprehension,wp_postsand wasn't shy about saying so. Fired up? Laneia tells you all about it.

+Life & Culture
BUTCH VOICES: NPR covers the four-day "Butch Voices" conference, a chance for men, women, and transgendered people to talk about what it means to be masculine — even if you're not a man. Jezebel covers NPR's coverage of the Butch Voices Conference and the breakdown is fascinating, w/r/t how "butches are not only expected to conform to stereotypes about masculinity — being "strong and silent" — but are vulnerable to a stereotype more traditionally associated with femininity as well," and also checks out what the Butch Voices has to say about "butch intellectuals.'" (Rachel Maddow being the first famous butch intellectuals).
SEX: The Ex-Banker Living on Alcohol, Hookups, and Unemployment: I think maybe they just had Brett Easton Ellis make something up for this week's sex diaries. (@nymag)
TECH: More images about Gender & Technology, including "If Firefox, Internet Explorer, Chrome, Safari, etc. was a woman" and a man choosing a Game Boy over the woman tied with legs spread on his bed. (@contexts)
+News & Politics
DOUCHEBAG: In Utah, it is legal to fire someone for being gay or transgender. However, the governor, in response to questions about told reporters he doesn't believe sexual orientation should be a protected class in the way that race, gender and religion are. (@ontopmag)
EQUALITY MARCH: I feel like this is like a vacation where they keep cutting entertainers The Equality March seems increasingly pointless, yet still a good opportunity to get drunk with our interns, which is probs the best way to feel equal to the rest of this gdforsaken country. (@queerty)
ADOPTION: The actual tagline for this article is: "Is the state's law forbidding adoption by gay people protection for children or bigotry? A Miami appeals court must decide." I'm sure that will be  VIGOROUS DEBATE as that decision is SO COMPLICATED. (@herald)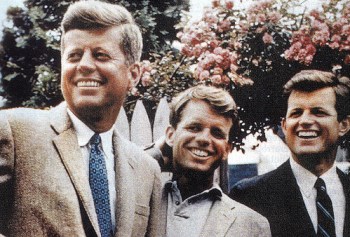 RIP TED: Ted Kennedy was "our greatest champion: "On gay rights, he was absurdly helpful for a straight senator back before gay rights were popular," he said. (@cnn)
SEX ED: Abstinence-Only Sex Education Center offers Derek the Abstinence Clown, Apparently Without Irony. (@feministe)
BTW I TOTALLY CALLED THIS: Heather Had 2 Mommies. Now She'll Have THREE. Thanks, Science!"Scientists have managed to rip the DNA out of a donor egg, then implant the egg with another mother's genetic muck, and then put a male's sperm inside the whole thing. So far, they're only doing it with monkeys" (@queerty)
DADT: DADT, No Time-line For Easing it.""That process is still ongoing. There was not a definite time-line put on that request,wp_postsCynthia Smith said of President Barack Obama's discussions with Secretary of Defense Bob Gates on easing the policy." (@advocate)
+Arts & Entertainment
NATALIE: Jake Gyllenhal interviews Natalie Portman in Interview Magazine:" .. we can take solace in the fact that we now have the time to pursue the things that we really want to pursue because now the option of doing things just for the money isn't necessarily there. (@interview)

THREE RIVERS: Three Rivers, starring our ladylove Kate Moenning, will premiere October 4th on CBS.
END OF THE RAINBOW: Reading Rainbow's final show will air today on PBS and NPR explains why you can blame G.W. Bush. "Reading Rainbow taught kids why to read. You know, the love of reading — [the show] encouraged kids to pick up a book and to read." (@ npr)
MOVIE CROSS-DRESSERS: Top Ten Cross-Dressers includes Julie Andrews, Barbara Streisand, Gwyneth Paltrow and a bunch of dudes! (@nerve.com)
TEEVEE: Heathers, Cult Classic to be Revived as a Television Show: "While the project will be updated, classic characters, including Ryder's Veronica Sawyer and Slater's J.D. will still play a role." (@under the radar)
LOHAN: The Week of Bi-Bis – Bisexual and Biracial Identity in New Movies and TV: "Earlier this week, Lindsay Lohan was a guest judge on Project Runway, and she was, to my knowledge, the first out female judge they've had on the show. She commented that one of the dresses looked "sexy" on the model wearing it, and I realized she's probably been the only judge ever on the show who actually has sex with women and is therefore speaking from a very personal perspective." (@bilerico)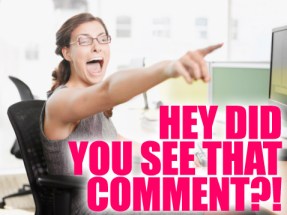 This was a hard one as I feel like we had 25 interesting conversations in the comments this week — about organized religion, Italian birthrates, sex crimes against children by church people, the color of vampire blood, the economy of Dubai, dreams about Autostraddling, scissoring, and various potential entries for the Summer Scavenger Hunt.
Lottie, Late Add Award to the NewNowNext Awards, pretty much summarizing our feelings about The Paradiso Girls: "question: is that girl band gay? if not what were they doing there? I found them a bit obnoxious, sorry."
The Riese's Mom Commented on Autostraddle Award goes to Riese's Mom for: "and to think, if I had just let you have Barbies how different your life might be …" on Barbies Teach Lesbian Sex & Gay Dance Crew Vogue Evolution Kicks it Kung Fu Fighter Style.
bcw on Lesbian Top Chef Gets Fired Up: "is there anywhere i can see this clip that doesn't blatantly discriminate against my canadian location? it's a bit much, laneia, inviting me to participate in this internet event from which i am barred based on my geography."

from Intern X:
So I've heard that the lesbians enjoy tattoos generally? I've been looking for some ink myself and while looking for inspiration have come across this tumblr Fuck yeah tattoos. Some are really awesome and some are regret worthy, regarldless they're all cool to look at. Hop to it!
+
from Laneia
Look, I know it's nowhere near Easter, but maybe you don't need a religious holiday to make these Naturally-Dyed Eggs? They're so pretty!
+
+

from Riese:
Eva is a 26-year old queer female with cerebral palsy. She has a video blog where she tapes videos of people treating her bizarrely, using a video camera (very discreetly) mounted to her wheelchair. She edits the videos, comments on each event and writes about each situation on her blog: The Deal With Disability.
from Alex:
This chart in New York Magazine says Quentin Tarantino films are as much about female empowerment as they are about the macho shenanigans of the men. He's no feminist, obvs, but this is very true. Girl powah!