Summer 2009 is over — you'll never be able to go back. Do you have any regrets? Something you wish you'd done differently? Well too bad! Those hot, lazy summer days are behind you now. No more sexy ladies in bikinis. No more poolside margaritas.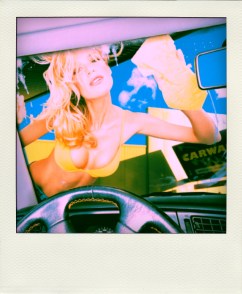 No more hipster girls in plaid shirts riding a mechanical bull straight into the future! It's time to set your sights on candy corn and crunchy leaves, pumpkins and pea coats! I look so adorable in a pea coat, you guys. For real.
But wait! Before you pack up your two-piece and gain five lbs, let's commemorate our sizzling summer of awesome with a contest!
The Autostraddle End-of-Summer Scavenger Hunt!
Here's how it works. We've made a list of 20 Summer Activities. Your job is to pick three of these scenes — that's right, just three! We're so nice to you! — and photograph them, and then email your photos to green at autostraddle dot com by 5:00 p.m. PST  on Monday, August 31. You will be entered to win one of nine prize paks!
Winners will be announced Thursday, September 3. Eight winners will be chosen from a hat (a fedora, to be exact) and one additional lucky winner will get BEST IN SHOW for our personally favorite photo, which is totally subjective.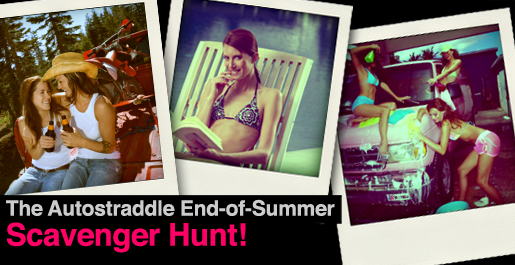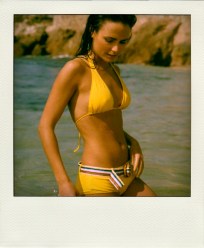 We have three very special prizes — one for dog-lovers, one for bicycle-lovers, and and one for book-lovers — which you can win only if you send in the corresponding photograph. These photograph scenes are marked with a * below.
Rules: You must be in every picture! Ok, that's a little too strict. You may photograph your friends or siblings or enemies but LISTEN UP — we're trusting that you won't steal images from the internet because stealing is cheating and everyone knows that cheating is for total losers.
For every three pictures you send, your name will be entered into the magical fedora one time. So if you email six pictures of your smiling face, your name will be in my hat twice! Get it? If you send in all 20 pictures, your name will be entered seven times because I like to round up. Also, sending pictures of all 20 scenes will mean that you had the Best Summer Ever, so go ahead and give yourself a pat on the back!
Winning photos will be posted on Autostraddle for all the world to see! (Unless you tell us not to). This contest is open to Autostraddle readers & family members of all 283746827 sexes! I'll even allow stuffed animals to enter, provided they're as well-groomed and articulate as Tinkerbell.



Choose at least three of these Summer Activities To Photograph:
+

1. Attending a Pride Event

+


2. Being on a bicycle

*One Less Car* entry!




+


3. Going back-to-school shopping!


+


4. Rolling down a hill


+


5. Attending an outdoor function at which food cooked on a grill is the main source of nourishment


+


6. Walking/playing with your dog

*Love me, Love my Dog* entry!

+



+


7. Visiting an amusement park


+


8. Going on a picnic


+


9. Washing your car in a bikini


+


10. Reading a book near water

*Print is Not Dead* entry!




+


11. Visiting a national park or monument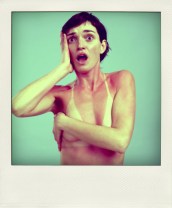 12. Wearing swimwear


+


13. Eating ice cream or popsicles


+


14. Camping


+


15. Being sunburned


+


16. Drinking beer from a cooler while sitting in a lawn chair or the back of a pickup truck


+


17. Flip-flop tan lines
18. Turning your shirt into a bikini top by tucking the bottom of it into the top of it you know what I'm talking about

+


19. Enjoying the 4th of July


+


20. Attending a music festival


Prizes for our End-of-Summer Scavenger Hunt have been generously provided by…
Growkids, an Earth-friendly fundraising company dedicated to achieving prosperity for schools and organizations through the sale of sustainable, natural products.
"[Our] vision is to nurture and raise awareness for the Earth and to help consumers realize that the choices we make impact our environment and, ultimately, the quality of each of our lives. Growkids promotes products that are produced organically, are made from recycled materials and serve an environmental purpose."
Microcosm Publishing is an independent publisher and distributor of zines, books, pamphlets, stickers, mini-buttons, patches, t-shirts, posters, films, and more.
"We hope to add credibility to zine writers and their ethics, teach self empowerment, show hidden history, and nurture people's creative side."
Carissa Halston is a writer and word-lover whose literary performance tour, Portraiture, kicks off next month in New York City [click here for a complete list of cities and dates]. Look for the review of Carissa's book,  A Girl Named Charlie Lester, in the September issue of Curve, which is out now!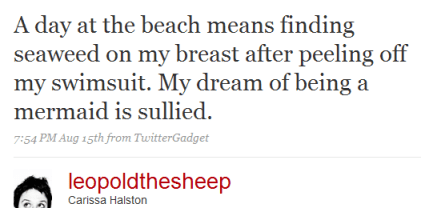 Cheryl R., my "roommate," watches the Food Network and a ton of documentaries. When she's awake, she can usually be found knitting or crocheting. Cheryl enjoys ginger snaps and Southern Comfort, though not simultaneously. Her lifelong dream is to live on a sheep farm and hand-dye her own yarn.
Prizes!
these are only a few of the lovely things you can auto-win!
Prize Paks include Long-sleeve and short-sleeved Growkids t-shirts, notebooks, canvas grocery bags, green totebags, vegetable, herb & aromatherapy seed packs, hand soap, thank you cards, vegetable washes and SO! MUCH! MORE!
Our very special prize paks include:
*Love me, love my dog!* Prize Pak: Long-Sleeved T-Shirt, Pet Shampoo, Pet Collar and Pet Leash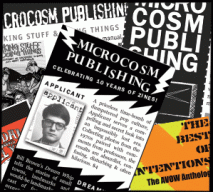 *one less car!* Prize Pak: Short-sleeved GrowKids shirt, a Camelbak Better Bottle with handmade crocheted cozie, a set of bike-themed patches from Microcosm Publishing, 1 lip balm that I wanted to steal but didn't
*print is not dead!* Prize Pak: 1 copy of Sick, 1 copy of Dwelling Portably 1990 – 1999, 1 set of stickers from Microcosm Publishing, 1 copy of A Girl Named Charlie Lester