Is your refrigerator just one color? THAT'S BORING. Did you know that refrigerators are magnetic on the outside? THAT'S NEAT! Hey, let's make colorful clay magnets for your refrigerator! HOW FUN!
This project came about after trying, unsuccessfully, to sculpt a snail a few years ago. The snail was a failure – a snailure – so I released my frustration by pounding and twisting it until it was pretty. Then I baked that sucker and slapped a magnet on one side. VICTORY.
You Will Need:
+ modeling clay in at least 3 different colors [I prefer Sculpey III – it yields easily, comes in several colors and doesn't rub off on your skin like FIMO does]
+ super strength magnets [can be purchased at any craft store]
+ glue [I've used Super Glue and hot glue with good results. I don't recommend Elmer's or tacky glue.]
+ wax paper
+ an oven
I'll be explaining how to make circles! Don't feel confined by these instructions — you can really do whatever in the world you want! You don't even need to read any further because the whole thing is so simple and dependent on your imagination that there's practically no need for me! But I'm going to keep writing anyway because that's how I get paid the big bucks [$0.00]!!
This is Where the Magic Happens:
1. Preheat the oven according to the directions on your clay.
2. Start with a clean work surface. I like to cover my space with wax paper because it feels really official that way.
3. Break off a piece of clay and knead it until it's warm and smushy [mmmm!], then do the same with the remaining colors.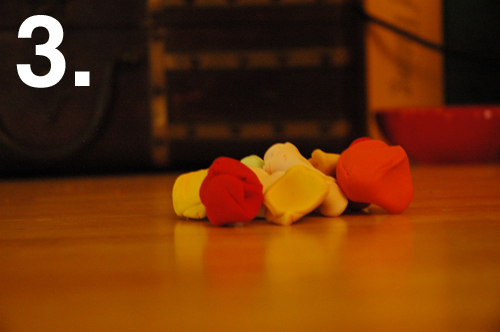 4. You have two options with here. Using the three [or more] chunks of clay, either 1) make cylindrical-ish blobs, about the size of cut green beans, and line them up side by side like toy soldiers. Or 2) make little pancakes and stack them slightly askew on top of one another. Pick a technique! Then press them together a bit until they're stuck.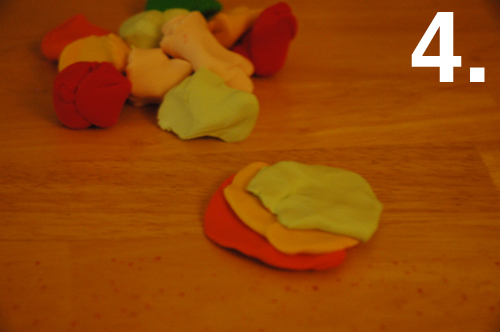 5. Start twisting! Gently twist your clay into a cool color pattern by slowly working your way from one end to the other. Once it looks similar to an insane candy cane, curl it in on itself like a cinnamon roll.



6. Take your cinnamon roll shape and work it between your palms to form a ball that'swhatshesaid. Does it look like a fat clay marble? Great! Now roll it between your palms again, this time forming a stick shape.


7. Twist it again! This illustration shows a piece of clay after Step 6 that's been twisted halfway, so you can see the difference. After you've twisted, make another cinnamon roll and form another ball. I find that if you twist/roll/ball the clay more than twice, the lines become too thin and striated. When this happens, the unique colors get lost. Howevs! If you like the heavily striated look, go for it. I won't judge you.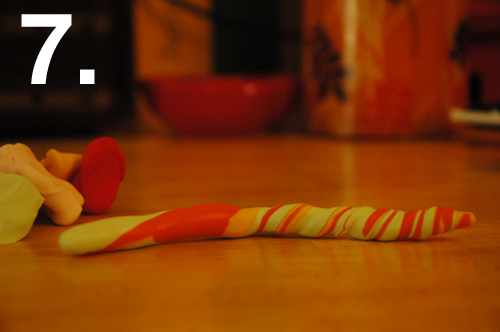 8. After you've formed the final ball, simply smash it flat with either the heel of your hand, a rolling pin, a book, whatever. Do you want a design stamped into it? Go ahead! It helps to flatten the ball onto a piece of wax paper so you can easily peel it away when you're done.


9. Put your clay on a baking sheet and stick it in the oven. Baking time will depend on thickness, so the thinner discs might need to be removed while the thicker ones cook a bit longer. Refer to your clay's baking directions for specifics! It's worth noting that if you overbake your clay, it will start to brown. Is this the look you're going for? Super! Bake away! Timer be damned!



10. After the clay has baked and cooled, determine which side is the ugliest and glue the magnet to that side. BAM! You have just made something pretty and useful. Call your mom and your ex and brag about how awesome you've turned out!