On last night's episode of Top Chef, lesbian contestant Ashley finds the bacheloette party challenge "beyond comprehension," and wasn't shy about saying so. Who was out of line — Bravo (Top Chef's network), Ashley, or just the heteronormative world we live in? Autostraddle has feelings.
Teevee Posts! Also, check out our Reality Televisionary, including Project Runway and Top Chef premiere recaps as well as Intervention and America's Best Dance Crew. Then, Carlytron gives us a dose of Televisionary awesomeness with Weeds Goes Gay, True Blood Gets Hypnotized and Nurse Jackie Hits the Pill-O-Matix.
Movie Post! Documentaries for Homos: Deliver Us Evil, For the Bible Tells Me So, Tying the Knot, Religulous and Trembling Before G-d.
Have you entered the AUTOSTRADDLE SUMMER SCAVENGER HUNT? Time is running out to participate in the best thing that has ever happened to you!

+ Arts & Culture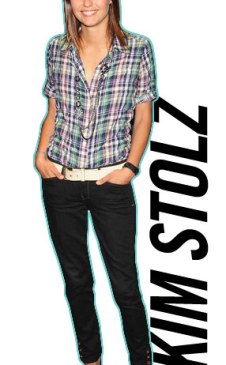 GLAAD ALERT: We were sitting here flipping through the Manhattan glaad event photo album on Queerty wondering why all the fancy gay events are seemingly soley attended by: 1)Gay men, 2)Straight women-who-love-and-entertain-gay-men and then we come to Kim Stolz, reading our fucking minds: "Whenever I go to a gay event, it's all men…what is that? …Where are the fucking women? I find that the best events seem to have the men, so I don't think that's very fair. I want to get dressed up for some women sometime, you know?" Sidenote Carlytron & Robin were there, probs super dressed up for each other!! Anyhow THANK YOU KIM STOLZ. (@queerty/wireimage)

BLOODSUCKAHS: Is Evan Rachel Wood Playing a Lesbian Vampire on True Blood? "She's not necessarily a lesbian," Wood, 21, recently explained to me. "Her human partner is a girl, but I'm pretty sure she goes both ways [laughs]. I think vampires are like that in general." (@e!)
LESBIAN LIVING A LIE: We don't even know what to tell you about the answer to this. There are some confusing sections. Help! I'm a Lesbian married to a man: I know that I am a lesbian. I dream of being with a woman. However, I am married with one child. I love my husband, and I believe he knows in his heart I am gay.I don't love having sex w ith my husband, but I do what I must in order to make him happy. I struggle with what I am doing. But our life is so good and comfortable, why change it?
DEGRASSI: Degrassi Goes Hollywood premiered last night at the Toronto Film Festival, and all the (kinda) stars came out for the show — Lauren Collins, Adamo Ruggiero, less the ones who have already moved to Hollywood for real, Aubrey Graham — aka rapper Drake (Jimmy in the wheelchair) and Shenae Grimes (now starring in 90210) . Also notably absent from the film are Melissa MacIntyre (Ashley) and Deanna Casaluce, who played lesbian Alex Nuñez, otherwise known as one half of famous lesbian relationship "Palex."
THE RUNAWAYS: "The Runaways is absolutely not a biopic. It's not fact-for-fact.. … Even if it's not a huge movie, it's going to have a colossal effect on young girls playing rock 'n' roll, for sure. Kristen [Stewart] was so into it … really serious about it and was watching me and asking me all sorts of questions."  – Joan Jett (@hollywoodreporter)
TWITTER: Teenagers don't like twitter, but adults love it. Our theory? They already know where everyone else is. It's one thing to have hundreds of adults live-tweeting The L Word Finale, and quite another to have hundreds of teenagers live-tweeting their AP exams. The New York Times suggests: "As the Web grows up, so do its users, and for many analysts, Twitter's success represents a new model for Internet success. The notion that children are essential to a new technology's success has proved to be largely a myth." (@nytimes)
WOMYN: Women's Equality Day marked the 89th anniversary of women's suffrage. Jezebel says we've come a long way baby but we've got so much further to go. (@jezebel)
EATING: PsychCentral examines the many definitions of 'normal eating': Normal eating takes up some of your time and attention, but keeps its place as only one important area of your life. (@psychcentral)

REALITY TEEVEE: Out lesbian actress Noelle Messier has been cast in a new acting competition reality show taping between August 31 and September 17 called Hellbent for Hollywood.  show "combines the excitement of American Idol with the competitive challenges of Survivor."
LADY GAGA'S A HAPPY PHANTOM OR IS SHE: "She's what I call a meteor – singers who entertain people for a while. Hey, there's nothing wrong with that. But then there are people like Neil Young who show up at Glastonbury 40 years into their career. And that's a very different kind of artist. Neil Young doesn't have to get his bum out on stage! She wants to entertain people. Right now, half the world is depressed and they need to be entertained. So her timing's perfect." –Tori Amos on Lady Gaga (@thesunuk)
+News & Politics
RIP: Ted Kennedy sponsored a number of LGBT and human rights bills over his 46-year career, including, most recently, the Employment Non-Discrimination Act, the Senate's first bill to include transgender rights.  He also spoke at the 2008 HRC Equality Convention.  LGBT and AIDS activists react to the death of Ted Kennedy:  "Ted Kennedy was an old school politician who was forward thinking enough to have been a longtime hero that championed equality long before many others." (@joemygod
SOME PPL IN TEXAS LIKE GAYS: El Paso, Texas City Council voted 7-1 to grant health benefits to the partners of the city's LGBT employees.  (@kfoxtv)
UK GAY YOUTH BIG LOTTO FUND:  The UK's Big Lottery Fund has awarded more than $600K to a Bristol-based gay youth charity to fight homophobic bullying. @ukgaynews)
DYKE DRAMA: Two Russian lesbians were late for a court appearance about whether being denied a marriage license violated law and, in turn may have screwed up the country's marriage fight.  (@queerty)

Auto-Straddler of the Day

from Intern Jess:
I love lists!  Check out the 50 most viewed Wikipedia articles from 2008 and 2009.  Michael Jackson, Lady Gaga & Sarah Palin make cameos.
+
from Laneia:
I promise you will never see a facebook update from me on STFU Parents. Ever.