Yesterday we brought you Televisionary rundown of all the happenings on your favorite scripted shows like True Blood, Weeds, Nurse Jackie and Drop Dead Diva. Now let's get to the reality shows that have graced our screens this week: America's Best Dance Crew, season premieres of Top Chef & Project Runway, Australian Idol and Intervention … but first! News!
A&E has confirmed that The Jacksons Special will become a reality series, which will be probably a lot like Intervention. ABC has revealed Dancing with the Star's professional pairings for the upcoming season which includes Debi Mazar, Donny Osmond, Ashley Hamilton, former House Majority Leader Tom Delay (whaaa?), Olympic gold medalist swimmer Natalie Coughlin, Kelly Osborne, singer/actress Mya, and Lacy Schwimmer.
If you wanna be on top, auditions for the fourteenth cycle of America's Next Top Model calls for women 5'7 and above between the ages 18 and 27 and of "diverse backgrounds, shapes, and sizes." Season 13 of America's Next Top Model, which will be recapped by our hero fourfour, is just for the shorties. He's also recapping Paris Hilton's new BFF. FYI.
Mark your calendars!
September 9: America's Next Top Model (8 p.m.; CW) and So You Think You Can Dance (8 p.m.; Fox)
September 17: Survivor: Samoa (8 p.m.; CBS).
September 21: Dancing With the Stars (8 p.m.; ABC)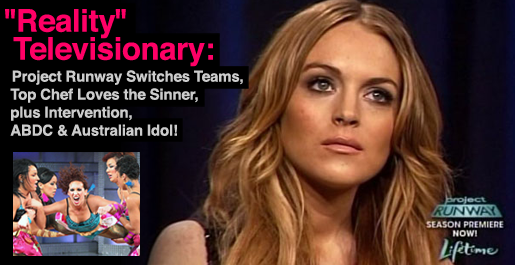 The Lesbian Doppelganger Award: Project Runway
Episode 601: Welcome to Los Angeles
(by Intern Lily)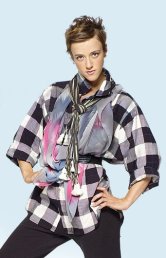 Fact: Project Runway is always amazing. How could you go wrong with Heidi Klum, cutie patootie Tim Gunn, and challenges that involve turning garbage/food/kitchen appliances into wearable clothing? The fabulous show went through some changes this season including a switch from the very gay Bravo to my number-one-favorite-channel-ever, Lifetime. PR also moved locations from the east to the west—setting up shop at the Fashion Institute of Design and Merchandising in Los Angeles. The first episode of the season was extra spectacular because it featured my favorite celebrity couple ever—Lindsay Lohan and Samantha Ronson! Except Samantha Ronson was played by the arguably more attractive Ari Fish, a designer from Kansas City, MO who makes odd transformative clothing that she hopes will one day be able to morph into both a tent and a water purification system—her words, not mine. Lindsay Lohan guest judged and Sam (uh, Ari) seemed a bit more excited about that than the rest of the contestants…just sayin'! The challenge of the week was to make a dress for a red carpet event. Here is just the best of what went down:
Johnny Sakalis, a former Crystal Meth addict from West Hollywood, CA has a complete break down when he begins to re-think his original design. But Tim Gunn (the master of the universe) has a nice little chat with Johnny and convinces him that he is talented enough to pull through and make a great dress—which is exactly what he ends up doing!
Carol Hannah from Charleston, SC might end up being one of the best this season. She describes her designs as: "If you were a woodland fairy and needed something to wear to a gala then you would wear one of my dresses." WE ARE ALL FAIRIES, OBVS!!
Christopher Straub, A Visual Merchandiser from small town Minnesota with no formal training ends up winning the challenge!
Ari Fish may have been a fun and spunky Samantha Ronson look alike but her design was confusing, not incredibly attractive, and not something someone should ever wear on the red carpet (unless, of course, that someone is Lady Gaga). Lindsay Lohan had some harsh things to say about Ari's outfit—but then again, that might have been pent-up relationship anger.
In my opinion, Mitchell Hall should have gone home instead of Ari. He failed to take in account that models lie about their measurements in order to get jobs (they have to, it's a cut-throat world!) and made a dress that ended up not fitting his model. The dress he had made originally was not exactly fabulous looking and the see-through nightgown dress that he sent down the runway was even worse. Mitchell blamed the model and later, on "Models of the Runway", he did not re-pick his model for the next week so she was sent home. This was obnoxious because A) he refused to take any blame, and B) his original model was really, really hot.
All in all, I'm ridiculously excited for this season of Project Runway and can't wait to tune in every Thursday to watch my favorite duo, Tim and Heidi, say fabulous, life changing things!

Episode 403: Martial Arts Challenge (by Intern Vashti) This week's challenge was to incorporate moves from various forms of martial arts. Let's be honest, this challenge really didn't work out well for any of the crews but I'll try to do a rundown without being too hard on them. I can't promise anything though.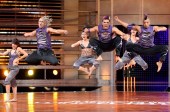 AfroBorike
Martial Arts Style: Capoeira
Challenge: Cartwheels
Question: what happened to the AfroBorike from last week that blew my mind? The judges all agreed that their performance was weak and had no energy. I kept waiting for something big to happen but it never came. I was sorely disappointed.
We Are Heroes

Martial Arts Style: Karate
Challenge: Flying fists
They were a little slow starting off but once they started poppin' the energy levels really picked up and We Are Heroes delivered an impressive performance. I agree with Lil Mama when she says, "y'all so dope it doesn't even make sense!"
Massive Monkeys
Martial Arts Style: Extreme Martial Arts
Challenge: 540 kicks
Let me start off by saying, "I HAVE A LOT OF QUESTIONS FOR YOU ABDC VOTERS!" I don't understand why Massive Monkeys wasn't in the bottom two. While their performance was high energy they didn't even do the challenge! If they survive next week, I give up.
Beat Ya Feet Kings
Martial Arts Style: Tae Kwan Do
Challenge: Foot fakes
Beat Ya Feet Kings was the other group I thought would be in the bottom two this week so I didn't expect much from them. I actually liked their performance this week. It was very smooth and I liked the punch! I don't care what Shane said, I am so over him at this point.
Rhythm City
Martial Arts Style: Muay Thai
Challenge: Killer Elbow I am so tempted to talk about Rhythm City's performance in all caps. It was so good! I love this crew and I have no idea how they ended up in the bottom two this week. Best performance of the night hands down.
Vogue Evolution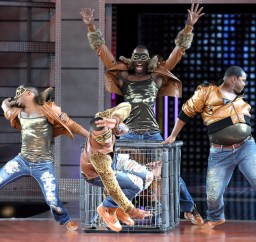 Martial Arts Style: Kung Fu
Challenge: Tiger style
I have mixed feelings about their performance. It was definitely entertaining but I think I just expected a little more from Vogue Evolution. Also, I was surprised that Shane hated the routine. #harsh
Southern Movement
Martial Arts Style: Kali
Challenge: Knee slide
JC thought Southern Movement's performance was one of the best of the night and I agree. They shouldn't have been in the bottom two in the first place. It's a shame they were sent home.

The Top Ten Top Chef Award: Top Chef
Episode 601: Sin City Vice (by Laneia)
Why We Love Top Chef:
1. The Food — I love food! I imagine you might, too, since it's what keeps you alive and whatnot. Creativity in the kitchen is something that eludes me, so watching these people do what they love, which is crafting entire meals for someone else's pleasure, is nothing short of magical. Seriously. Growing up with a Depression-era grandmother instilled in me an all-out fixation with food and its creators.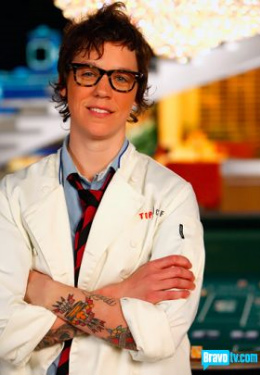 2. The Unbridled Optimism — Chefs are so optimistic! They seem very stressed out and rushed sometimes, but imagine the pure optimism and confidence it takes to cook for other people on a daily basis! Ever hosted a dinner party? — the mere thought of it is causing my chest to tighten right this very minute — now imagine doing it every single day. It's insane. You have to really believe in yourself and your taste buds. Maybe what tastes good to you tastes like salted deodorant to someone else. It's this gripping fear that breeds my adoration for chefs.
3. Find-the-Gay Game! — You play it at the grocery store, WNBA games, the bookstore, the bar, on the bus, perhaps at family reunions. It never gets old, you're usually right and, best of all, you get to pick which stereotypes you will embody for other guessers. It's an intricate game with rules and criteria we don't fully understand, but we play it anyway. For whatever reason, gays appear to represent a comparatively large portion of the food industry, making the Top Chef version of this game extra fun. I'll take Preeti Mistry for $1,000!
4. Gail Simmons – When you do a Google search of Gail Simmons, the sixth suggestion down is "Gail Simmons breasts". I just want you to know that. I love her for more than her breasts, of course, because I am not a shallow teenager.
5. Padma Lakshmi – At first glance, Padma looks like just another pretty face, but don't be fooled. Padma will pistol whip you with words — words of judgement. She will not take your shit. She's prettier than you. She eats a lot. I don't understand this. She might be a robot.
6. Armchair Quarterbacking – "Oh I'd have gone with the pan seared prawns, obvs! Why is he making a remoulade? She needs to infuse it with saffron. He's such an amateur with that risotto. Babe, can you pass the Doritos?" This season is set in Las Vegas, a city I've never been to and have no plans of ever visiting, ever, because I don't like gambling or buffets. There are about 32 chefs or something [ok, 17] and they all have different names and they come from all over the world. If you'd like to read their names and where they're from, head on over to BravoTV.com! There, I just linked it for you! Because I love you! If you were here, I'd cook an elaborate meal slice an avocado and tomato for you. I'd put it on a pretty plate as well.

Favorite Female Chef: Hands down, Ashley Merriman — not based on her cooking skills, it's too early in the game for that — but because she is possibly the cutest thing I've ever seen on teevee and that includes puppies and cartoon children with large eyes. I have special feelings for Ashley! If she's sent home, I'll probably need to take a week off to cry and disassemble my shrine. I'm kidding! It won't take a week to disassemble the shrine — it's totally tiny.
Love to Hate: Mike Isabella — he's coming off as very misogynist, egotistical and worthless. He's like a douchier Ben Affleck. He's like if Ben Affleck and Andrew Dice Clay circa 1989 meshed together. Is it all an act? That might make it even worse. Do not want.
Favorite Male Chef: I'm really liking Kevin Gillespie –– there's something about him! Is it my natural love of bears, which I'm not saying he is but I am saying he resembles? Maybes. He also just seems really nice and stable. And I love gingers! Oh, right, and he can cook — he won the first elimination challenge!
Yes Yes Yes I Dig Your Vision: Jesse and her Tipsy Chicken. Let's play Find-the-Gay in the comments!! Ash will be your freebie. Next week's discussion will be much more in-depth and fact-filled! Is there something specific on Top Chef you'd like to see covered? Lay it on me, loves.

The Down Under Award: Australian Idol
Season 7: Top 24
(by Crystal)
It's my favourite time of the year – Australian Idol has just begun and the Top 24 are battling it out for a place in the Top 12. The semi final rounds are still happening, but I'm ready to call this one early.
Here are my picks for the Top 12, if not the whole competition: This year I'm officially endorsing out and proud lesbian Kate Cook – a Harley ridin', vest wearin' country girl from rural Queensland who has a tragic back story and the ability to do a crowd pleasing rendition of Poison's "Your Mama Don't Dance." Kate's not the best singer of the group, but she's got a warm spirit and excellent underdog potential. Check her out:
I'm also rallying for 17 year old Sydney girl Hayley Warner, who has exceptional hair and has never met a leather jacket or pair of skinny jeans that she didn't like. She is also not the strongest singer, but that hardly matters.

The Tinkerbell Award for Fried Food & Alcohol: Intervention
(by Tinkerbell)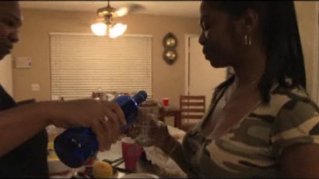 Hello autostraddle this is tinkerbell. I would like to say that I need a lot of attention, much like Gloria the subject of this week's episode of Intervention. I see Gloria and think of the song Gloria, which goes like this: G – L – O – R – I-A.
"I wasn't a good girl, I was bad as hell."
I have seen alcoholism effect Gloria's life in the following ways: I cannot trust her word, she is often drunken, and Gloria says amazing things like, "I don't ever get the shakes or any repercussions from not drinking 'cause I don't ever stop drinking."
Gloria says, "You gotta go through some stuff to get to some stuff," which is a good point however Gloria where is the stuff.
On her ex-husband, Rose's father, Gloria says: "He was a good provider and all that, he was just crazy as hell."
My favorite part was this fancy editing job revealing Gloria's misconceptions about the black people.
Gloria Says: "Black people are oppressed and all that, so we fry fish and we drink, it's a cultural thing, really. That's what black people do."
Gloria's Daughter says: "Our race as African Americans has nothing to do with her drinking at family functions. We have family functions and get together like anybody else."
Gloria Says: "It's a neighborhood thing, it's a black thing, it's a cultural thing."
Gloria's Daughter says: "I think what my mother does is find a bunch of reasons to make it okay like, oh, it's normal, it's just our culture, and it all adds up to a big pile of bullcrap.
Gloria's Friend: "She's kinda saying that you know, everyone drinks and gets rip roaring drunk in the black culture but that's not true."
Gloria, like many recent Interventionees, was like Hell Nah when she got to the room with all the people. Then she went to rehab and has been sober since april 29th. My favorite part was Gloria's friend who had silver dreadlocks she was a rockstar.  The moral of the story comes directly from Gloria: "You can't do it by yourself sometimes. you're not all that."