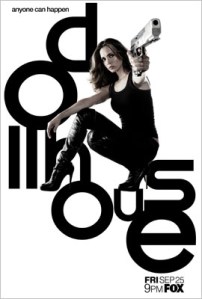 Hello there squirrel friends, how are we today? I'm recovering from a mild sunburn and what appears to be allergies affecting only my right eye, that's how I am. The internet is not ready for what is to come, but I know that you are, dear readers: this week we are splitting the Televisionary in two because it is literally bursting with awesome!
One post could not contain the intensity and awesomesauce that you're about to experience. So this post will cover the "scripted" shows, and tomorrow you'll see a post covering "reality" shows (which are sometimes scripted as well but usually inclued far less vampires unless you count Nigel Lythgoe. JK!).
In recent tv news, MTV is working on their own version of BBC's Skins, Auto-Fave Jayma Mays is making a brief return to Heroes amidst the Glee madness, and Drop Dead Diva was renewed for a second season! And typography design nerds and fangirls alike can rejoice: the Dollhouse season 2 artwork has arrived! Since I am in the intersection between both of these factions (right in the vaguely inappropriate center of that Venn diagram) this made me v. happy.
And now…
The Autostraddle TV Awards For the Week Ending August 23, 2009
Jump to:
Nurse Jackie Episode 111: Pill-O-Matix, by Carlytron
True Blood Episode 210: New World in My View, by Laneia
Weeds Episode 511: Ducks and Tigers, by Carlytron
Hot Girl of the Week, by Intern Lola
Drop Dead Diva Episode 107: The Magic Bullet, by Intern Lily

The Best Ensemble Cast on TV Award: Nurse Jackie
Episode 111: Pill-O-Matix
(by Carlytron)
Shit hit the mothafuckin FAN this week on Nurse Jackie, you guys. Zoey accidentally puts Victor Garber in a coma and gets taken off the floor. Thor and Mo-Mo have this incredible scene with her where they try to console her and s
he suddenly realizes that Thor is gay too. Marry me, Zoey! God I love the characters on this show, I can't even pick a favorite (JK it's Zoey!).
Jackie gets herself and Grace kicked out of tap class because she's insane. Kevin bought whatever lie Jackie fed him, re: Broken Fingergate, so he's secretly buying her a new ring. Maybe Jackie can give it to a patient like she did with Eddie's bracelet, since she's so good at receiving gifts!
Coop breaks up with his cute girlfriend because he thinks that he and Jackie had chemistry, and he stupidly asks Zoey for advice on what Jackie likes. That's actually like asking me how to give a blow job. Srsly, I have no idea. The Pill-O-Matix (far less awesome-sounding than a Pyxis!) arrives, meaning that Eddie's dunzo. He leaves Jackie a loophole in the machine as a going-away present: if you unplug it the memory resets, so she can get whatever she wants without leaving a trace. In a rather misguided romantic gesture, he follows her home to surprise her, only to find her with her family. Shrieeeeek! Season finale recap next week (it aired last night and all I can say is AHHHH!).


The Number One Feeling Award: True Blood
Episode 210: New World in My View
(by Laneia)
I'm sorry — do I live under a rock? Do I not Google? Do I not have friends who will share vital information with me? How is it possible that I've just recently found the True Blood Store on HBO?? I could've been drinking Fat Tires out of an official Merlotte's Pint Glass! While wearing an official Merlotte's Logo T-shirt! You guys — I could've been enjoying actual True Blood [sort of]! SIGH. ["I somehow also missed the store, and will now stock up on True Blood paraphernalia for my season finale party in two weeks. I'm going as Dracula." – Carlytron]
"I'm … thinking … more meat!" -Maryann

Um, am I crazy to say that this particular episode of True Blood was even more unbelievable than usual? I mean, I can allow for vampires and Maenads and shape-shifters and mind-readers, but when Bill and Sookie brought Tara out of her crazy devil-hypnosis, it felt forced. And what was with Sookie's zwappy palm? She just zwapped Maryann right in her face. What was that? I was like, "Oh, so now Sook's got herself a zwappy palm. Sure. Why not." But I'm not complaining! Just wondering if anyone else felt as though their suspended reality had been pushed to its limit, that's all. ["It was a bit of a stretch but since TB is currently occupying the "show that can do no wrong" space in my mind grapes, it gets a free pass" – Carlytron]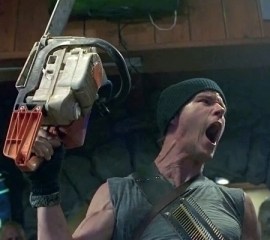 Remember two weeks ago, when you thought you couldn't possibly love Jason Stackhouse more than you did when he shot Steve Newlin between the eyes with a paintball gun? Think again, missy! After learning that not only had a new waitress been hired at Merlotte's, but that she'd been murdered before he'd had the chance to sex her, Jason decides to take matters into his own hands. This involves a knit cap, bandolier, chainsaw and a nail gun, of course. Then, after Sam turns himself over to The Saucer-Eyed Motherfuckers, Jason shows up with a gas mask and a megaphone, shooting flares from the top of a pickup truck, posing as the God they've been waiting for. This is probably the peak of your viewing pleasure for Episode 10/life.
"This here is the war I've been training for." -Jason Stackhouse
Maxine Fortonberry completely loses her fucking mind, which eventually leads to Jessica's patience being exhausted, which, I think, leads to Jessica draining Mama Fortonberry in the foyer. Lesson: Do not say "penguin dick" around a vampire.
"When I was growing up I had a nanny. Her name was Annie. Annie the Nanny." -Andy Bellefleur
After Bill pukes his guts out in the car ride over to Lafayette's, he and Sookie pull Tara from the clutches of darkness and eeevil! Then he makes Sookie promise to stay away from her house while he runs off to find help in the form of … THE VAMPIRE QUEEN! It's at this time that I check the clock to see how many minutes we'll have left to roll around in what I presume will be the most awesome thing I've seen all season, then BAM! — bloody foot — AND SCENE. We had at least another 5 minutes that could've been filled with Vampire Queen goodness! What! The! Hell! ["THIS SHOW IS SUCH A TEASE." – Carlytron]


The 'Please Don't Steal My Thunder, Gay Mom' Award: Weeds
Weeds Episode 511: Ducks and Tigers
(by Carlytron)
Esteban tries to spend some quality time with his new family. Shane is still being super weird but like, everyone on this show is weird, so it's less noticeable this week. A pretty girl shows up who turns out to be Esteban's daughter from a previous marriage. She's in high school but has a total stick up her ass and Nancy gets bummed out when both Esteban and his daughter think Silas isn't good enough for her. Bored now. Nancy and Esteban go back and forth as to who is a better parent, which ends here:
"I hope Cesar feels like cuddling tonight, governor of the sofabed."
But actually it doesn't. Esteban is becoming pretty sweet when he's not being a dick. He calms Nancy down, who is freaking out because she thinks she's a bad parent, which: duh. His campaign starts shaping up nicely until he's arrested on charges of racketeering and tax evasion. Ruh roh!
Celia continues being insane: the You're Pretty lesbian lady seduces her and Celia goes to Isabel for advice on how to be a lesbian. Isabel gets so totally pissed at her mom for copping her style, you guys!! She goes straight to Dumb and Dumber (Doug and Dean) to combine forces to try and take Celia down. Uh, yeah, good luck with that.


The Hot Girl of the Week Award
(by Intern Lola)
One of the funniest parts of USA's buddy detective comedy Psych is the rapid-fire succession of pop culture references. I'll admit I only get about 30% of the obscure 80s movie references, but I always appreciate the familiar guest stars. They've had episodes with everyone from Kevin Sorbo (a.k.a. Hercules!) to our favorite person ever, Jane Lynch. In a now recurring role, Rachael Leigh Cook is particularly endearing as Abigail, the long-lost love of the show's main character, Shawn. Everyone knows Shawn should really end up with Juliet, the hot police officer/Alicia Silverstone look-alike, but it's good to see Rachael Leigh Cook working again. (Was it just me, or did she totally disappear for a while there?) ["It's not just you." – Carlytron] Back when other girls were drooling over Freddie Prinze, Jr., I thought Rachael Leigh Cook was the prettiest "ugly duckling" (yeah right) ever. On a show that celebrates nostalgia, I'm happy to relive this childhood crush every week. ["Josie and the Pussycats was always one of my favorite movies, just sayin'…" – Carlytron]


The Margaret Cho Should Rule the World Award: Drop Dead Diva
Episode 107: The Magic Bullet)
(by Intern Lily)
Margaret Cho got a lot more air time than usual this week on Drop Dead Diva, making it an altogether better episode. Jane's case this week involved a concerned mother, a weight loss program, and a daughter fooled into believing that eating 500 calories a day was perfectly healthy.
Kathy Najimy guest stars as the mother whose daughter has experienced medical problems after losing forty pounds on the Jillian Ford "EZ Thin" weight loss program. She is suing diet guru Jillian Ford for not issuing a warning on its products about the dangers of the program.
Meanwhile, bitchy lawyer Kim is hit with her own suit—a charge made by a former assistant calling her out for sexual harassment. Turns out this wasn't the first sexual harassment charge given to her by a former disgruntled employee. Kim is certainly not a sexual predator but is subject to such abuse as revenge for her tendency to fire assistants at the drop of a hat and for her overall cold demeanor.
Unfortunately for Jane, Grayson assigns himself to Kim's case and in the process finds something about her that reminds him of Deb. Jane goes on to win her case by proving that the EZ Thin diet doesn't actually work and that Jillian Ford had undergone Gastric Bypass surgery instead of following her own weight loss program in order to keep off the weight she originally lost.
Kim's suit is eventually dropped after Jane's assistant Terri goes on the lookout to find someone who once worked for Kim and actually liked her. Terri ends up finding a guy who used to be a lawyer and knew that the guy who was suing Kim had actually tried suing other lawyers by using the same exact sexual harassment charge.
After Kim's suit is dropped she stops by Grayson's office to thank him, leading to a passionate kiss that Jane unfortunately witnesses from outside of Grayson's office. Out of all the Drop Dead Diva episodes that have aired thus far, this one was definitely the most well written and enjoyable to watch.


Don't forget to check back later this week to get our reality TV roundup! 'Tron out!