I recently started watching Succession and holy cats Logan Roy is the worst parent in the history of TV! Worse than Hiram Lodge from Riverdale! Worse than Aaron Echolls from Veronica Mars! Worse than all the parents in their weird cult in Marvel's Runaways! Worse than Tony Soprano! Worse than Ross Gellar! Logan Roy's whole entire deal is just… physically, mentally, and psychologically torturing his terrible children, who probably always would have been terrible, but are extra-terrible because their father is human garbage! Anyway, I had to take a break from my Succession binge to rewatch The Owl House and remind myself that all parents are not like fuckin' Logan Roy — and while I was doing that, I went ahead and made a little list of TV parents of LGBTQ+ kids that are actually pretty dang awesome.
---
Stef and Lena Adams Foster, The Fosters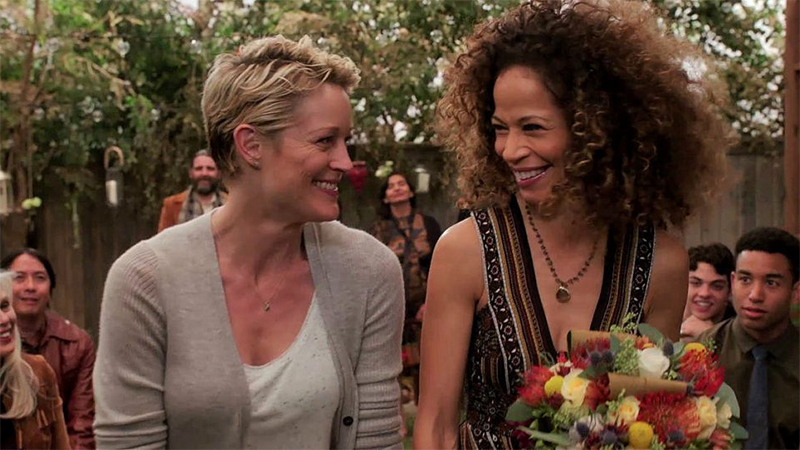 The Coach and Tammy Taylor of gay TV, Stef and Lena raised their own Julie Taylor (Brandon) but also some really excellent kids, including queer teen Jude who they nurtured and supported through gender-nonconformity, coming out, first love, first heartbreak, and also finding out his sister was dating their brother. They loved all their kids, and never stopped bringing more into their home because their hearts were just that big.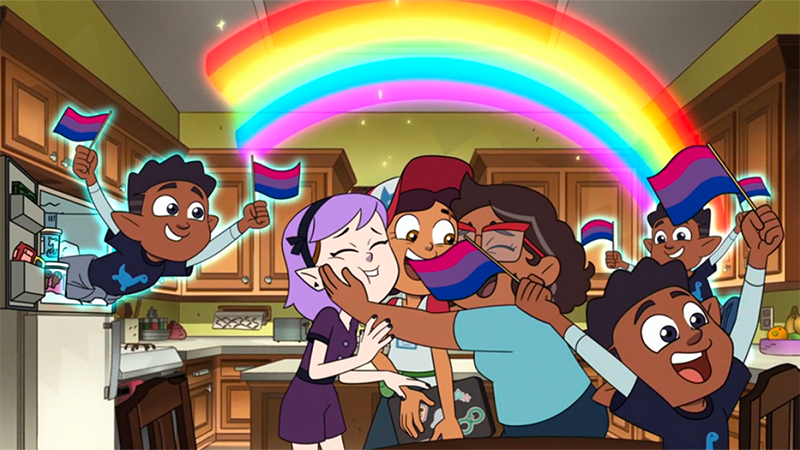 Some parents embrace their bi daughters and their bi daughter's lesbian girlfriends. And then some parents, like Camila Noceda, embrace their bi daughters while letting an entire gaggle of kids from the Demon Realm move in with them and plot to rebuild a portal to a magical world. The Camilas of the land pin rainbow hearts to their sweaters and never take them off. They buy books about bashing the binary and adopt orphaned queer basilisk shape-shifters. They wield baseball bats to protect their kids from evil wizards. Also there's only one of them. Our Camila! Camila Noceda! What a sweet potato!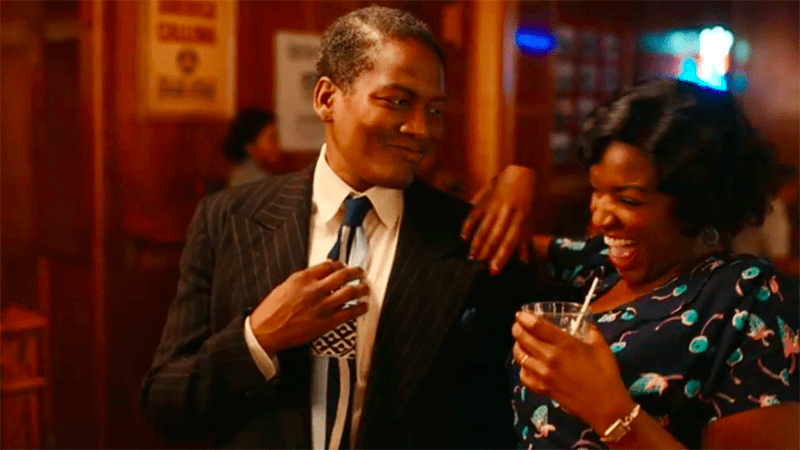 Bert and Gracie aren't really Max Chapman's parents; they're her aunt and uncle — but they step up and serve the kind of parental role she needs when she's grappling with her sexuality, with chasing her baseball dreams, and with figuring out how to dress in a way that makes her feel at home in her clothes. They have her over for dinner, cut her hair, take her out, make her suits, and encourage her to follow her heart (and her girl) even when it feels like the scariest thing in the world. They lend her their own courage, and she gladly accepts it.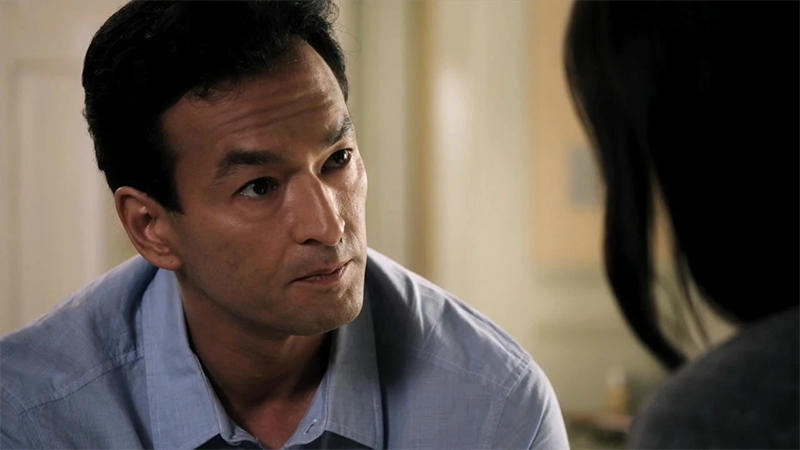 It's hard to call any of the parents on Pretty Little Liars "good" parents. If they were "good" parents, they'd absolutely 100% no question move their children out of Rosewood, PA. But Wayne Fields was the best of the bunch. Not only did he support Emily fully when she came out to him, he later climbed a drain pipe and shimmied up the brick wall of Rosewood High School to rescue Emily one night when the building came to life and tried to murder her. He tucked her under his arm and pulled her down the stairs and outside to safety while the marquee in the hallway flashed ACT NORMAL BITCH. A true hero.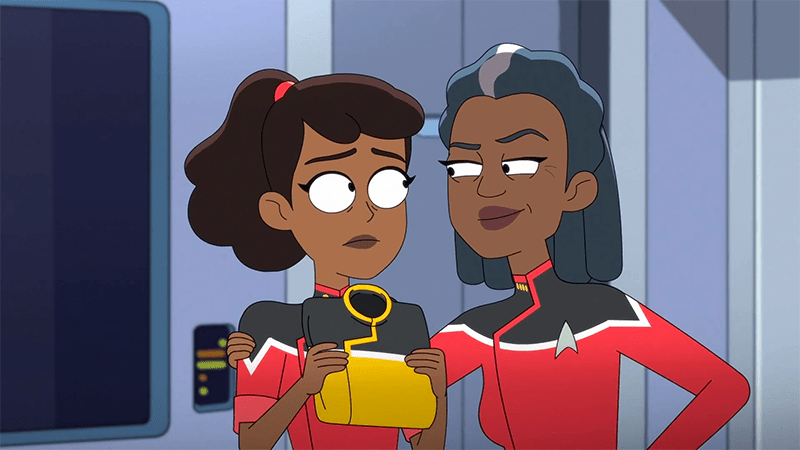 Two of the hardest things in the world are being a Starfleet Captain and being a mom (I would assume, I have never been either), but Carol Freeman is the best at both of them. Her bisexual daughter is a crew member on her ship, and Carol doesn't play favorites. And sure, she's a little hard on her sometimes, but she kind of has to be: Beckett Mariner thrives on chaos in an organization ruled by order. But Carol's always finding the balance between encouragement and tough love, and apologizing when she misses the mark. She's firm, she's fair, she's a total boss.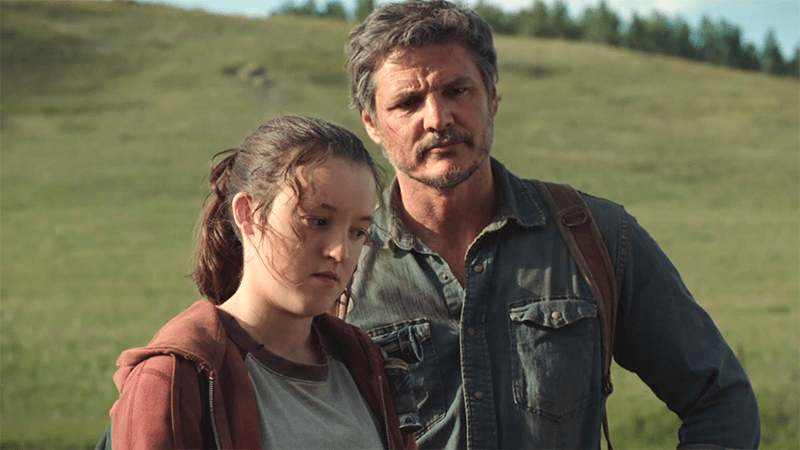 Another surrogate parent for the list, Joel goes to great lengths to NOT think of Ellie as his daughter, but he keeps failing at it over and over because he can't help it. He was born to be a dad and he loves her, okay? He loves her. In fact he loves her so much that her personal well-being is more important to him than the fate of all humanity, and he'll stop at nothing to keep her safe from every danger of the apocalypse. And when she can't go on any longer, he'll literally carry her the rest of the way.
Burt Hummel, Glee
There was only one Glee character better than Burt Hummel and that was Santana Lopez who is the greatest TV character of all time, so it's not really a fair comparison. Burt didn't understand Kurt and his Beyonce shenanigans at first — but he worked hard to learn about gay stuff and to see his son's heart, and then to protect him from everything the world threw at him. He was there for his concerts, there for his heartbreak, there to teach him about safer sex, and there when he married the love of his life. World's Best Dad. Tattoo it on his heart.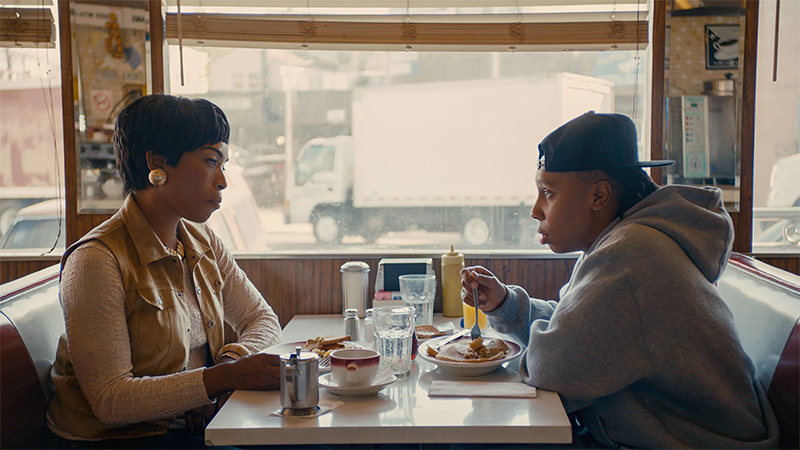 Mother. Mommi. Mother. Hang on. Mommi. DANG IT. One second. *hoses self off with ice water* Hem hem. Right, so, Angela Bassett played Lena Waithe's mom in the Thanksgiving episode of Master of None that launched Lena into the stratosphere. At first she had a hard time understanding her daughter's sexuality, didn't even want to discuss it, but she worked hard on herself so that Denise could feel comfortable bringing her girlfriend home for the holidays, so she could laugh with her daughter's lover, and even let her help make the mac and cheese.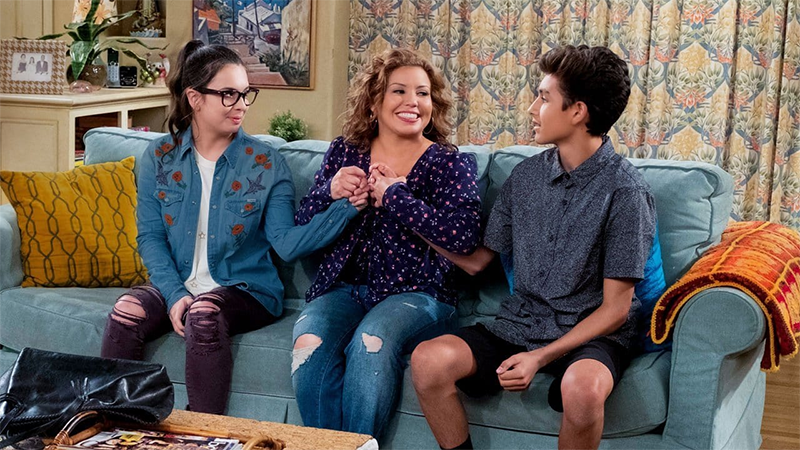 Penelope Alvarez did one of the toughest things in the world when she was raising her kids, including lesbian nerd Elena: she kept them right in the center of her world, and she didn't stop living her own life. She modeled being an adult who just keeps on growing, and even messes up sometimes. But nothing could keep her form being there for her kids when they needed her. When Elena came out, when she brought home her Syd-nificant other, when she decided she was ready to have sex, when she wanted to wear a suit, when she needed to stand up to her dad. Penelope was always right beside her, with a smile, a word of encouragement, a hug, and a reality check when it was needed.
Gina Campbell, Skins
I bet you didn't remember Naomi Campbell's mom on Skins was Olivia Colman, did you? Gina wasn't perfect, of course; she was running some kind of socialist cult out of her living room, and she slept with Naomi's history teacher after he made a pass at Naomi — but when Naomi couldn't stop destroying her own happiness because she was scared of falling for Emily Fitch, her mom sat her down and told her a hard truth: that The people who make us happy are never the people we expect. So when you find someone, you've got to cherish it. It gave Naomi the courage she needed to chase the girl she loved; the part about it being gay love was never even a worry for her mum.
Honey was Nicole's step-mom, way younger than Nicole's actual mom, and they didn't always see eye-to-eye — but when Honey ran into Nicole at the Denim Turtle, the town's gay bar, she saw her step-daughter in a new light and agreed to help coach the lesbian softball team's game against Nicole's dad's team. She knew nothing about softball, didn't even own a ball cap, but she went for it and stood beside Nicole when she came out to her dad right there on the field.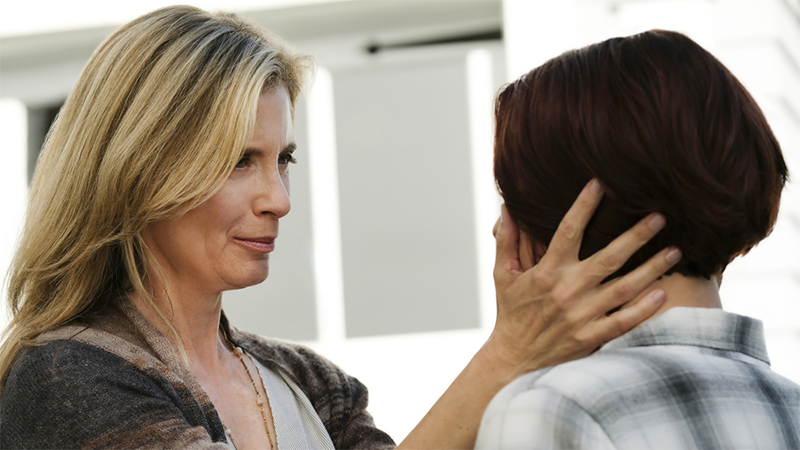 Eliza Danvers loved her daughters more than anything in the world. They were both superheroes to her (and, in fact, they both became superheroes in the end). Sure, sure, there were tough times; it's never easy to adopt a child from a planet where they were basically a goddess, but Eliza ultimately found a way to balance it all, and support Alex as she came out as a grown-up and chased the kind of life she's always wanted: wife and kids and her sister as her best friend forever.
Randall and Beth Pearson, This Is Us
Tess Peason's coming out on This Is Us remains one of our all-time favorites here at Autostraddle dot com, in large part because of how Beth and Randall handled it. Tess cries as she finally confesses that she's not like the other girls at school who are getting boyfriends; she doesn't want a boyfriend, like ever. She maybe even wants a girlfriend. Very, very gently, Randall says, "Tess. Hey, Tess. Listen. We're your parents. We're here to help you, in a cool, laid back kind of way, without it becoming a thing." Beth wraps her up in her arms and says, "We love you. No matter what. Okay? Look at me. You see me? Look at your dad. You see him? Do you see anything other than two people who love you more than any two people could ever love anyone?" Tess does seem them, really sees them, maybe for the first time ever, and it changes the shape of her entire world.