Why I Love Bell Bottoms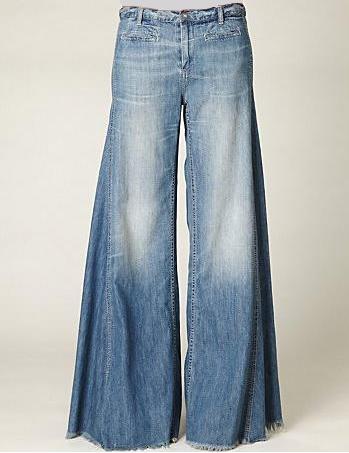 1. Because they make your butt, hips and thighs look way smaller (no matter what size you are)
2. Because you've had three solid years of your muffin top uncomfortably spilling over your skinny jeans (and you're sick of it)
3. Because they're sexy
Bellbottoms are the sexiest jeans in the history of mankind. Period. There's just something about the bell. It's carefree and loose. It doesn't have a boss or follow any rules. It smokes pot casually, for fun, and never gets paranoid. It cares about the environment and is against war. It doesn't watch Bill O'Reilly or belong to any religion. It reads important books, but isn't pretentious about it's intellect. It's adventurous and cool. And it loves to have sex. Lots and lots of sex.
I wore bell bottoms all through the skinny jean trend. Don't get me wrong, I had skinny jeans too, but I never got rid of my bells and often rocked them (to my own detriment). I probably looked like a fashion victim whenever I wore them, but I didn't care because my loyalty and devotion run deep. I've often been mistaken for a Hasidic Jew or a Fundamentalist Mormon because my jeans are so big and baggy at the bottom that from certain angles it appears that I'm wearing a very long denim skirt. But let me assure you- it's worth it.
Now that the style is returning- there's no looking back! Everyone needs a pair. You can wear them baggy or you can wear them tight. Do whatever makes you feel comfortable. These jeans look the sexiest when the person wearing them feels like a stud. Whether you identify with Lindsey Lohan or Samantha Ronson- bellbottoms will go perfectly with your fall style. I promise!

Live in These: An Ode to American Eagle and Beyond
Disclaimer: The following article expresses my own personal opinion and does not necessarily represent the views of American Eagle Outfitters."


When Laneia told us we were doing a jean roundtable I got really excited because I work at this place called American Eagle, a clothing store which specializes in jeans, you may have heard of it? Anyways, I thought to myself that this is great because I work with jeans all the time, and then I realized I didn't know what to talk about. And as I'm writing this I still don't know what to talk about, so what will probably end up happening is that I'll talk about myself, as per ushe.
When I was a teenager I went through a phase where I NEVER wore jeans, only really baggy athletic pants that I had in 5 different colours (you know, one for every day of the school week). Now I only wear jeans, ever. In my own personal opinion, jeans are the best pants you could ever wear. There's a pair of jeans for everyone, I'M SERIOUS, everyone can look good in jeans.
I've been instructed not to talk about skinny jeans, so I'll just say that I really enjoy a nice slim fitting jean if you know what I mean. They make me feel fashionable and hip. I need that feeling for my self-esteem. See? Jeans are great. Also I'd like to point out that there is a difference between super-skinnys and skinnys, and the difference is right there in the wording.
At AE in Canada we used to have this fit called the Straight Leg which is kind of exactly what it sounds like. Apparently there is no demand for the straight leg in the USA which is just crazy because straight legs are perfect for people who want something in between a skinny and a slimboot, which is a lot of people (in Canada). JEANS FOR EVERYONE!
What's a slimboot? I have really ambivalent feelings about the slimboot, so I enlisted the help of a fellow employee to talk to you about them. She said:
"They're not as tight as skinnys so you can wear them on "fat days" and still feel good."
My jean guidebook (yeah, I have one of those) says "If she likes the favourite boyfriend, have her try the slimboot!" I'll tell you something though: I don't really like the favourite boyfriend. Or the slimboot. Or anything with a flare. Or jeggings. You might call it discrimination, but I don't mind if other people wear them. I would just never try it, you know? And I sort of avoid trying to make customers buy things they don't want to buy, which is the opposite of what I'm supposed to be doing. But just in case you're interested, AE is really trying to bring back the flare. Is that going to be a thing now? I'd tell you about them, but I'm trying to pretend it's not happening.
Anyways, so, I don't know if I'm allowed to tell you this in case I'm betraying the (evil) really great corporation I work for, but I just bought a really great pair of men's jeans from Forever 21. See, I'd tried some men's skinny jeans from AE because half the time they're nicer than the women's, but they just wouldn't go over my hips, probably because I wanted them to fit like women's skinnys.
But by a happy accident at Forever 21, where they don't seem to have sizes smaller than a 30, I tried on a 30. And they fit! Just like the women's slims that I have! Why did I want men's jeans again? The trick here that for some reason I didn't realize but now seems really obvious is that men's sizes are different from women's because men's jeans don't take into account hips. Whaa? Who knew? Anyways, if you're looking for men's slims, try going a size or two higher than usual to get those bad boys over your hips.
To sum up and reiterate my thesis statement (I hear you're supposed to do this in academic essays), I didn't really know what to talk about so I just talked about myself and my feelings. It's a specialty of mine. Hopefully you feel enlightened about…something. Er. Anyways, you look superfine in those jeans, so. What was I saying?

Why I Love Mom Jeans
At around age thirteen I began what would be a many year long rocky love/hate relationship with jeans. Thirteen is a terrible age for basically every reason possible so it doesn't help that it is also generally the time when your body begins to fill out, your mother and anorexic grandmother start making passive aggressive comments about how much you eat, and the things on the teevee and in the magazines that tell you to hate your body start to make sense.
The main problem with jeans when I was a young middle-schooler was that the style at the time was super, super low cut. The kind of low cut that only looked good on Britney Spears (who, at the time, had superhuman abs that were most likely implanted by aliens in order to destroy the human race via jealousy/sexual frustration). I wanted to be fashionable, of course, so I bought those low, low jeans, and consequently scolded myself every time I put them on for having "muffin top".
Here's the thing: everyone who wears low jeans has at least a little bit of muffin top—it is the nature of the jeans. But my self-loathing mind went to the only explanation I found viable: that I was fat, everyone hated me, and I would never become Britney Spears.
But the times have changed since I was in middle school—mom jeans are finally back in style! Not only is this the best thing to ever happen to your waist, it is also the best thing to ever happen to your wallet. Let me explain: although the high-waisted jeans featured in stores and on the runways right now aren't exactly the same mom jeans that are made fun of in that SNL parody, you can still go to your local thrift store, buy those high-waisted mom jeans for two dollars, and cut them into super-cute high-waisted shorts that look like $70 American Apparel shorts. I have at least eight pairs of shorts that are from brands like "Lands End" and "Dress Barn"—mom jeans that were most likely originally purchased at a JCPenny somewhere in Boca Raton.
Unfortunately it's probably going to get cold again soon and you will need to find non-mom high waisted long jeans, which are much harder to find in thrift stores. Luckily mid to high rise jeans are a big deal right now and can be found in pretty much any store for relatively affordable prices. My favorite brands are Cheap Monday and J Brand.
ALSO ALSO I'm really excited for the high-waisted wide leg jean thing that is happening right now. They are "grown-up" looking and flattering on basically everyone.
Examples of high-rise jeans I like:
Next: Notes on Style
Pages: 1 2 3See entire article on one page