Jeans That Are So Hot Right Now
By Lizz, The Fashion Editor
Trends are a funny thing. I teased my high school girlfriend relentlessly about her "tapered jeans" and found myself sewing up the sides of my flares just six months later. Still, whether it's an appreciation for new art or a susceptibility to advertisement it's fun to buy new trendy jeans each fall. I'm not going to pretend that I know every cutting edge denim trend, but given the cashflow, these are the three jeans I'd buy for myself and one I'd buy for my girlfriend (if I, ahem, had one).
1. TheWide-Leg Trouser
The big new trend for this fall is a wide leg jean. I know I started wanting a pair at approximately the moment Santana wore them on Glee. Look for a pair in a light to medium wash that makes a straight line down from the fullest part of your hips and ass. Avoid pairs that are too wide and look costumey. Wide leg jeans are a distinctly feminine style, but it has one huge advantage taken from menswear: no camel toe.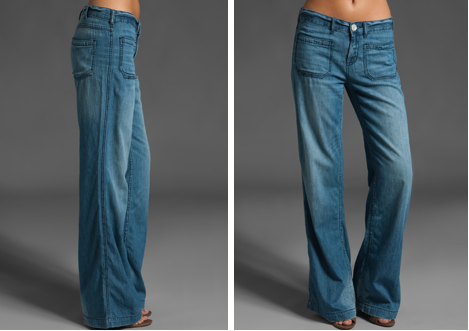 Free People Wide Leg Patch Pocket Jean
$98 – Revolve Clothing
2. The Colored Skinny
Bright colors are having a huge impact on fall styles, so it's no surprise that colored jeans are on the rise again. My self-imposed rule about colored jeans is that they have to be skinny or at least straight legged; otherwise there's just too much bold fabric hanging out. I particularly like a cropped colored jean. Red jeans are a great bet for anyone hesitant to move in to the rainbow. A lot of designers are pushing shades of cobalt, but I think it's too similar to regular blue jeans. My personal favorite is a plum or purple; it's easy to match to browns for fall and will have serious replay value in the spring.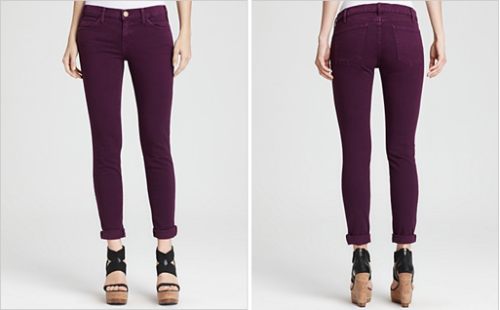 Current/Elliott Ankle Length Skinny Leg Colored Denim in Purple
$168 – Bloomingdale's
3. The High Waisted Shorts
I love a good pair of jorts. Sometimes, though, I worry about them turning in to teeny tiny "denim underwear." That's why I love high waisted jean shorts. Because they come up higher (and usually come down on the leg lower) high waisted jean shorts have more girth to them and generally seem more appropriate. Plus, they're wicked approachable for the fall because they look flattering with a belt and a button-up tucked in. If you're worried about buying shorts just as it's getting cold, keep in mind that they look great over a pair of opaque or patterned tights.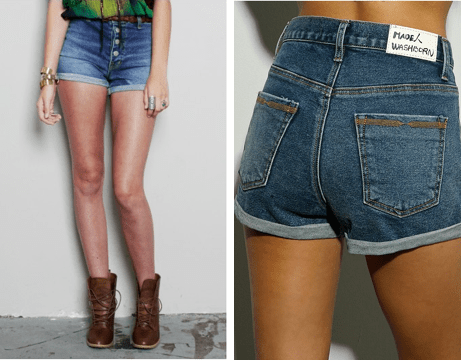 Washborn High Waist Shorts
$50.40 – Planet Blue
4. The Lumberjack Jeans
For those who are masculine of center, skinny, androgynous, fancy-finish jeans seem to be on their way out. Perhaps it's all the union crushing bills riling up people to stand strong together, but it really does seem that a genuinely functional workpant is in style for men's jeans. This includes sturdier fabrics, rust washes, reinforced seems and cargo pockets. Even if you're not going for a slim-fit, these jeans should still steer clear of "baggy." While a fitted version of a workpant will have the ladies picturing themselves in western films, baggy, brown cargo-jean is a recipe for a schelepy look.
Canvas Jodhpur Jean
$148-Rugby
How Ripped Your Jeans Are Allowed to be Before It's Indecent
I think there's a certain rate of regularity at which you're supposed to buy your pants. It might be, like, every other season or every year, but generally I buy new pants when my old pants fall off of me. Buying jeans is like killing a woolly mammoth — it's a hugely rare occasion, and you have to be creative to take every opportunity to make it last. The problem is that, no matter how long the jeans may last, they'll only fit perfectly for as long as your body stays the same, which is often unlikely. Remember that time you could only afford dollar meals at McDonald's? Remember that time you had enough money to join a gym? Remember all those times in between? Your weight may fluctuate, but your pants probably will not. In fact, what will probably happen is that horrifyingly common act of rebellion — crotch holes.
Holes in jeans are trendy — sometimes. For instance, if you traveled through the desert for 40 days and emerged with nothing but windswept hair and sandblasted jeans with an innocent hole in the knee. Or if you were touring the Gillette factory and left with a number of small razor-blade sized holes in your pants. But crotch holes are generally unsightly, embarrassing and usually considered good reason to throw a pair of pants away. And that's not fair, because just like death, taxes, and periods, crotch holes happen to just about everyone, and I feel like we should have found a way to deal with that by now. As a person with absolutely zero sewing capabilities, I can attest to the fact that DIY-ing one's pants takes little more effort than actually putting on a pair of pants.
It's time to bring back patching. Bandannas (or generally, any other fabric) are cheap, accessible, and give patches in pants an alternative lifestyle twist. It costs way less money (and emotional stress) than going out and buying a new pair of pants. And besides, you can cut them off at the knee once summer rolls around again.
Cleaning Your Denim
Cleaning new jeans/ other denim is always a delicate matter, particularly if you are fond of washing all your colours together on warm and don't like the accidental blotchy tie-dye look. To solve for any eventuality, I have constructed a specific and highly technical method of great depth to solve any denim-washing-related problem you might ever have ever:
1. Which of the following most closely describes the quality of your denim?
a. Raw denim, or non-fancy denim that is of great sentimental value and/or delicate for ripped-related reasons. (4 points)
b. Normal, but semi-fancy (read: washed, embroidered, sequinned, etc) denim. (2 points)
c. Non-fancy denim of the non-delicate and non-sentimental variety. (1 point)
2. Where did you get them?
a. From the type of store you have to dress up to go to. (3 points)
b. From a department store / thrift store / boutique / whatever, with a medium to low / on sale price range. (2 points)
c. From Costco. Or your ex. (1 point or -10 points, depending on how the relationship ended)
3. On a day-to-day basis, which of the following statements describes your level of grime?
a. I have to take the subway and regularly get grossed out by how sweaty everything seems, but not in a "now I need to find alternate transit until it is OK to wear gloves again" sort of way. (3 points)
b. It has been less than 25 minutes since I last used hand sanitizer. (2 points)
c. I do not know what hand sanitizer is. (1 point)
4. How often do you wear the item in question?
a. As far as anyone is concerned, I own and wear only this one pair of pants, and they are the greatest. (1 point)
b. Several times a week. (2 points)
c. Several times a month or less. (3 points)
5. Which of the following statements described your level of dedication to laundry?
a. I separate my loads and do some in hot water and some in cold water and sometimes hang things to dry, depending on the things and how much time I have. (2 points)
b. When labels say hand wash, I actually wash them with my actual hands. I own one of those mesh clothes drying racks that you can "lay flat to dry" on. (4 points)
c. I only feel comfortable washing my jeans when they can stand by themselves and are at risk of becoming sentient. When labels say "lay flat to dry," I try to come up with a way that that phrase could be sexual innuendo. Then I put whatever it is in the dryer on high. (1 point)
Scoring:
5-7 points:
Congratulations! You are gross, but that's OK. Or, you are a normally clean person who just doesn't think about laundry until you're out of it.
Solution: Probably just doing laundry more than once a month is a victory, but with such infrequent washing, you're probably OK with using any temperature setting. If your denim requires a little more care, use the lowest temperature setting and turn them inside out.
8-11 points:
Congratulations! You have a regular level of cleanliness and dedication to your pants. Probably you care about keeping your denim clean and semi-nice looking, but you don't actually think about it all that much (who knows — all of these numbers are arbitrary!). Anyway, pro tips include turning your jeans inside out, washing on cold with other dark, non-delicate items, and hanging to dry. If you need to take it up a notch, do all that and then actually wash them inside a knotted-shut pillowcase — it won't preserve raw denim by any means, but my completely ungrounded and unscientific experience says it makes them last a little longer.
Over 11 points:
Congratulations! You are either very into your denim or a very, very clean person. Or you're not and you just like keeping your pants looking great. In any case, you should watch this video on freezing your jeans.
How to Freeze Your Jeans from maxwell gillingham-ryan on Vimeo.
Pages: 1 2 3See entire article on one page