An hour before the Pretty Little Liars series finale, I was sitting on Riese's back porch drinking a beer and trying to remember what my life was like back when I wrote my first Pretty Little Liars recap in 2010. I couldn't do it; I couldn't remember. Seven years doesn't really seem like that much time, but I hadn't met Stacy, my soon-to-be wife, back then. I hadn't left my home state and my hometown and moved across the country, or moved back across the country again, northward. I hadn't become inextricably bonded with these brilliant, beautiful babes who make Autostraddle a reality. I hadn't stopped apologizing for having opinions or for taking up space in the world or for being a woman. I hadn't even come out to my grandparents. But most of all, in 2010, I'd never typed #BooRadleyVanCullen onto the internet and pressed Tweet.
Here's the joke: Pretty Little Liars was obsessed with To Kill a Mockingbird and A was very clearly, and at the very least, a vampire. Boo Radley. Edward Cullen. I had no idea how hashtags worked, that's for sure. (Or jokes either, I guess.) Twitter was this whole new world and no one else I knew was watching this show that summer, which seemed like a shame because it was riffraff banapants in the best possible way, and it was gay when hardly anything else was, and so I said, "Hey, tweet with me" and y'all did — and together we changed the world.
When I started writing about Pretty Little Liars I was living in the town where I grew up, the town where I'd always lived, and I was so bone-deep lonely my whole spirit ached with it. I dated a lot of nice girls but none of them were like me. I hung out all the time with my best friend since childhood, but she's straight and just doesn't move through the world the same way I do. My sister has been with me always, but she has a family and a kid and novels to write and TV was never really her thing. The day I sent #BooRadleyVanCullen out into Twitter's wild and new desert, it lit up the queer sky like a bat signal, like a beacon — and suddenly Tuesday nights became my refuge, the one hour every week the frost around my brain and my heart thawed and I laughed and cheered and cried with you; for the first time in my life, sharing space with my people.
The inside jokes were so easy. Every silly thing I said, you ran with it and made it fifty times better. Every nickname, every imaginary plotline, every crackerjack theory. I said it and you said it better. You Photoshopped it. You sang songs about it. You wrote it into your stories. Soon, our language made it into other writers' recaps and reviews, and into broader (straight) fandom. Our hashtag was the cleverest, funniest, most engaging place on Twitter and so of course the Pretty Little Liars' writers and directors showed up to hang out there.
We talked; they laughed and they listened; and they spoke back to us inside the show. I'd never seen anything like it. I've still never seen anything like it. The magic didn't last — the draw of ad revenue from shocking reveals(!!!!) and trending topics, and the publicity of Teen Choice Awards was too strong — but I was there with you and I witnessed it too. For a handful of years we were in that writer's room. We were on their minds. We were in their hearts. The network and the studio came with mandates. Ezra blah blah and lay off the lesbianism. Nothing pure ever survives a hurricane of money. But when it was the Wild West we were heard and we were beloved. Our counterculture shaped pop culture.
It shaped me too. My family had told me to never come out to my grandparents. They were worried it would rip us all apart, and it wasn't an unfounded fear. They love me with their whole beating hearts, but my grandfather, especially, is just about as conservative as they come in the Southern Baptist church. It was almost midnight when I came out to them. They were asleep in their recliners in front of the TV when I let myself in. I'd sat in the driveway with my sister and watched Paige McCullers on YouTube on my phone ten times in a row — "If I say it out loud, if I say, 'I'm gay,' the whole world is gonna change" — and then I went inside and said it for myself. 31 years old.
I watched that scene again on repeat a couple of months ago sitting on a sidewalk in Manhattan. It's been a year of unending doctors and tests and scans and ultrasounds and blood work and outpatient procedures and fights with my insurance company. I still don't have many answers, but on that particular day I'd gone in for an MRI and while I was inside the machine my IV exploded. The dudes who'd shoved me in the tube didn't tell me why the alarm was clanging and when they pulled me out and I was covered in blood they both just shrugged. "You should know whether or not it's cancer in two to four days," one of them said, without bothering to look at me or give me anything to clean myself up. My arms and face were sticky with dried blood and sweat when I left, and I felt so exposed and so vulnerable and so unsteady on my feet I just sat down. I leaned back against the brick wall of the hospital. I put on my headphones and I pulled up Paige McCullers.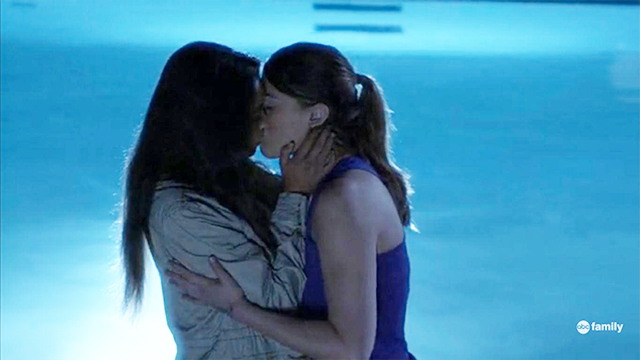 The strength I drew from that scene that day was the same strength I drew from that scene seven years ago when I came out to my grandparents. Because of the power of story, yes, but because you are connected to that story. A wellspring of affection and courage and laughter and hope.
I'm not always so strong by myself, but when I think about that scene I think about the thousands of coming out stories people have shared with me because they were inspired by it. I think about the recap I wrote that people still quote back to me. I think about Lindsey Shaw crying on the phone when I interviewed her and Shay Mitchell offering to send me soup. I think about how I met my dearest friends and so many the internet's now-favorite queer writers because #BooRadleyVanCullen brought us together. I think about the night I opened myself up to you as I never had before and you raised $10,000 in an hour to save the life of my beloved dog. I think about how when I was in the darkest depression of my life you worked tirelessly to help me win a social media competition. I used that prize money to find my way to a new state, a new city, a new home. I don't think I ever told you that.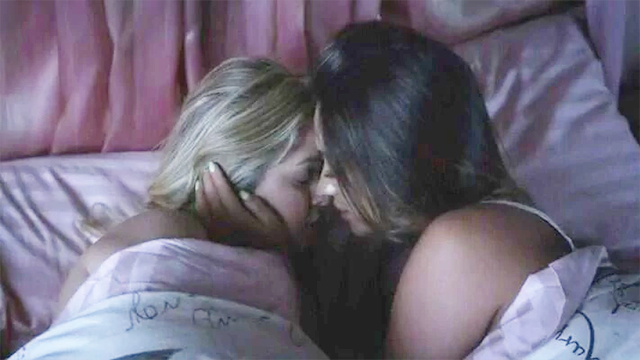 I won't play-by-play "Till Death Do Us Part" for you because it was messier than Rosewood's worst wigs and it'll break my little tender butch heart to dwell on how a show that burst into the world as one of the most subversive, feminist things on television ended up being the most heteronormative codswallop imaginable. (Codswallop. It's British. Get ready for it.)
The first hour was a one-year time jump that required 30 minutes of inexplicable exposition, all of which revolved around where each Liar stood in relation to marrying the first person they ever slept with and also where each of those #ENDGAME couples stood in relation to giving birth. They are all, I will remind you, no more than 24 years old. LOL, except for their former teacher, Mr. Fitz!
Emily and Ali are living together with the whitest babies you've ever seen in your life. Aria and Ezra are getting married tomorrow and she can't have children, which Ezra shockingly makes all about himself. (I wonder how old Malcolm is now. Maybe they could kidnap him as their first felony as a married couple.) (Look, okay, don't worry, they're going to a fertility clinic the absolute fucking second they get home from their honeymoon in "the south of France.") Hanna and Caleb are still married and she's lying on her back with her legs in the air after sex to try to help the sperms swim easier. And Toby and Spencer are doing Scrabble as foreplay … for now.
Fiiiiine I'll tell you more about Emily and Alison. Number one, while we were watching this episode Riese said that they're dressing Alison like someone who shops at Talbots and will never have sex again. And THEN they put Alison in this sweatshirt with a slobbering dog on the front of it and I thought Rachel was going to run into traffic. She said the sweatshirt is confirmed biphobia. Also I think Alison is wearing a wig? I don't know. I just know everyone who ever made fun of Paige's Lego man hair and Spencer's post-time jump head situation needs to rethink their bangs power rankings.
While all the other Liars are having sex by crawling on top of each other and literally licking each other's nipples, Emily and Alison are lying side by side and smooshing their cheeks into each other and clanking their knees together and poking at each other's feets. At one point there's a hand on a bare back. Maya died for this!
All of which is to say, Pretty Little Liars never solved the deep and elusive mystery this show was building toward for seven seasons: Lesbian sex? HOW? HOW?!?!!!?
Pam gives Alison Emily's grandmother's wedding ring so she can propose and you never really get a good look at it because Alison holds it in front of the kooky dog face the whole time, but according to Emily, it's really beautiful.
While the Liars are enjoying their Race to the Altar, Mona has returned from Radley and has moved in with Caleb and Hanna, who I think are still living in Lucas' loft. She is the only one who has kept her eyes on the prize! She layers masks of everyone's faces over her own face and goes creeping around in the dark to meet up with A.D., who is … Spencer's twin sister. Alex. Alex Drake. Her mother is Mary Drake and her father is Bert from Mary Poppins. It is, quite literally, the only way to explain her accent. It's "Indubitably!" this and "Chim Chim Cher-ee" that, and next thing you know Spencer's locked in yet another elaborate underground bunker.
What happened was Alex was working in this bar in London and Wren came in and lost his goddamn mind because all he ever wanted was for Spencer to tie him up and boss him around, and so Alex was happy to oblige there at least. He told her about Spencer and from there she found out that Peter Hastings took baby Spencer directly from Mary Drake's vagina in the asylum, wrapped her up in Radley baby blanket, and carried her out into the parking lot in 1944 where Veronica was waiting. Didn't even stick around to find out there was a whole other baby in there. Mary sold off Alex and instead of leaving her home alone to be raised by her older sister and a pack of wild hyenas, like what happened to Spencer, these parents bought Alex and dropped her off at the orphanage where Tom Riddle grew up.
After finding that info, Alex tracked down Charlotte and for a couple of years it was all double dates and signature scents with those sisters and Wren and Archer Dunhill. But then everyone died and so Alex had to come to town and spend the fifty gazillion dollars she made bartending setting up this underground lair (with an overground house surrounded by like papier-mâché trees and a sky made of poster board).
Alex kidnaps Ezra too, for some reason, but sadly does not kill him.
When Mona explains about Spencer having a twin sister, the Liars shrug like "Sure, okay" and follow her to the brand new dollhouse. Once they arrive, it turns into a standoff between Alex and Spencer; both of them say they're the real Spencer. Okay and like Spencer's horse knew right away Alex was full of shit. He wouldn't let her come near him with his saddle. Toby? This motherfucker had actual sexual intercourse with Alex and didn't know it wasn't Spencer. But they leave the horse out of it and let Toby decide. He asks what Spencer's favorite poem is in this book she gave him one time and real Spencer knows and so that's settled. Mona goes, "I'll call 911!"
Reader, she does not call 911. While the rest of these ding-dongs stay in the town where they were stalked and tortured and murdered repeatedly throughout their childhoods, popping out babies and pretending to like Ezra's home brew, Mona moves to Paris and opens a doll shop and smooches on some French guy. In the basement of this glorious hellscape of a business she's got a dollhouse where she keeps her Liar doll souvenirs and also Mary and Alex locked up behind some glass like a zoo, sipping tea and wearing party frocks. Vive la Vanderjesus!
The Liars promise to stay friends forever and promise their kids will be friends forever too. It seems like a very dumb idea. Two of those kids, at least, are made up of half-Wren Kingston, who one time shot his girlfriend in the collar bone so she could have the same scar as the twin sister Wren was actually in love with so when she took over that twin sister's life no one would ask any questions. Also I believe one time Wren took out Jenna's eyeballs and put a whole different set of eyeballs back in there.
Now that they've raised their children and released them into the wild, Pam and Veronica and Ashley and Ella pack their bags and move to Italy to open a winery and live out their days as the poly family they've always dreamt of being. They're still unclear about how to have lesbian sex, but they're getting closer to figuring it out. One day maybe. For now Tippi the Bird sings them to sleep, a ceaseless canticle of their favorite phone numbers; a bottle of pinot never far from of reach.
---
I can't count the number of people who've told me over the years that my Pretty Little Liars writing impacted their lives, but I want you to know that any goodness or warmth or love or light I put into your world was visited back on me a thousand fold. I can't remember what my life was like when I wrote my first Pretty Little Liars recap because my life was fractured and desolate beyond recognition back then. I have never been so sad or helpless or alone. I'm whole now. I'm surrounded on all sides by a love: a partner I'm going to marry, a workplace that sustains my soul, and friendships I treasure in my deepest heart. I'm whole because you — all of you — helped me chase the Dementors away. Pretty Little Liars may be over, but you have given me a lifetime of memories to power my Patronus. I love you guys. I really, really do.