"No Feminism In The Champagne Room" is one of the most emotional episodes of The Bold Type to date, achieving the impossible by making a damn spin class the site of great joy and release. Pinstripe is conveniently out of town for the entirety of the episode, Adena sports an off-the-shoulder crop top that puts her on Oliver's level of best dressed, and the voice that does the previouslies at the top of the episode is still inexplicably British. Time for another wild, snappy installment of The Bold Type!
The biggest problem with "No Feminism In The Champagne Room," other than its disdain for Queens, is the biggest problem with The Bold Type at the moment: Alex. If you have to pause for a second to remember who Alex is, that's my point exactly. Alex is the friend character played by Matt Ward who seems to only exist for the sake of helping the three main women. Sutton and Jane both seem genuinely close with Alex, and in each episode, he has given them positive reinforcement or advice about their career problems. In this one, he helps Sutton gain the confidence to demand a higher salary from Oliver by power posing with her. And he tries to assure Jane that her latest contentious piece is good. At no point do we ever see Alex working on projects of his own. I'm pretty sure the only thing we really know about him is that he watches porn, which he mentions in the second episode. I think he's a writer, although I'm unsure what his beat is. His character seems like an afterthought at best and a token at worst. In theory, it'd be interesting to see friendship dynamics play out for Sutton, Jane, and Kat outside of their relationships to one another, but Alex's scenes strictly serve to advance the plot rather than developing characters or even providing any thematic layering to The Bold Type.
At first, I thought the first couple of episodes were just too busy with exposition for the three main characters that there wasn't enough real estate to get to Alex. But we're five episodes in and we still can't define him by anything other than the fact that he appears to be an omnipotent source of encouragement for the trio. I don't see him having his own storylines or playing an active role in the show's narrative any time soon, even though there have been little hints he could be another love interest for Sutton, seen here when their fun and flirty power posing session is interrupted by Richard. But it's hard to see him as a compelling love interest since he is barely a character.
At the top of the episode, Jane's excited about her most recently published piece, a profile of a former Wall Street executive who left finance to become a stripper, dancing under the name Morgan Stanley. Jane and Sutton head to the strip club to celebrate with Morgan, but instead she has them escorted out of the building by security. Jane ponders why Morgan could possibly be mad at her, and Jacqueline informs her that it's even more serious: Morgan is suing Scarlet and their media parent company Steinem and has named Jane in the complaint. Working with the head of legal, who happens to be Sutton's secret boyfriend Richard, Jane learns that Morgan is suing for defamation because Jane ultimately included too many discernible details in the piece, piercing her anonymity by outing her. Jane is immediately incredulous and defensive. She keeps reiterating that she painted Morgan as a feminist hero, that she finds her story empowering and inspiring.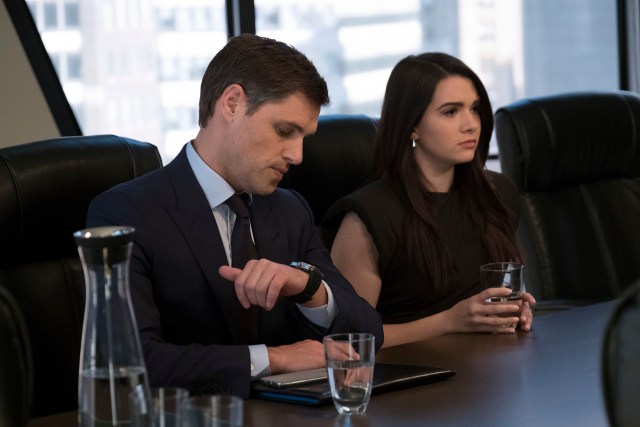 But Jane never stops to consider the actual person behind her feminist hero narrative. She was careless in her portrayal of Morgan, and then she makes matters worse by snapping during settlement negotiations. When Morgan says Jane exposed her, Jane retorts: "You expose yourself on a nightly basis; you're a stripper!," putting venom behind that last word. Jane claims to have portrayed Morgan as a feminist icon, and here she is judging her for being a stripper and completely stripping Morgan of her autonomy. Sutton ultimately points out her hypocrisy. Stigma against strippers is seen in little comments throughout the episode, including Jane's outburst and also Richard's insinuation that Morgan is only suing for the money (that's especially misguided on his part because he knows she has a kid who has been affected by the article). I would have liked to see The Bold Type deal a little more explicitly with these themes, and Jane's eventual apology to Morgan comes off as a little weak and self-serving rather than genuine. But at least Jacqueline rather bluntly states that Jane failed. The show acknowledges that Jane wasn't in the right and also acknowledges that failure is unavoidable in life and writing. While it's obviously fun to watch these women crush it, it's also important to see them fail from time to time.
Fresh off her romantic, climactic kiss with Adena at the end of last episode, Kat immediately rushes to tell Jane and Sutton about how they "kissed for like hours," prompting an extremely urgent meeting in the fashion closet, where all three squeal and dance. Jane and Sutton are almost as excited as Kat, and no one follows up with obtuse questions about how Kat identifies or what all this means. They're happy for her, and she's happy, too. Jane, Sutton, and Kat all support each other in many ways in both their work and personal lives, reinforcing the idea that friendship and coworking are not mutually exclusive relationship dynamics. On the work front, Jane and Kat are there for Sutton, who drags her feet when it comes to signing her paperwork to become Oliver's assistant because the salary offer is less than she currently makes. Kat and Jane encourage Sutton to channel Nora Ephron by demanding more from Oliver and proving that she's willing to walk away, but Sutton points out she doesn't have the same safety net as Nora Ephron. Jane and Kat decide to be her safety net. Kat tells Sutton she can live with her, rent-free, until she's able to get back on her feet. As someone whose writing career would not have been possible if not for the friends who let me live on their futon in Chicago for several months, I got very emotional about this storyline.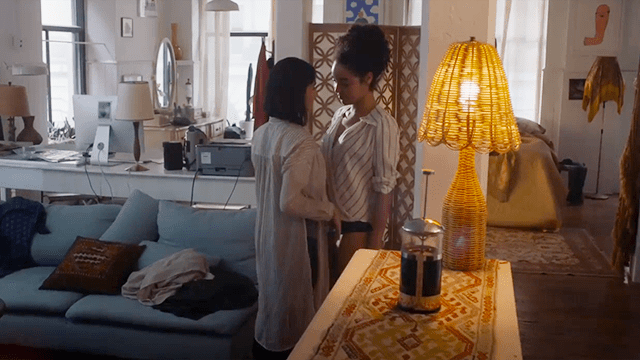 But it all pales in comparison to the emotional rollercoaster of Kat and Adena's arc in the episode. After spending the night together, Adena tells Kat she feels guilty for cheating on Coco, her long-distance girlfriend in Paris. Kat tries to make Adena feel better by pointing out they didn't sleep together, but that's not how Adena defines cheating. She resolves to tell Coco but has difficulty doing so. She calls Kat at work to tell her she still plans on ending things with Coco, but Kat stumbles a little over Adena's use of the big two-letter word "us." While Kat's on the phone with Adena, she's also texting Jane and Sutton live updates of the conversation (this show's portrayal of millennial smartphone use is a lot more realistic than most). Her multitasking leads her to accidentally tweet "this lesbian shit is intense!," which should probably be emblazoned on my tombstone or at least a tank top, from the official Scarlet account.
This lesbian shit is indeed intense. In the span of less than 48 hours, Kat kisses Adena; Adena ends things with Coco; Kat freaks out about a potential committed relationship; Kat ends things with Adena; Adena accuses Kat of being a coward; Kat decides she wants to be with Adena; Adena decides to work on her relationship with Coco. Do you have gay whiplash yet? After the tweet incident, Kat contemplates whether she really wants a relationship. She has never been in one with anyone, and she prefers ephemeral hookups and one-night stands. She also seems to be guilty about getting in the way of Adena's relationship with Coco, who calls twice when Kat's over at Adena's, causing Kat to walk out awkwardly. Kat also stalks Coco on social media and sees how beautiful her relationship was with Adena. After they break up, Coco goes full Cara Delevingne and posts a picture of a fractured heart. But as Sutton points out, it's Adena's decision to make. Still, Kat can't shake the fears of entering a relationship with Adena, so she texts her "Sorry, I just can't do this," and then turns off her phone, which is the closest Kat will probably ever come to being a monster. Adena confronts her at work, calling her a coward and saying she doesn't believe her, and the two have a full argument in the middle of the office, which is probably unprofessional but is, in my opinion, a stark example of Gay Realism.
Then Kat takes a spin class. Most recent comedies set in New York City have turned to spin classes for humor at some point. Unbreakable Kimmy Schmidt likened it to a cult. Jill in Odd Mom Out gets her ass kicked by the high stakes of Upper East Side spin culture. Abbi Jacobson is in the trenches of Soulcycle culture for most of Broad City. In all of these instances, depictions of spin classes in New York are used to make fun of the practice and the people who do it or to beat down the character. The Bold Type has a decidedly different approach that reflects the kind of show it is at its core. Sutton mocks the Scarlet spinning event, but other than that, the episode doesn't really play Kat's participation in a spin class for laughs. In fact, Kat finds genuine empowerment and awakening on her bike. As the instructor calls out platitudes, the words take on more meaning by scoring Jane, Sutton, and Kat confronting their individual obstacles of the episode. The affirmations resonate in particular with Kat, who realizes she wants to overcome her fears and take a leap with Adena. She cries, smiles, laughs, as she comes to terms with her own desires, and Aisha Dee is resplendent in the scene. Of course The Bold Type would take a setting used commonly for mockery and derision and turn it into a place of healing and self-realization. This show wants its characters and viewers to feel good.
So Kat runs, in slow-motion no less, back to Adena's apartment and bursts through, ready to get the girl after all. Adena lets Kat apologize but then reveals that she has booked a flight to Paris to see Coco who has agreed to work on their relationship. With Kat and Adena, The Bold Type has spun a more complicated and realistic version of a will-they/won't-they arc. They've kissed; their feelings are out on the table; but they keep getting in their own way, plagued by bad timing and bad communication. The final beat of the episode is a brutal gut punch, but it doesn't color the show as suddenly dark or pessimistic. As with their professional failures, Jane, Sutton, and Kat's personal setbacks flesh out the show's emotional narrative.